6-Banner Sunday: Langford, Fitzner commit in huge recruiting week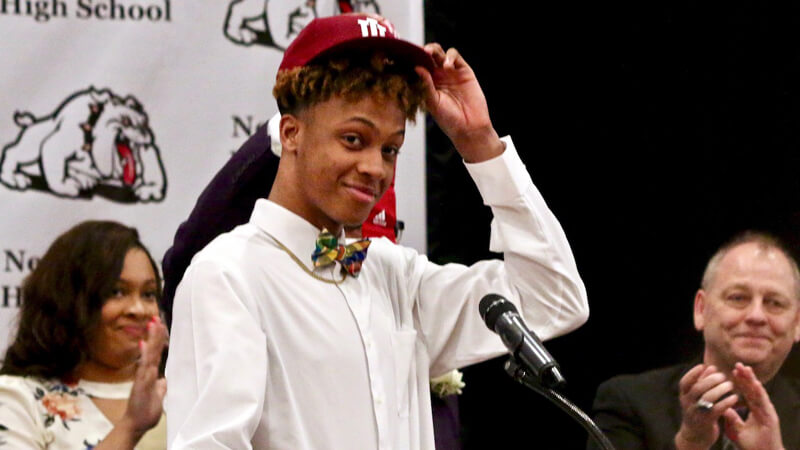 6-Banner Sunday is Inside the Hall's weekly newsletter in partnership with The Assembly Call. More than 5,000 Indiana fans receive the newsletter each week. In addition to appearing each week on the site, you can also opt to receive 6-Banner Sunday by email. A form to subscribe via email is available at the bottom of this week's 6-Banner Sunday.
Welcome to another edition of 6-Banner Sunday, a joint production between The Assembly Call and Inside the Hall, where we highlight the six most essential IU basketball stories of the past week.
In this week's 6-Banner Sunday, we look back at the spectacle that was Romeo Day, as well as the subsequent commitment of grad-transfer Evan Fitzner. And now that they are committed to the Hoosiers, we also dive into what's next for the program.
In this week's edition:
· Langford stays home
· The on-court impact of Langford
· Grad-transfer Evan Fitzner fills out roster
· Could Trayce Jackson-Davis and Keion Brooks be next?
· Indiana All-Stars week on the horizon
· Eric Gordon shreds the Jazz + bonus links
And by the way … make sure you don't miss the final bonus link at the end of this post. It's hilarious … and very Indiana.
Banner #1
Hoosiers rejoice as Langford stays home
Romeo Langford is an Indiana Hoosier.
On Monday evening, for Hoosiers across the world, a dream became reality as New Albany's five-star phenom chose to play his collegiate ball in Bloomington. The decision became public at the conclusion of a 38-minute event inside the New Albany High School gymnasium. The several thousand fans in attendance patiently waited as Langford's minister, high school coach, and father spoke glowingly of Langford's character.
When they were done, three hats were set down on the podium. When Langford picked up the Cream and Crimson cap, the crowd went bonkers. Indiana's recruitment of Romeo Langford became a success, and the program received a massive boost.
Incredibly, Langford managed to keep his decision a secret from his friends and the media. His family was only informed of his pick of Indiana a few days before the announcement. Mike Miller of The Herald-Times has more on Langford's decision:
The coaches at IU, Vanderbilt, and Kansas had to stream the video of his announcement ceremony to learn his decision, themselves.

Chief among Langford's reasons for picking Indiana was Miller, IU's second-year coach.

During his first 13 months on the job, Miller made Langford's recruitment his top priority. By this spring, IU became the popular pick to land Langford, who ranks fourth in state history with 3,002 career points. Last summer, Langford announced seven program finalists on a list that also included Louisville, Kentucky, UCLA, and North Carolina, before finally trimming that list to three.

"I just told them about Archie Miller and coach (Ed) Schilling," Langford said. "I knew I couldn't just tell them where I was going and just be fine with it. So I knew I had to have some things in my head last Saturday for me to tell them. They listened to me and understood it."
More from Monday, aka "Romeo Day:"
· Post-Announcement Special (Assembly Call)
· Video: Romeo Langford commits to Indiana (ITH)
· Podcast on the Brink: Breaking down Langford's decision (ITH)
· Post announcement video interviews: Romeo and Tim Langford, Jim Shannon (ITH)
· Around the Hall: Reaction to Langford coming to IU (ITH)
· Photo Gallery (ITH)
Wyandotte Safety Solutions is your one-stop shop for safety training and safety products. WSS offers CPR & First Aid training, fall protection, and lift training. We also sell PPE, AEDs, and First Aid supplies.
We are an Indiana company serving Indiana and all of North America. Check out our website for more information: ptsarcflash.com.
Banner #2
The on-court impact of Langford
As much as the addition of Langford will help with future recruiting, it provides an immediate boost to the 2018-19 Indiana Hoosiers. The presence of Langford gives Indiana a dynamic offensive talent. Langford can score from anywhere inside halfcourt and will demand attention from opposing defenses from the moment the season starts.
For Inside the Hall, Ryan Corazza elaborated on just how much Langford will benefit Miller's squad, especially if Juwan Morgan returns for his senior season:
Langford's presence should open things up for the offense as a whole and present a pick-your-poison conundrum for opposing defenses. Juwan Morgan's sensational junior campaign made him a tough cover in the post. (And his improved 3-point shooting made defenses have to think about him on the perimeter at times, too.) Once in the lane on the drive, any interior defender helping off Morgan will give him more space for quick buckets, should Langford opt to pass on his glides to the cup.

Ditto for Justin Smith. The soon-to-be sophomore scored in double-figures in four of Indiana's final five contests and showed particular skill playing out of the short corners, using a running start and his length to receive passes and score over the defense.

Having defenses constantly adjusting to Langford's elite penetration and scoring skills means less attention to Smith and Morgan, and the results could be fruitful. Conversely, any extra attention paid to Morgan means more space for Langford. The New Albany product's addition also means Indiana will be able to sport at least one elite offensive player on the court for a full 40 minutes if Miller staggers minutes — something that wasn't the case a season ago when Morgan rested.
So can Indiana content for a Big Ten title and make a run deep into March? Only time will tell, but it likely would've been a longshot without Langford.
More on Langford's on-court impact:
· Assembly Call Radio: Fun with lineup combinations
· Don't forget Langford's on-court impact (Indy Star)
· Q & A with ESPN's Jeff Borzello on Langford's impact (ITH)
· Q & A with Langford's trainer (ITH)
· A preview of Indiana's potential 2018-19 starting five (Hoosier Network)
Banner #3
Grad-transfer Evan Fitzner fills out roster
With Langford's long-awaited decision grabbing the majority of the headlines, Indiana's other roster addition this past week went under the radar.
Evan Fitzner, a 6-foot-10 graduate transfer from St. Mary's, committed to Indiana on Thursday. Fitzer represents the 13th scholarship player on the roster, although that could change if Morgan goes pro or something else unexpected occurs over the summer.
So, what does Indiana stand to gain from Fitzner? Perhaps the two most important things Fitzner will bring to the program are consistent perimeter shooting and winning experience. In three seasons playing for the Gaels, Fitzner logged minutes in 104 games and appeared in two NCAA tournaments. Over that time, Fitzner knocked down 125 triples at a rate of 41.5 percent, which is better than any Hoosier managed last year.
Fitzner talked to Inside the Hall on Friday about why he chose Indiana:
ITH: The style of play is different than at St. Mary's. How big of a factor was that in your decision?

Fitzner: Coach Miller wants to play fast. That's something that I did a lot of in high school and it's something that I'd like to get back to. I feel like it suits my game well. Just being able to stretch the floor and getting out in transition. I think the style of play fits well.

ITH: The first thing that stands out when looking at your stats is the 3-point shooting. What are some other things in your game that maybe you don't get enough credit for?

Fitzner: If you watch the film throughout my career, I put the ball on the floor a lot and got to the basket off of pump fakes. Guys are flying at me because they know I can shoot. And then one of the things I'd like to show more of is a back to the basket game and being able to post up. Those would be the two main things.
More on the addition of Fitzner:
· Scouting Report (Hoosier Network)
· Fitzner adds winning experience, three-point shooting (Indy Star)
Banner #4
Langford first … Jackson-Davis and Brooks next?
Romeo Langford marked the first five-star prospect to commit to Archie Miller's Hoosiers, but he most likely won't be the last.
Indiana's recruiting focus has moved to the classes of 2019 and beyond. Priorities 1a and 1b? The Speice Indy Heat AAU duo of Trayce Jackson-Davis and Keion Brooks.
Jackson-Davis and Brooks are both 6-foot-8 and incredibly versatile. The five-star tandem has been lighting up the AAU summer circuit with high-flying alley-oops and stunning swats. In their own right, each is an elite two-way prospect with loads of star potential. Together, they form what has quickly become an unstoppable duo.
And it wouldn't be surprising to see Jackson-Davis and Brooks head to the same college in 2019, as Kyle Neddenriep writes for the Indy Star:
Brooks Jr. is averaging 22.1 points (on 52 percent shooting) and 6.2 rebounds in eight EYBL games this spring, while Jackson-Davis is averaging 17.8 points (on 58 percent shooting) and 6.9 rebounds.

"I love it," Brooks Jr. said when asked about playing alongside Jackson-Davis. "I love playing with Trayce. I can't ask for a better teammate. He's unselfish and willing to make the extra pass. He always has a positive attitude. I realize he's going to attract a lot of attention so I do the best I can to hit open shots and get the ball to him when I can."

Brooks Jr. was rewarded for his big weekend performance with scholarship offers from North Carolina and USC. The highly sought-after and versatile forward recently hosted in-home visits with long-time suitors Michigan State and Purdue, along with Indiana, Georgetown, Iowa, Kentucky, Michigan, and UCLA.

"It was surreal having all of those Hall of Famers in my home," he said of the visits.

Many of the same programs are on Jackson-Davis' list. He hosted in-home visits with Indiana, Purdue, Iowa, Michigan State, Ohio State and UCLA and has offers from all of those schools.
More on Jackson-Davis, Brooks, and other players IU's staff has an eye on:
· Video interviews from EYBL Indy: Jackson-Davis, Brooks (ITH)
· Jackson-Davis wants to live up to the hype (Herald-Times)
· Brooks' recruitment still on the rise (Herald-Times)
· More interviews from EYBL Indy: Ethan Morton, Trendon Watford, Isaiah Stewart, Jahmius Ramsey, Kira Lewis
· Inside the Hall Premium Forum bonus content: Tyrell Terry highlights from adidas Gauntlet Indianapolis
Banner #5
Indiana All-Stars week on the horizon
With three different star in-state prospects having committed to the Hoosiers, this year's Indiana All-Stars week should have the attention of all IU fans.
Yes, Romeo Langford will be playing, but so will fellow commits Damezi Anderson and Rob Phinisee. They'll face off against the Indiana Junior All-Stars on June 6th in New Albany before the two-game series with the Kentucky All-Stars. Those games will take place on June 8th at Bellarmine in Louisville and on June 9th at Bankers Life Fieldhouse in Indianapolis.
Information on how to acquire tickets for any of the games is available here. Take note: tickets for the Seniors vs. Juniors game must be purchased in-person on May 9th at 6 p.m at the New Albany High School gymnasium.
Banner #6
Eric Gordon shreds the Jazz + bonus links
With the top-seeded Rockets tied at one game apiece in their second-round series with the Utah Jazz, Houston needed somebody to step up.
Enter Eric Gordon.
The reigning Sixth Man of the Year lifted the Rockets bench with a monster 25-point effort on 8-of-13 shooting. Gordon put up more points than Utah's star combination Rudy Gobert and Donovan Mitchell, allowing the Rockets to retake the series lead.
The series continues tonight, with Game 4 tipping off at 8 p.m. ET on TNT.
Before you go:
· Juwan Morgan did not receive an invite to the NBA Draft Combine. He will still be able to have individual workouts for teams where he can receive feedback. Morgan must make a decision on whether to return for a senior season by May 30
· IU Softball won their season finale in Piscataway to close Big Ten play with a 17-6 conference record. They have secured the No. 3 seed and a first-round bye for the conference tournament
· No. 18 IU Baseball's slide continues as they dropped a 4-1 decision to Minnesota on Friday
· Romeo Langford hasn't even stepped foot in an IU classroom, yet he's already earned a degree from the Kelley School of Business. Well, sort of (Indy Star)
And with that, the joy of hanging Banner #6 is now one week closer.
Thanks for your continued support for The Assembly Call and Inside the Hall. We'll be back next weekend with a new roundup.
Now go enjoy yourself a 6-banner Sunday. If you'd like to receive this newsletter in your inbox each Sunday, please enter your email address below:
(Photo credit: Eric Crawford, WDRB)
Filed to: Evan Fitzner, Romeo Langford