Around the Hall: Reaction to Romeo Langford's commitment to IU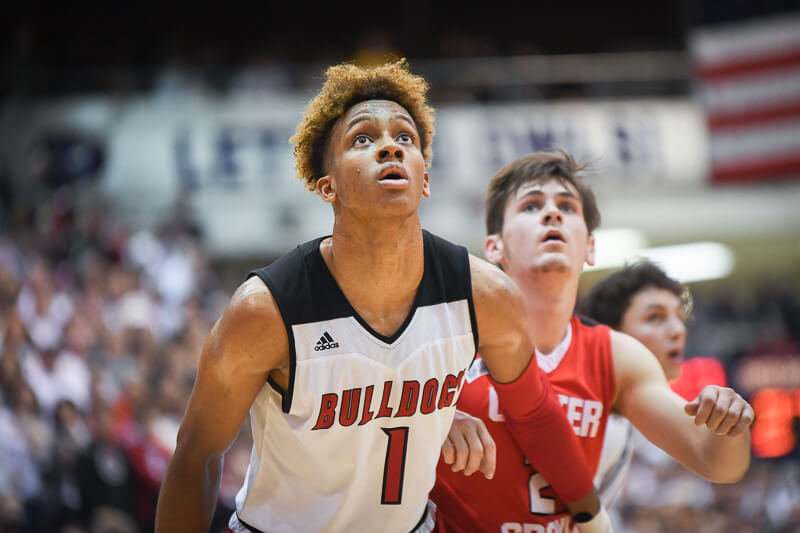 Around the Hall is recommended reading from the Inside the Hall staff.
Rick Bozich of WDRB.com writes that there were a lot of "done deals" for Romeo Langford along the way, but ultimately Indiana and Archie Miller won out:
One reason Tom Crean was removed as the Indiana coach was he whiffed in his recruitment of the six straight Mr. Basketballs. Gifted in-state kids like Kyle Guy (Virginia), Kris Wilkes (UCLA), Jaren Jackson (Michigan State), Malik Williams (Louisville), Trevon Blueitt (Xavier) and Bryant McIntosh (Northwestern) did big things elsewhere this season. It was no longer cool to go to Indiana.

All Miller could say was that he planned to build his team by recruiting inside-out, scrambling to sign as many Indiana kids as possible.

That was a mandatory press conference soundbite, a remnant from the Bob Knight days. Crean had once said the same thing.

Skeptics laughed. College basketball has changed. Few coaches can protect their state borders. Crean won two Big Ten regular-season titles with guys from Maryland, Alabama, Virginia and New York as well as several Hoosiers.

What happened? How did Indiana get a recruit ranked the 6th best player in America?

Who knows? One thing that happened was that Miller didn't get the memo that Indiana had no chance — and that some of the competition helped by eliminating itself.
Dana O'Neil of The Athletic spoke with Cody Zeller ($), who offered some words of wisdom to Langford:
Most people expect Langford to bolt after one season, but Zeller says that shouldn't change the way he approaches his time in Bloomington. "Embrace every moment, even if it's only a year,'' Zeller says. "I didn't approach my time at Indiana as a launching pad to the NBA. I wanted to be there. I wanted to work to build the program, and he can do the same thing, no matter how long he's there. Indiana fans appreciate that. That's what ultimately sets you apart, not just making the announcement today. Embrace the culture of Indiana.''
Gregg Doyel of The Indianapolis Star set the scene from New Albany as Langford announced his pledge to the Hoosiers:
It's a sea of red here – New Albany red, IU red – and across the lawn and down Vincennes and around the corner onto McCaffry, way down McCaffry, is a young man named Ben Smith. He's 18, a junior at Scottsburg High School about 30
miles away, where the rival crowd lined up for an hour the last time New Albany played there to get Romeo's autograph.

"It's that way everywhere we go," Jim Shannon is telling me, himself an Anderson kid and a longtime IU fan dating to the days of Bob Knight, which is why this was so emotional for him as well. "But at Scottsburg it was longer than usual. I remember that."

And this kid Ben Smith, he's in line on Monday. Went to high school, then caught a ride to New Albany to watch Romeo pick – he hoped – his beloved Hoosiers. Smith couldn't drive himself, you understand. He's been a quadriplegic since he was 14 months old, when that car seat saved his life but couldn't save his spinal cord during a crash. It couldn't be easy for him to get here, I'm suggesting.

"Had to come," Ben's telling me. "For Romeo, and for IU."
Jeff Borzello of ESPN.com breaks down the impact of Romeo Langford's commitment to Indiana:
The state of Indiana made no secret of where it wanted Langford to play his college basketball. His high school games were jam-packed with Indiana fans, with long lines waiting for him postgame for autographs.

On decision day, the pull to stay home for college was too much to pass up.

Keeping Langford in-state for college is a huge early coup for Miller, especially after Indiana missed on all four ESPN 100 prospects from the state in the 2017 class. In fact, Langford's commitment to Indiana is the first time since 2007, when Eric Gordon stayed home, that the Hoosiers have landed the top-ranked player from the state. During Tom Crean's nine years at Indiana, the Hoosiers landed just five of the 35 ESPN 100 players from the state.
Josh Cook of The News and Tribune gives a rundown of the night's proceedings, including Tim Langford's comments before the announcement:
Tim Langford, meanwhile, pumped up the crowd with a few questions.

"I want to know how many Vanderbilt fans do we have in the house?" he asked.

That's when the aforementioned Vandy fan made some noise.

"We got one in the house, OK that's a good sign," Tim Langford said.

Then he asked: "How many IU fans do we have in the house?"

The crowd erupted.

Finally, the Langford patriarch asked: "How many Kansas fans do we have in the house?"

He was met with a chorus of boos.

"Alright, Vanderbilt and Kansas are tied, that's a good sign," Tim Langford said. "A real good sign."

Then he capped off his time on the raised stage with one final query.

"I want to know, how many Romeo Langford fans are in the house?"

The crowd roared.
Chris Johnson of Sports Illustrated writes that landing Langford was bigger than any on court win Archie Miller had during his first season in Bloomington:
Langford's decision arguably amounts to a bigger win than any Miller notched in his first season overseeing the program. After years of frustrating returns on in-state recruiting efforts toward the end of Crean's tenure—including zero prospects ranked in the top 25 of the Recruiting Services Consensus Index (RSCI), a composite incorporating data from multiple scouting services, since 2014—the Hoosiers fended off several bluebloods for Indiana's No. 1 player.

That Miller and his staff were able to prevail in a heated battle on their own turf for an elite prospect despite having very little to sell on the court at this point bodes well for the program's future. With Langford in tow, Indiana will sign three of the class of 2018's top four recruits in the state of Indiana, according to the 247Sports Composite. (The other two are four-star Riley High small forward Damezi Anderson and four-star McCutcheon High point guard Robert Phinisee.)
Filed to: Romeo Langford