The on-court impact of Romeo Langford's commitment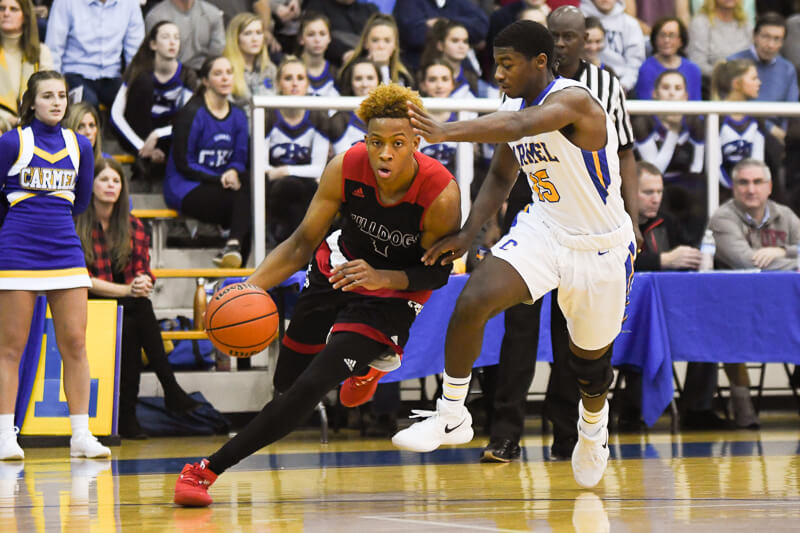 Romeo Langford's Monday evening commitment to the Hoosiers gives Indiana's offense a much-needed boost and provides some clarity for a backcourt with some question marks and depth issues heading into the 2018-19 season.
With Robert Johnson and Josh Newkirk departed, Indiana lost its only double-digit guard scorer (Johnson at 14.0 points per game) and its top assist man (Newkirk's 2.7 assists per game and assist rate of 22.1 both led the Hoosier a season ago). Returners Devonte Green and Al Durham showed flashes of high-level play at times — especially Green — but inconsistency and on-court disappearances plagued their 2017-18 campaigns as well. Whether they can take a leap and give sustained quality output in Archie Miller's second year remains to be seen.
And while Robert Phinisee's senior year at McCutcheon was a stat-stuffer (29.4 points, 6.8 rebounds, 5.8 assists and 3.7 steals per game), expecting a freshman point guard to carry a heavy backcourt burden isn't always a recipe for success.
Langford's addition to the backcourt will replace Johnson's scoring output and then some. It also gives Indiana a high volume, go-to perimeter scorer capable of creating his own shot, a role left vacant in Miller's first season with James Blackmon Jr. opting to hire an agent and make himself eligible for the NBA draft after his junior season. The rest of the backcourt will carry less water, too. As mentioned above, asking too much of Phinisee can be risky, but his role will be more commensurate with realistic expectations with Langford at his side.
If Langford and Phinisee end up being the starting backcourt, Green could turn into a super sixth man, capable of spelling either Langford or Phinisee with his ability to score and dish. And if Phinisee has an off night or gets in foul trouble, a more consistent Green could prove to be little, if any dropoff. If Green starts alongside Langford and plays up to his potential, Indiana has a solid 1-2 punch in the backcourt with a more-than-capable freshman backup at point guard. As a fourth guard, Durham's minutes might also fall more in line with expectations and growth in the program.
Beyond the backcourt, Langford's presence should open things up for the offense as a whole and present a pick your poison conundrum for opposing defenses. Juwan Morgan's sensational junior campaign made him a tough cover in the post. (And his improved 3-point shooting made defenses have to think about him on the perimeter at times, too.) Once in the lane on the drive, any interior defender helping off Morgan will give him more space for quick buckets, should Langford opt to pass on his glides to the cup. Ditto for Justin Smith. The soon-to-be sophomore scored in double-figures in four of Indiana's final five contests and showed particular skill playing out of the short corners, using a running start and his length to receive passes and score over the defense.
Having defenses constantly adjusting to Langford's elite penetration and scoring skills means less attention to Smith and Morgan, and the results could be fruitful. Conversely, any extra attention paid to Morgan means more space for Langford. The New Albany product's addition also means Indiana will be able to sport at least one elite offensive player on the court for a full 40 minutes if Miller staggers minutes — something that wasn't the case a season ago when Morgan rested.
The attention defenses will need to show on Morgan and Langford — along with both Phinisee and Langford's driving ability — should also open things up and provide more space for Indiana's spot-up 3-point shooting around their offensive stars. But it was so poor last year (32.2 percent, 307th in the country) and with no Matt Roth, Nick Zeisloft, Jordan Hulls or Christian Watford to be found on this roster, better 3-point accuracy is no guarantee — despite the likelihood of better looks.
And that says nothing of Indiana's woeful free throw shooting from a season ago. The Hoosiers' 65.7 percent mark from the charity stripe ranked 331st out of 351 DI basketball teams. Langford alone won't be able to turn things around in that department.
On defense, Indiana improved as last season went along, finding new habits and becoming more comfortable with the concepts of the pack line defense. Langford's athleticism, ability to guard multiple positions and long arms give him the tools to be an asset in Miller's system. He's better suited to recover out to shooters than the departed Johnson and Newkirk. At New Albany, Langford was opportunistic in the passing lanes (3.0 steals per game) and scored on breakaways, often finishing with his light, silky smooth jams on the other end.
Filed to: Romeo Langford