Q & A: ESPN's Jeff Borzello breaks down the impact of Romeo Langford's commitment to IU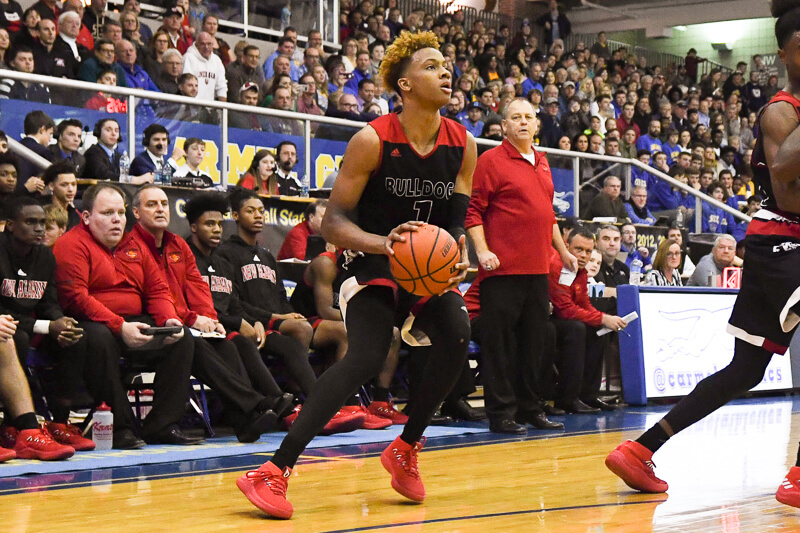 Romeo Langford's commitment to Indiana is a major coup for Archie Miller and the Hoosier coaching staff as they prepare for their second season in Bloomington.
IU's recruiting class is now ranked in the top ten nationally and the Hoosiers should be a factor in next season's Big Ten race.
To discuss the impact of the commitment, Inside the Hall spoke at length with ESPN national college basketball analyst Jeff Borzello to get his thoughts on Langford, expectations for IU and much more.
A full transcript of our conversation is available below:
Inside the Hall: It seems like a lot of things had to go right in a short period of time for Indiana to get to this point with Romeo Langford. Obviously the situation with Louisville helped, but what does it say about IU's efforts here that it was able to land a prospect of this caliber just a little more than one year after Archie Miller took over the job?
Jeff Borzello: I think it's huge. When they took over, Archie (Miller) obviously made Langford his top target in 2018. At the time, it looked like Indiana was going to have to catch up. Louisville and a bunch of schools were entrenched early and Indiana was going to have to catch up and beat them. At the time, it was kind of a long shot in my opinion that they were actually going to get him.
The longer it went, and I think the fact that it went until now, kind of helped them in a way because they basically recruited him for over a year now and it's not, "hey, we recruited him for five months and we have to beat teams that recruited him for two years." They've had a long time for him to develop a relationship with Archie Miller and his staff. I just think it was huge that they were able to jump on pretty late and still beat out Kansas and hold off some of the schools that were involved earlier. And even over the past couple of months and weeks, they were not the clearcut favorite throughout the winter and the spring. It wasn't a deal where, "hey, the kid wants to stay home and no matter who was the coach there, he was going to stay home." I don't think that was the case. I think they worked hard and made a late run here. Vandy seemed to be a strong contender earlier in the winter and I think Kansas made a strong push late and Indiana kept holding them off and holding them off.
It shows a couple of things. The relentlessness that Archie and his staff had recruiting him. And I think it shows that from day one until the day he committed, they showed the same level of interest in him. It was very consistent throughout. They didn't back off or slow down once Louisville seemed like the favorite. Even last July, it seemed like Louisville was the school that was following him the most, but Indiana was still there. Even when it looked like Vanderbilt or Kansas was going to get him, Indiana still recruited him. To me, it shows a relentlessness and a desire to keep him home despite everyone saying that they would have trouble keeping him home when they took over.
ITH: One of the criticisms of the previous staff, whether it was fair or not, was an inability to land the best players from Indiana the last couple of years. How much do you subscribe to the theory that Indiana needs to keep the best players from the state in order to return to its blueblood roots? How important is it?
Borzello: I subscribe to it in a way. People say that about a lot of different programs. UCLA has to recruit LA. St. John's has to recruit New York City. I think to an extent, that's the case. I think if you're Indiana, you don't have to get every kid that comes out of Indiana. But Indiana missed all four top 50 kids from Indiana in the class of 2017. You can't do that.
And Indiana is a different deal than UCLA or any other program. It's got that local tie. People in the state of Indiana have a connection to it whether you went to Indiana or not. People in the state want to see kids from Indiana go to IU. It's sort of a unique deal there in that they want kids from Indiana to stay home.
If Archie wasn't able to get Romeo … or if six months ago he committed elsewhere, I don't think it would have been the end of the world. It's one player. He's probably going to be there for one year. But I do think that because it went on this long and Indiana fans got their hopes up, for him to go to Indiana, I think it was huge.
But to keep somebody in-state when he has other options – whether it is a blue blood or a unique situation like Vanderbilt – I think it's huge. It's huge for the fanbase and it's huge for Archie. I think it makes the statement that he's going to try to keep kids home. Whether he got Romeo or not, he clearly made keeping kids home a priority. And Romeo was sort of the statement recruit, the staple that says, "A little over one year and I come in and the best kid in the state stays home. And I beat out Kansas, Vanderbilt and held off X, Y and Z earlier in the fall and the summer for him."
He can point to this as long as he's at Indiana. If he goes through a year where he doesn't get an in-state kid, and I'm not saying that's going to happen, but he can point to this and say, "I did this my first year there. I deserve a little bit of breathing room."
ITH: It's not really a rebuild in Bloomington, but maybe retooling is a better way to put it. How does this change the timetable for Indiana to be successful, if at all?
Borzello: I think it raises the expectations. If they didn't get Romeo, I think Indiana goes into next season and the expectations aren't as high. And another year of missing the NCAA tournament and it's not the end of the world. Now with Romeo in the fold, I think the expectations are higher. And obviously that makes sense because he's a one-and-done, lottery pick type of player.
Now they're probably going to be expected to hover around the top 25 or be in the top 25. They're probably going to be expected to make the NCAA tournament. And so it does speed up the process a little bit. But at the end of the day, he's probably only going to be there for one season. I think what Archie did for the rest of the 2018 class where he got a lot of different pieces and building blocks, it's not going to get the headlines that getting Romeo Langford does, but what he did there was just as important. Romeo is going to be there for one season. Once he leaves, are you really starting back over? Or are you moving forward and building up? I think what he did with the rest of the 2018 guys that he got, I think that's almost just as important for his whole process.
ITH: When you look at the top of this class, what separates Romeo from a guys like Cam Reddish and R.J. Barrett? Kansas commit Quentin Grimes, Romeo is ranked ahead of him by most. We're splitting hairs to an extent when we're talking about these elite guys who are likely lottery picks, but what makes Reddish or Barret better than Romeo in your mind?
Borzello: It's different for every guy. For Barrett, he brings it at both ends of the floor constantly in every game. You can always count on him every game for that. Romeo goes through bouts where he's not as assertive as he needs to be. He goes through streaks offensively where he'll make some shots on the perimeter and then maybe he won't disappear, but at a USA Basketball type of event, he won't be as aggressive or assertive with the ball in his hands.
Reddish, at the end of the day, he's a 6-foot-8 point forward. You look at that and the ceiling is just different than someone who is a 6-foot-5 shooting guard. It's nitpicking. I think Romeo and Grimes are right there. Grimes is probably a better playmaker in terms of his ability to play point guard and Langford is more of an off the ball guy. I think Barrett is the clearcut No. 1 and I think Reddish might have the most pro potential. But I think Langford and Grimes are right there for best guard in the class.
I think Langford is walking into a situation at Indiana where he's going to have the green light. He's going to be the go-to-guy offensively from day one. He's going to have a chance to average 17, 18 or 20 points a game. But he's going to have a lot of pressure on his shoulders. He's going to be carrying the offense and will have the weight of the state looking at him. I think it's a different situation than what Grimes will have at Kansas. Langford, he could end up being the top freshman scorer in the country next year. He's walking into the perfect situation where he's going to be able to showcase his talent for as long as he wants per game from day one. It's really a perfect situation for him.
ITH: In terms of the roster that they have and assuming Juwan Morgan comes back, is this a team that can make the tournament? Should that be the expectation? The Big Ten is going to be a lot different as Purdue is going to be depleted, Michigan State is losing a ton, Michigan could be losing a lot, Penn State lost Tony Carr. The league wasn't that good last season and it almost feels like, on paper, Indiana could make a significant jump in the league standings.
Borzello: I think they should (make a jump in the standings). For them to finish top four or so in the Big Ten, without looking too closely at the contingencies for each school given what they did this past year is realistic. I went to the Duke game where they went toe-to-toe with them for 35 minutes. I saw them play a couple of times in person and now that they have a little more talent in the program, to me they have the pieces to be an NCAA tournament team.
It really only takes a couple of more wins here and there for them to be top four in the Big Ten. As you mentioned, the top of the Big Ten is up in the air for the most part. A lot of talent is leaving the league. You bring in somebody like Romeo Langford, you bring in the freshman that they're bringing in and if the rising sophomores, if they can take the step forward that a lot of people are expecting, it's a team that has talent to compete with anybody in the Big Ten and be a top 20, top 25 team.
And the key is Langford. I don't think it's a secret. I think he's going to have to come in and if he can live up to expectations, I think Indiana can live up to expectations. He's that important to what they're doing next season in terms of being in the national conversation. I think it depends on just how good Romeo Langford is from day one.
Filed to: Romeo Langford