Q & A: Romeo Langford's trainer, Dion Lee, discusses his development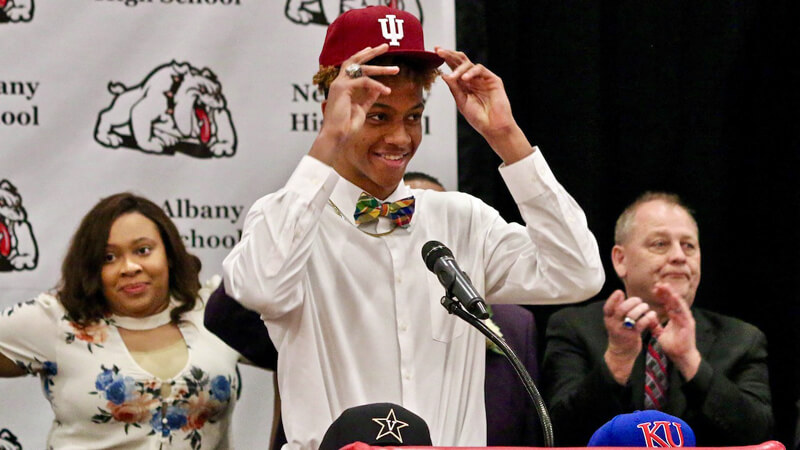 NEW ALBANY, Ind. – Dion Lee, the founder of the Louisville Legends youth basketball program, has known and worked with Romeo Langford going back to his fifth grade year at Scribner Middle School.
Lee has a unique perspective as he's trained multiple Division I and professional players in the Southern Indiana and Louisville area.
Inside the Hall spoke one-on-one with Lee after Langford's announcement to get some thoughts on the future IU guard:
Inside the Hall: You are with Romeo a lot working him out, how have you seen him grow and mature since you first met him in the fifth grade?
Dion Lee: It's been a journey to watch a kid that was already talented just continue to expand his game. It's been great. Usually when you see a kid early on in fifth, sixth or seventh grade, you say, "OK, at some point there's probably going to be a top off." There just never was with him. When you see something like that happen, you start using the term special. And that's what he is.
I've been fortunate enough to be around some very talented players that I played with in high school and against in college and the closest thing I've seen at this stage is Allan Houston when I played with him in high school. There really wasn't a word to use, he just kept going. He never fought getting better. Anything I taught him, anything I showed him, he took it. I would teach him how to rebound with two hands, always pursue the ball with two hands. He's done it ever since. Staying low, getting that shoulder by a guy, turning the corner, stopping and elevating straight up and straight down. He takes it all in.
ITH: This whole process, it's a lot to manage for any kid. But the way he handled it, what does it say about his character and his maturity?
Lee: Romeo has been mature beyond his years for forever it seems. I told a story when he was in the seventh grade, Rod Strickland was at the game. He sat and watched the whole game because his son was playing and I was sitting there and I was telling him about Romeo even though he was playing for the Louisville Legends program, I had another coach coaching the team that game.
And he was like, "Dion, that's a grown man right there. It's just his demeanor, his poise, he's never rattled."
I've watched games where in the summer, they played a box-and-one on Romeo in AAU ball. Who does that? And it's always the guy who is going to be the most physical and grab him and hold him. He never complained or cried to the refs. He never got rattled. That's been the story of him.
ITH: Obviously there are a lot of IU fans here at New Albany tonight who are excited to see him choose their school, but I think the one thing you mentioned that will help him deal with the pressure is that he doesn't seem to be rattled by anything. Where do you think that comes from?
Lee: I think it's a combination of the way he was raised and then some kids are just blessed with special attributes. I always preach to our kids in the program coming up and my own kids at home, when somebody meets you for the first time, they should always walk away saying that you have manners.
The please, thank you, yes ma'am, no ma'am, yes sir. For a kid, for four years, to be willing to stay after games an hour and sign autographs, sign kids t-shirts, sign babies arms or whatever people ask for and never complain. Not once.
(Photo credit: Eric Crawford, WDRB)
Filed to: Romeo Langford