That's A Wrap: Tim Priller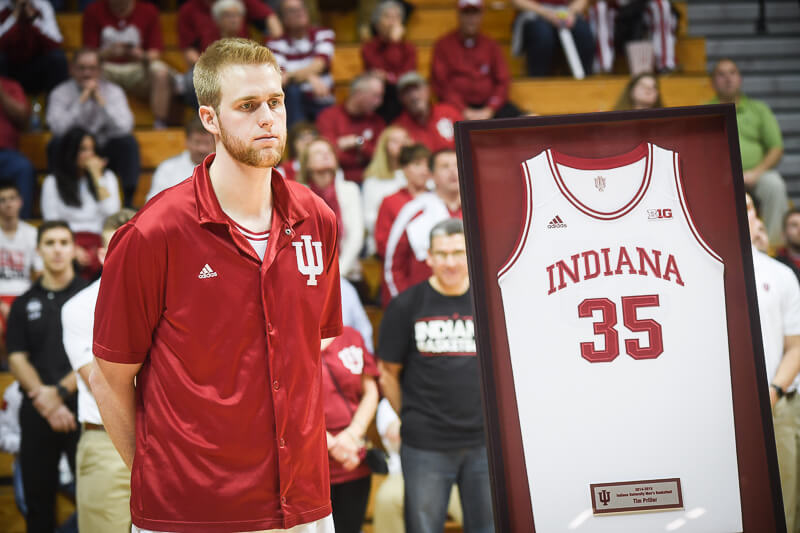 Welcome to "That's A Wrap," our player-by-player recap of the 2017-2018 Indiana Hoosiers. Today: Tim Priller.
Priller (4 games): 0.3 points, 0.5 rebounds, 50 FT% in 1 minute per game.
An Indiana fan favorite from almost the first moment he stepped out on the Assembly Hall floor, Tim Priller's Hoosier career is now in the books.
In April of 2014, Tom Crean took a chance on Priller, a two-star forward. The list of other schools interested in Priller's services was far from spectacular – Incarnate Word, University of Illinois Chicago and Old Dominion – but Crean saw something in the lanky Texan and offered him a scholarship.
Priller played sparingly in his three years under Crean, logging 67 total minutes over 31 games. Other than a rare opportunity here or there when several of Indiana's bigs were in foul trouble, Priller only saw minutes in garbage time. His career-high in minutes played came in his first game when he saw nine minutes of action in a blowout victory over Mississippi Valley State.
When Archie Miller took over the program, "Priller Time" decreased further. With Indiana facing a tougher out of conference schedule that left them on the winning side of fewer blowouts, Priller recorded career-lows in games (4), minutes (4) and points (1). Priller's lone point scored in his senior year came as a result of a free throw in the final minute of a rout over Minnesota.
Bottom line: Priller's role primarily came in practice, where he challenged his teammates in scrimmages. In the fleeting moments where he did see playing time, fans had their eyes transfixed on the court as they anticipated his every move. Even when it was something as small as setting a screen in the final minute of a 20-point game, fans would cheer as if he dunked over a 7-footer.
Quotable: "My freshman year I went in at the end of the game and hit a three, but it was a little long and hit the backboard, but went in though. I got a steal and after that, I was trending on Twitter and ever since then, it's just been a thing, I guess. I don't know." Priller, on Inside IU Basketball in February, on how he earned his cult-like status
Previously: Justin Smith, Al Durham Jr., Clifton Moore, Devonte Green, De'Ron Davis, Zach McRoberts, Juwan Morgan, Freddie McSwain
Filed to: Tim Priller