News and notes from Archie Miller's radio show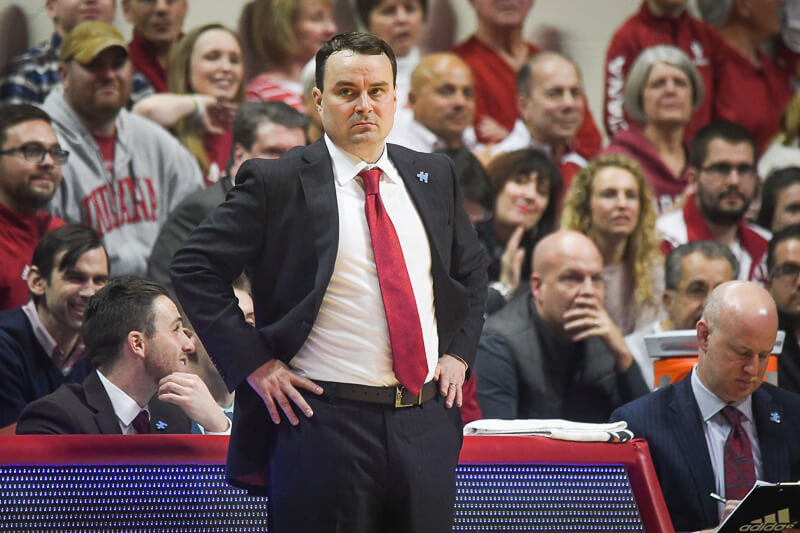 Inside IU basketball with Archie Miller was live on Thursday evening at the Holiday Inn in Bloomington for the final time this season. Miller was out recruiting and joined the show briefly via phone, while assistant Bruiser Flint sat with host Don Fischer. Tim Priller was the player guest in the show's final segment.
Below are news and notes from Flint, Miller and Priller:
· Flint, after Fischer said he had some really good teams while coaching at Drexel: "Not bad. Not good enough to keep my job…We had some good times at Drexel though and made some really good friends."
· Flint said he spent the year after being let go from Drexel trying to figure out his future. He did some television and radio work, and also went around the country sitting in on around 25 professional and collegiate practices. After that, he decided he wanted to get back into coaching.
· Miller, on Robert Johnson: "(Since my) first day on the job, he hasn't changed one bit. He's been all in (done) everything we've ever asked. Above and beyond in terms of coachability. He's turned into a really good leader although a little quiet…Some of our best moments, he's been a part of…He gave us a chance to be pretty successful in our first year, especially down the stretch."
· Flint said the Big Ten has the toughest road environments in the country.
· Flint recruited Miller when he was in high school and has known the family for a long time. Near the end of last season, Sean Miller asked Flint if he'd consider joining Archie's staff. Flint and Archie Miller met during the Final Four to discuss the possibility and Flint later became an assistant.
· Flint, on Bloomington: "I'm a city guy. You know me. I grew up in the city… It's a great college town. One of the things I will say when I first got here, myself and Archie and (assistant athletic director for basketball administration) Bill Comar were the first three guys to be here for a significant period of time before everybody else. We use to take these tours through campus. And I will say this – the campus is unbelievable. I couldn't believe how beautiful the campus was. That took me back, so that's one of the things I've enjoyed. But Bloomington has been good. They love their basketball here… It's been a lot of fun and I've enjoyed it. People have really made me feel comfortable here."
· Flint said that "Archie let's you coach as a coach. I've been in this business for a long time, and sometimes coaches just sit on the sidelines. They don't say anything. He does a great job of delegating, letting you know 'this is what I expect out of you. This is what I want you to do.' So actually, as a coach, it keeps you refreshed, it makes you feel as though you're a part of what's going on. I've known a lot of guys that have done work at some places where they just sit there and let the coach do what he wants to do. But Archie lets you really get involved, with what the gameplan is about, with what practice is about. So that keeps you fresh."
· Flint said Miller has a lot of similarities to John Calipari, who Flint was an assistant for at UMass, including "unbelievable organization," an "intensity about them that doesn't intimidate," but also "a kindness about them where you know that they care."
· Asked if he's ever coached a player that had a game like Robert Johnson's against Iowa, Flint said Damion Lee made 10 threes when he was at Drexel.
· Flint, on Justin Smith's emergence: "He's getting a better feel for what we're asking for and what he can do on the floor. When you make the transition from high school to college, people don't understand that shot when you drove to the basket and dunked, it gets contested. That move you made, it gets contested. Guys are a little bit bigger, a little bit faster, a little bit more athletic than you're used to playing. Night in and night in. I thought (Smith) got a little tired (leading up to) the Christmas break. I think after (the break), he came back, he was a little bit more refreshed. He also got a better understanding of what he could do out there. Some of the things that he could do in high school he realized he can't do in college… Now, he's not making as many mistakes. Because he's played a lot, he has a better understanding of what he can and cannot do out there."
· Flint, on how to get the team to play more consistently: "If we knew that, we'd be able to answer a lot of questions. But you never know. You're dealing with kids also, too. I always laugh because I tell adults who talk about sports, I say, when you're dealing with kids, you're going to be consistent. If you're inconsistent as an adult, you get fired from your job… When you're with a kid, you've gotta stick with them and hope they get better as time goes on."
· Flint, on if he'd rather play in the afternoon or evening session of the Big Ten tournament, "I'm just glad we're not playing on that Wednesday. That's the good thing for us, I guess. I don't know I just wait for them to put out the itinerary, so I don't know anything about when we're leaving or anything like that. I just wait for the email, let me know when I have my bags packed by."
· Flint, on his role in commit Jake Forrester's recruitment: "I actually played against his dad in college. His dad played at Temple… We had sort of a relationship going into (the recruitment). Actually, the previous staff had done some pretty decent work with Jake. Knowing his parents, I was able to jump right back into it, but he's going to be a really good player for us. He plays with a lot of energy, really athletic, 6-foot-9. We need to get some size, and that's one reason why we like him. But he plays with a lot of energy, I think the people will enjoy him here."
· Priller, on how he earned his cult status: "I have no idea. My freshman year I went in at the end of the game and hit a three, but it was a little long and hit the backboard, but went in though. I got a steal and after that, I was trending on Twitter and ever since then, it's just been a thing, I guess. I don't know."
· Priller said he chose Indiana because it was his biggest offer. He was thinking about going to the University of Illinois at Chicago but, "then coach Crean called me up and offered me. I was like 'yeah, I'll come to Indiana.'"
· Priller on his role with the program: "Everyone wants to play and obviously, I haven't played that much, but if (scout team) is going to be my role, I'm just going to do whatever I can for the team and try as hard as I can at being a scout player and getting them ready for the games."
· Priller is majoring in liberal studies with minors in criminology and sociology.
· Priller, on what he does outside of playing basketball: "I sleep. I do homework. And there's a game called Fortnight… It's a pretty fun game."
· Priller said his best friend on the team is Robert Johnson: "We've been through a lot of ups and downs. We used to argue all the time, but y'know, that's just part of building a friendship and stuff."
· Priller said his worst experience at Indiana was during an offseason workout freshman year. The team was flipping 75-pound logs on a wet field and one slipped out of Yogi Ferrell's hands and hit him in the head.
Priller added that "Let's just say the rest of that workout I was pretty dizzy and nauseous."
Filed to: Archie Miller, Bruiser Flint, Tim Priller