Year in review: The most read Inside the Hall stories of 2017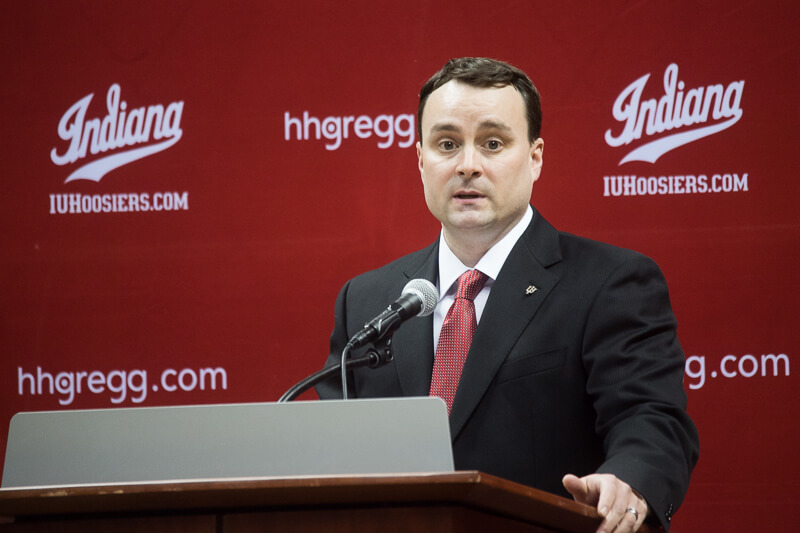 2017 is coming to a close and it has been Inside the Hall's most successful yet in terms of traffic. Here's a look back at the ten most read stories from 2017:
10. Is Indiana a top 10 coaching job? National voices weigh-in
Unsurprisingly, the coaching search dominates the top 10. This piece, with input from former ITH'er Eamonn Brennan, John Gasaway, Mike DeCourcy, Myron Medcalf, Rob Dauster and others, focused on trying to figure out where the IU coaching job fit in among the nation's elite. Here's an excerpt from Brennan's thoughts on the job:
For me, it's easily a top 10 job — in a vacuum. Throw out the history and culture of the program, even, and you've still got the financial support, the facilities there now, the fan base and interest and local talent pool. It's a no-brainer.
9. Indiana fires Tom Crean after nine seasons
After the Hoosiers were embarrassed in the NIT, this news seemed inevitable. Still, when the axe fell, the news garnered plenty of clicks and discussion (458 comments).
Indiana's season ended in the NIT with a 75-63 loss to Georgia Tech on the road on Tuesday night, a game the Hoosiers should have played at Simon Skjodt Assembly Hall, but decided not to.

Ultimately Crean's downfall at Indiana was largely tied to his inability to maintain consistent success. After winning just 28 games over his first three seasons, Indiana emerged back onto the national scene in 2011-2012 with the arrival of Cody Zeller.
8. A look at Indiana's potential in-state targets for the 2018 class
It didn't take long after Archie Miller's hiring for the discussion to shift to recruiting and this was our first in-depth look at recruiting after Miller's introductory press conference. Among the lead discussion points in the piece was Romeo Langford, who remains major priority for IU:
Langford is a household name in the state and nationally. The five-star guard is the No. 3 player in the country, according to the 247Composite, and has a long list of suitors. He's familiar with Indiana because of the former coaching staff's involvement in his recruitment, but didn't visit Bloomington at all this past season. The good news is that Langford hasn't announced any leaders publicly and doesn't appear to be in any rush to make a decision. Even if the pursuit isn't successful, the new Indiana staff absolutely has to make a run at Langford to gauge his interest.
7. Freshman Grant Gelon granted release from Indiana
News of player attrition is always popular and the inclusion of this piece in the top ten is proof. Gelon had virtually no impact on the IU program, but the news of his departure in late May still generated plenty of interest.
Gelon, who played in just 12 games last season for IU, averaged 1.8 points and shot 60 percent on 3-pointers in 3.2 minutes per game.

The 6-foot-5 guard, who played at Crown Point, was an Indiana All-Star and was the first class of 2016 commitment for Tom Crean.

But Gelon never saw the floor consistently as a freshman and of his 12 appearances last season, eight of them came against low-major competition.
6. Five-star guard Romeo Langford talks IU recruiting pitch
Langford talked to the media at a recruiting circuit stop in Louisville and discussed his recruitment, particularly the pitch from the IU coaching staff. For late July, it garnered a significant amount of traffic:
Indiana, which reaffirmed its scholarship offer to Langford quickly after Archie Miller took over in late March, has taken a straight forward recruiting approach with the top five player.

"(It's) just the legacy I would have at Indiana because I'm from Indiana," he explained. "If I go to Indiana, everybody is going to love me."
5. National voices weigh-in on Archie Miller hire
On a hectic Saturday in March, our student reporter Josh Margolis delivered this piece of fantastic content. Margolis got in touch with writers from across the country to get their reaction to Indiana's hiring of Miller. Here's an excerpt from what Matt Norlander of CBS Sports had to say:
Indiana made a name hire. They, in my opinion, made the right move in choosing to go with Archie over the likes of Steve Alford. Archie is considered all at once: a really fantastic recruiter, a really fantastic tactician of the game, works extremely hard, obviously is well respected within the industry. If you're Indiana and you want to start over, and you're trying to get the program to have the best forecast for final four consistency and national relevancy, I think Archie Miller was the best possible hire they could have made from any coach right now in college basketball.
4. What we know about Indiana's coaching future
In the immediate aftermath of IU's decision to fire Crean, Josh Margolis set the scene following a press conference from Fred Glass.
"My expectation is to not really talk about the search. I'm not going to react to rumors. If I'm not reacting to a rumor, that doesn't mean that you're hot on the trail of the right guy. Maybe it does, maybe it doesn't. I don't know. Right now there is no guy. Today it certainly wouldn't be true.

"I'm not going to handicap people, not going to confirm or deny anything. I'm going to work on this, kind of clear my calendar of everything else. This will be my focus."
3. Hysteria an "electrifying" atmosphere for five-star Romeo Langford
Langford's father, Tim, gave Inside the Hall an in-depth interview following his son's official visit to Bloomington. The story was one of our most viewed pieces of the year:
"We'd gone to a couple of Hoosier Hysterias before. Last night, it was electrifying," Langford's father, Tim, told Inside the Hall on Sunday. "It was good, to be honest with you. It was a special feeling, it was a good feeling. I was surprised. We really didn't expect that.

"You normally just go sit in the bleachers. We'd never walked over the court to go sit down or actually sat on the front row. It was very exciting. New Albany holds 4,000. To have that many in there cheering for Romeo, it was a good feeling. And I can speak for the whole family, too. That was the first time that something like that has really happened. It was great."
2. Roundup: What potential candidates are saying about the IU job
Miller was asked about the opening at IU and didn't have much to say, but this roundup piece still generated a ton of clicks:
Indiana's coaching search is less than two days old, but several potential candidates have already been asked publicly for their thoughts on the opening.
1. Names to know: IU basketball coaching search big board
One of our first pieces of content after Crean's firing was a survey of the potential field of candidates for the job, which included the following thoughts on Miller:
Miller, 38, is one of the best young coaches in college basketball. Under his leadership, Dayton is headed to the NCAA tournament for the fourth straight season. He guided Dayton to the Elite Eight in 2014 and spent time as an assistant at Ohio State (2007-2009), so he's familiar with the Big Ten. This season, Dayton won the outright Atlantic 10 regular season crown. The job at his alma mater, North Carolina State, is also open, but most reports suggest that he won't take the job despite being the Wolfpack's top target. If Indiana's going to go with a young, up-and-coming coach, it's hard to argue the upside with Miller and he seems destined for a top tier job.
Filed to: