Hysteria an "electrifying" atmosphere for five-star guard Romeo Langford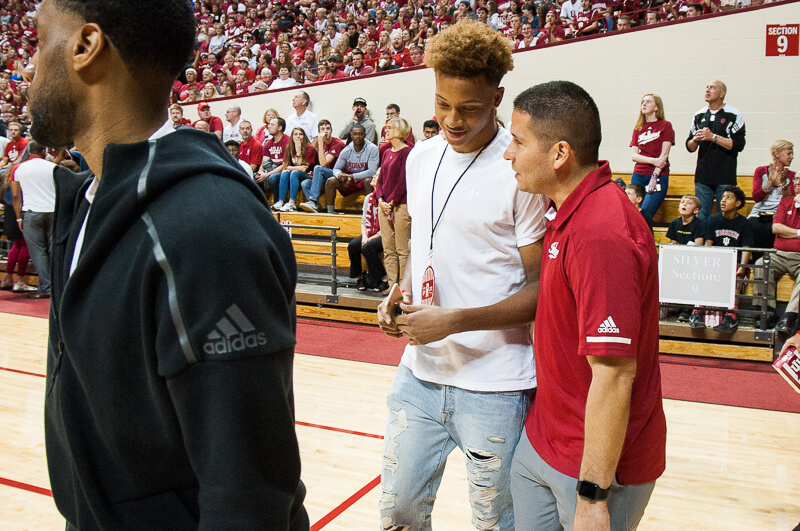 The loudest ovation at Saturday's Hoosier Hysteria at Simon Skjodt Assembly Hall went to Indiana's new head coach, Archie Miller.
The second loudest ovation of the evening may have gone to New Albany star Romeo Langford, who was making his official visit to Bloomington.
This weekend's trip was originally scheduled to be an unofficial visit, but after Louisville and Kentucky were dropped from his original list of seven finalists, Langford opted to make it an official.
The No. 5 prospect nationally in the 2018 class, according to the 247Composite, was the first recruit to walk across Branch McCracken Court at Hoosier Hysteria. He was instantly recognized by Indiana fans and it didn't take long for chants of "Ro-meo Lang-ford" to become audible in Assembly Hall.
"We'd gone to a couple of Hoosier Hysterias before. Last night, it was electrifying," Langford's father, Tim, told Inside the Hall on Sunday. "It was good, to be honest with you. It was a special feeling, it was a good feeling. I was surprised. We really didn't expect that.
"You normally just go sit in the bleachers. We'd never walked over the court to go sit down or actually sat on the front row. It was very exciting. New Albany holds 4,000. To have that many in there cheering for Romeo, it was a good feeling. And I can speak for the whole family, too. That was the first time that something like that has really happened. It was great."
The trip to Indiana was the fourth of five scheduled official visits for Langford, who is also considering Vanderbilt, UCLA, North Carolina and Kansas.
His final official visit is scheduled for this coming weekend to Kansas.
This weekend's trip to Bloomington included watching practice, a campus tour, a meeting with the academic advising staff and also a meeting with IU's director of athletic performance for basketball, Clif Marshall.
"The academic advisor, she was very impressive," Tim Langford explained. "I liked what I heard from her as far as getting Romeo to know how to balance school and his grades with basketball. The strength and conditioning coach, I know he has a background in the NFL and I asked him about that, but I liked how he broke it all down to me. We were impressed with him as a family. My wife actually talked about that later in the day.
"Coach Miller is Coach Miller. We're impressed with him. We tried to learn more about the assistant coaches and what their roles are."
With his trip to Indiana in the books and one visit to go, it's still up in the air on where Langford's recruitment will go next.
The original plan, Tim Langford said, was to narrow to three schools after the official visits were completed. But a fall decision is still on the table as well.
"That was the plan (to narrow to three), but at the same time, we're like 'Romeo, you can narrow down to three' or you can just say, 'hey Dad, I like this school. This is where I want to go.'
"He will make the final decision. But us as a family and as parents, we may say, 'these are our three.' But if he says, 'this is the one I want,' we're going to go where he wants to go. As a matter of fact, he can tell me tonight, tomorrow or whenever that we don't need to take the trip to Kansas and we won't. We won't take a trip just to be taking it.
"If he's confident in the school he wants to go to, so be it. The plan is go to Kansas this weekend and then right before the (high school) season starts, around mid-November, narrow it down to three. But if he says he's ready, we'll just make a decision."
Filed to: Romeo Langford