Five-star guard Romeo Langford talks IU recruiting pitch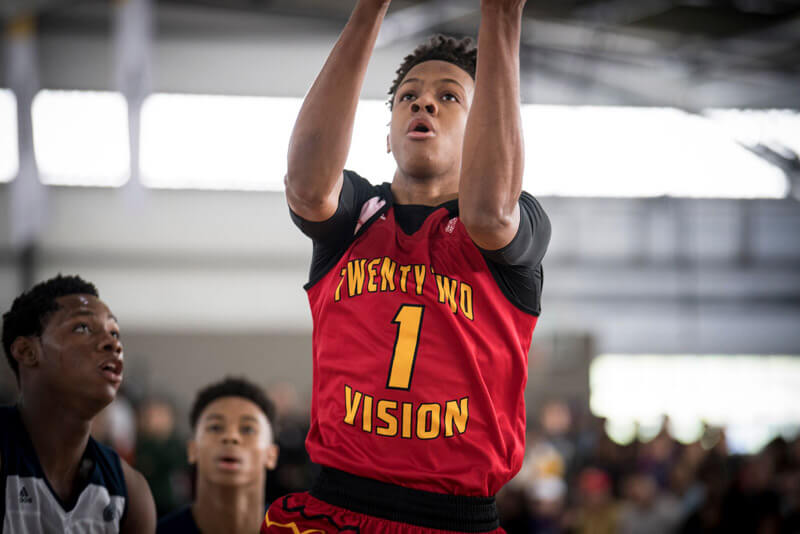 LOUISVILLE, Ky. – Class of 2018 New Albany and Twenty Two Vision five-star guard Romeo Langford didn't even need to take the court on Friday at the All-In Hoopfest to draw a crowd.
Langford, who has been a household name in the Southern Indiana area since his freshman season, isn't playing during the second July evaluation period. But Indiana associate head coach Tom Ostrom still stopped by his team's game on Friday night, as did Louisville coach Rick Pitino.
The 6-foot-5 guard, who played limited minutes in last weekend's adidas Gauntlet Finale in Spartanburg, South Carolina, hopes to return next weekend for the adidas Summer Championships in Las Vegas.
Langford said his hips are "off," which is causing him back pain and that he's currently getting massages and doing pool exercise to rehab.
As for his recruitment, the list of suitors has remained steady.
"It's still the same. It hasn't overwhelmed me," Langford explained. "I'm just taking it day-by-day. Talking to all of the college coaches. I am trying to focus on cutting my list by the end of the summer."
Langford has offers from every blueblood program in the country, including Indiana, Kentucky, Louisville, Duke, North Carolina, Kansas and UCLA. In late June into early July, Langford played for USA Basketball and won a bronze medal in the U19 FIBA World Championships in Cairo, Egypt.
That team was coached by Kentucky's John Calipari.
"It was good being able to be coached by him already," Langford said. "And being coached by the other two college coaches, coach Tad (Boyle) and coach Danny Manning. They're all three good college coaches and I learned a lot from them."
Indiana, which reaffirmed its scholarship offer to Langford quickly after Archie Miller took over in late March, has taken a straight forward recruiting approach with the top five player.
"(It's) just the legacy I would have at Indiana because I'm from Indiana," he explained. "If I go to Indiana, everybody is going to love me."
In terms of how schools involved in his recruitment plan to utilize Langford, most schools are providing a similar pitch.
"They can help me better myself," Langford said. "They know what I can do now. Just them helping me and putting me in the right situations on offense and stuff like that."
The New Albany star said that he has talked about taking a visit to Bloomington, but hasn't set a date yet. He confirmed that a spring decision is most likely.
"I'm probably going to wait until the spring to make my decision," he said. "I'll probably want to take my official visits in the fall and then just wait until the end of my senior year of basketball to make a decision."
As for his upcoming senior season at New Albany, which sold out nearly every home game last season, the goal is clear: Langford wants to win a state championship.
The Bulldogs won the 2016 Class 4A state championship, but lost to Castle in the regional this past March.
"Winning state. That's the goal," Langford said. "We're going to have to play well as a team. It's going to be a new squad so we just got to go in from day one, go into practice every day and be focused."
Filed to: Romeo Langford