Is Indiana a top 10 coaching job? National voices weigh-in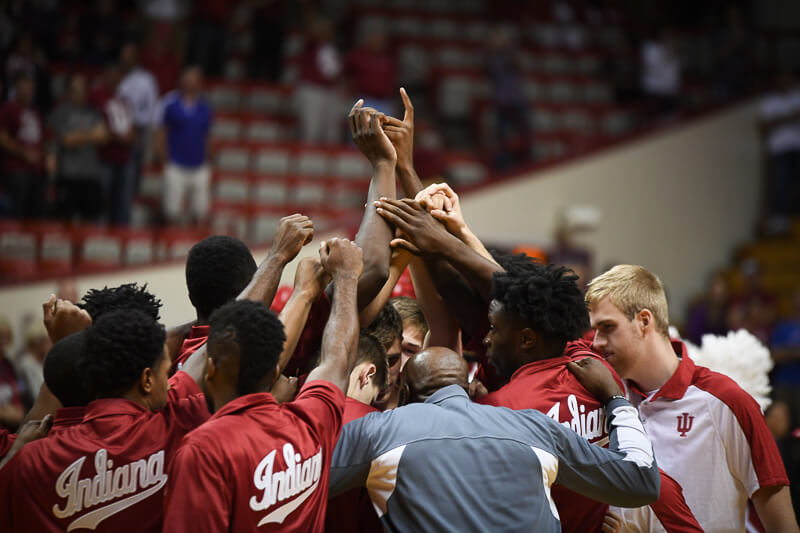 Indiana Athletic Director Fred Glass spoke without hesitation in his comments to the media on Thursday afternoon. Glass, an IU alumnus, believes the head coaching position in Bloomington is an elite job nationally.
But how good of a job is Indiana? Does rich history, fertile recruiting ground and resources keep the IU job among the nation's best? Or, 30 years removed from its last national championship, is IU's place on the national stage fading away?
Inside the Hall reached out to national writers across the country to get their input. Is Indiana a top 10 job? Here's all of the responses we received:
Eamonn Brennan, ESPN.com:
For me, it's easily a top 10 job — in a vacuum. Throw out the history and culture of the program, even, and you've still got the financial support, the facilities there now, the fan base and interest and local talent pool. It's a no-brainer.
That said, I do have a caveat, and one that I think is genuinely damaging, and that's the provincial dynamic at work there. To me, the worst thing Indiana fans could have heard was that their athletic director considered it doubleplusgood (or whatever the Orwell-adjacent phrase was) that a prospective candidate have "Indiana ties." If that's just red meat for the fans, then it's silly pandering at best. If it's a genuine hiring criteria, that's way worse.
Mike Krzyzewski didn't have Duke ties. Dean Smith didn't have North Carolina ties. John Wooden didn't have UCLA ties. Bob Knight didn't have Indiana ties.
This idea that to be successful at Indiana means you have to have played there or coached there or matriculated there in some form or another is nonsense. It leads to decisions based on fuzzy qualities other than pure quantitative success. It leads to decisions based on things other than merit. And it's the kind of thing that, were I an extremely capable up-and-coming coach with proven credentials and a good setup already, would scare me right off. Am I really ever going to be accepted? Am I ever going to get the benefit of the doubt? How much shorter will my leash be? How long until I have "Indiana ties" too?
If IU — whether its fans or boosters or athletics department or whomever — can start acting like it's 2017, and not 1987, then there's no reason it's not a top-10 job. Top-five, even. If it insists on perpetuating this provincial, closed-minded "one of us" myth, then it will put itself at an inherent disadvantage for the foreseeable future.
John Gasaway, ESPN.com and ESPN Insider:
The question of whether Indiana's a top-10 program is itself an Indiana question. To call upon some illustrative and diametrically opposed examples, we wouldn't entertain the same question for a moment with regard to either Duke or Wake Forest, Kentucky or Vanderbilt, Kansas or Kansas State, or North Carolina or NC State. Those answers are all easy and instant. It is only with IU — and, possibly one or at most two others — that many of us pause and ponder. It is strange, surely, that we do so. How did we get here, exactly?
Mike DeCourcy, The Sporting News:
I'm honestly a little surprised to be asked the question. It's like asking if you give me a Rolls Royce and I take it for a ride and dent the fender, is it still a great automobile? People get caught up in recent performance and forget what's really important in a job: support, facilities, tradition, brand, talent base. There aren't 10 that are superior to Indiana basketball. Not a chance.
It has been a while — too long, really — since Indiana basketball has been exactly right. There are multiple reasons for that, but the basics have only been enhanced over the past several years as Cook Hall was built, as Assembly Hall was refurbished. Indiana basketball lacks for nothing at the moment other than the right coach: someone who'll interact ideally with the recruiting base, the fan base and even the media, who will embrace the challenge and the tradition.
Think about where Michigan was in 2007. They hadn't been to the tournament in nearly a decade, and the last two of those trips were wiped out. And they smartly hire John Beilein and they're in the tournament two years later and the championship game four years after that.
Michigan is a tremendous brand, a tremendous university, but it has not historically been the basketball program Indiana has been. That's really the answer right there. If John Beilein can do this much at UM, what can the right person do at IU?
Myron Medcalf, ESPN.com:
I covered a near sellout at Assembly Hall during the early (Tom) Crean years. I went to a taping of Crean's radio show in the single-digit win years. Indiana fans were still there, believing in their squad. You combine that passion with the facilities, tradition and promise, and you're definitely talking about a top-10 gig. This ain't an '88 Pontiac with 300,000 miles on it. It's a '67 Chevy waiting for somebody to see how far it can go.
Rob Dauster, NBCSports.com:
Honestly, I find it weird that this is even a question. Indiana has a huge fan base, they have money, they have a recruiting base in the state, they play in a league that's winnable for them. I don't think I'd call it a top five job, but it's certainly top ten for me.
Jeff Goodman, ESPN.com:
Top 10'ish. Fan base is awesome, good players in the state. You can make a case as high as six or as low as 15.
Jeff Eisenberg, Yahoo! Sports:
To me, Indiana possesses most of the things you look for in a truly elite job — a fertile recruiting base, strong regional and national brand recognition, administrative and fan support, state-of-the-art facilities and ample resources. The job does come with pressure to match or at least approach the heights of the Bob Knight era, but which of the top jobs doesn't have that? Texas is the only one that comes immediately to mind, and that's only because that program has historically underachieved.
Ultimately, I see Indiana as a cut below Duke, North Carolina, Kansas and Kentucky yet still clearly one of college basketball's most attractive jobs. It belongs right in that next tier alongside programs like UCLA, Louisville, Arizona, Texas and Michigan State, all places where you should regularly contend for league titles and be in the Final Four hunt at least a couple times a decade.
Randy McClure, Rush The Court:
Yes, although the Indiana head coaching job has lost considerable luster since the Bob Knight era, it is still a top 10 destination. Kentucky, Duke, North Carolina and Kansas comprise the top four (in no particular order, depending on what appeals to you most), but the mishmash of schools in the next tier includes the crimson-colored seat on the sidelines in Bloomington. The fact remains that Indiana is a basketball school in a basketball state that will commit the appropriate resources to Make Indiana Great Again. It agitates Hoosiers from Terre Haute to Evansville that the state's flagship program has fallen out of favor in the national consciousness, but with considerable recruiting clout in talent-rich Indianapolis as well as Chicago and much of the Midwest, the right coach can immediately turn Indiana into a contender. A series of poor hires in the post-Knight era have marginalized the attractiveness of the position, but those five National Championship banners on the wall in Assembly Hall show what is still possible at Indiana.
Sam Vecenie, Sporting News:
This is kind of a cop out answer, but I think for the right candidate, it's absolutely a top-10 job. But I also believe it's a bit more dependent on getting the "right guy" than some of the other elite jobs. For instance, I would say Texas or Ohio State, where expectations are low and support from the athletic department is uniquely high, are probably less dependent on getting the perfect coach. At Indiana, the scrutiny and expectations are so high that you need to have someone who can deal with the weight of that while also winning games at an extremely high level. He also needs to have experience within the fertile Indiana recruiting ground and be able to hold players in-state within an area that is ripe to be picked by national recruiters due to its relative position in the middle of the country. But the benefits of success at Indiana are clear: you will always have an absolutely rabid fan base that is among the best in the sport. You have a legendary home court advantage at Assembly Hall. You have institutional support from an athletic department that seems to have trust in its coaches given that Crean got nearly a decade. Salary should also not be an issue given that Crean was up over $3 million. For the right coach, that's absolutely a top-10 job. But it's not for everyone.
Jeff Borzello, ESPN.com:
I think they're a top-10 job, yes. I think they have a long way to go to get back to being a top-five job, or top-five program — but top-10, sure. It's a clear basketball-first school, has a rabid fanbase, has a long history of success, and can get players from all areas of the country. Holding the fanbase's expectations against the job itself doesn't make sense. Just because Kentucky has over-the-top fans doesn't change the fact it's one of the best jobs in the country. It just means it's not for everyone. Indiana needs to hire someone that can handle the pressure and expectations that come with being at a top-10 program. One just needs to look at recruiting to see why it's a notch below the top-four or five jobs; Kentucky, Kansas, Duke and North Carolina (maybe even Arizona lately) can get involved with any kid nationally. Indiana hasn't been able to do that lately.
Jon Crispin, Big Ten Network:
First off, there's no hiding the fact that I am, and have always been a fan of the Hoosiers. Shoot, I even got engaged to my former IU cheerleader fiancé in an empty Assembly Hall in December in her parent's seats. We are even getting married in French Lick in late May this year. I come from a basketball family too. A family of coaches and former players. My dad (who chose to play football at Villanova but was recruited by Coach K at Army) coached his high school team to a state championship before becoming a Superintendent of Schools and my grandfather played in two final fours at Temple and coached at Camden County Community College in South Jersey. My brother and I grew up around the game and even though we are Jersey kids, Indiana basketball was something we looked up to and could only dream of being a part of. I'm not alone in my affinity for the Hoosier basketball program and that is why so many people think of the IU job as one of the best in the country. The only issue is that there is much more below the surface that high-level coaches around the country have to consider before taking on the challenge and the honor of being the Head Coach of one of the greatest programs in College basketball history.
One thing I would look at as a coach is whether the expectations (for success) are realistic based on the amount of time it takes to get to that point and whether that time is granted by the athletic department and fan base. In this case, the expectation is Final Fours and Big Ten Championships and 3-5 years is simply not enough time to develop and grow a new system that will truly thrive for years to come. If you want what IU fans and administrators want lasting and continued success and consistency from year to year you've got to look at the next coach as a long-term guy from day one…..and not just once he shows (within a couple of years) that he should be given more time. A key for me would be to establish a plan and a timeline with milestones that the administration, university and fan base can truly get behind and support. If that can be done, the job looks even better to me.
The IU situation is similar to my experience at UCLA as I was there for Lavin's last two years and Howland's first year. Most people don't understand that the pressure that is on a coach, his family and his staff is clearly felt by the players and it certainly effects the way the players approach every day. If I'm a coach, I would want to maximize the potential of my players and staff and get them all to play, perform and live as fearlessly as possible. In order to do that, I have to coach the same way….fearlessly. I have to have peace and security in myself and my team that we are not defined by wins or losses but by the way we go about our business. That's much easier said than done as the job requires us to win. That being the case, job security and support is of the utmost importance. Coaching at a place where the previous coach was Big Ten Coach of the Year (a year ago), won the conference reg season (a year ago), lost in the sweet 16 to the Final Four runner up (also, a year ago) and had numerous injuries to deal with in the year he was fired, would say a lot to me as a prospective in-coming coach. Some coaches accept that as a norm in the profession but it definitely has a negative effect on their ability to maximize the potential of themselves, their players and their staff. It's hard to have confidence with those truths looming in the back of my head. Especially when you're going through tough times as all programs do at some point or another.
Considering the history and tradition of the program, I'd also look at how the past is used to grade my performance in both the short and long term. Using the past and tradition as a way to grade current and future success shows a lack of vision and direction. As a coach, I would want to use the past and the traditions of the institution to build something even better in the future. If the successes of my predecessors do not help me and my staff build what we are trying to build, then the past is more of a ball and chain and less of the springboard that it should be.
A 'good' hire and the 'right' hire are two different things. A good hire is hiring the next best thing or the hottest coach out there. The right hire is less about the coach and more about the desired direction and vision of the university and its athletic administration. If I were a part of the athletic department, I would be spending every hour I could laying out the vision for the program and the department as a whole. As an individual, I have my own personal mission statement. My personal mission statement is less about what I want to get and more about how I want to go about getting it. If I maintain my focus on doing it right and for the right reasons, then the rest falls into place. Every high-major program in the country that has the history and tradition of an institution like IU wants to win championships. If the administration can layout a clear vision of what they want the program to look like and how they want a coach and staff to represent the University, then they can find the right individual for the job.
All that being said, I still think being the Head Coach of the Indiana Men's Basketball team is a great honor. Being a great honor may get many high level coaches interested in the job but that doesn't exactly mean they'll be in the best position to thrive in that role. Also, remember this, the past has to be used as a tool to improve the future, not as a crutch and a flag to wave in the face of those who don't live up to expectations of the fan base and administration.
If the focus remains on the "what" (championships) and not the "how" (building upon the positives of the past to create a better future) then I'll bet we are having this same conversation another 5-7 years from now.
Side note that is totally unrelated…..some Hoosier fans may have thought I have been too positive when things got ugly at times but as a fan of this game, I don't see the need to ever be overly-critical of players and coaches who dedicate so much of their lives to competing and winning at everything they are required to do. If you truly understand how much goes into being a coach, player or manager you'd probably have a better understanding of why I see things the way I do. If I sincerely want each and every team in the Big Ten to thrive, there's no reason to feed into the anger of a frustrated fan base and crush someone else's hard work. That doesn't help anyone. I do try to focus my analysis on what they can be doing or what they need to do to win but that's about it. Those who choose to be critical and judgmental are making it more about themselves and are trying to show you how much they know. The truth is, we only know a few layers deep, while the coaches of these programs understand what's going on at the core. So why would I act as if I had all of the answers?
I hope this all makes sense. I do give this stuff a lot of thought and hope that my perspective has value to the conversation. I wish for the best for IU and for Coach Crean and his staff as they now have to face some serious life changes for themselves and their families. People can say what they want but they're still human and regardless of the honor they have and the income that comes from it, they still hurt and have to face the realities of the business and how it effects those closest to them.
Filed to: Coaching search