2016-2017 ITH Season Preview: Michigan Wolverines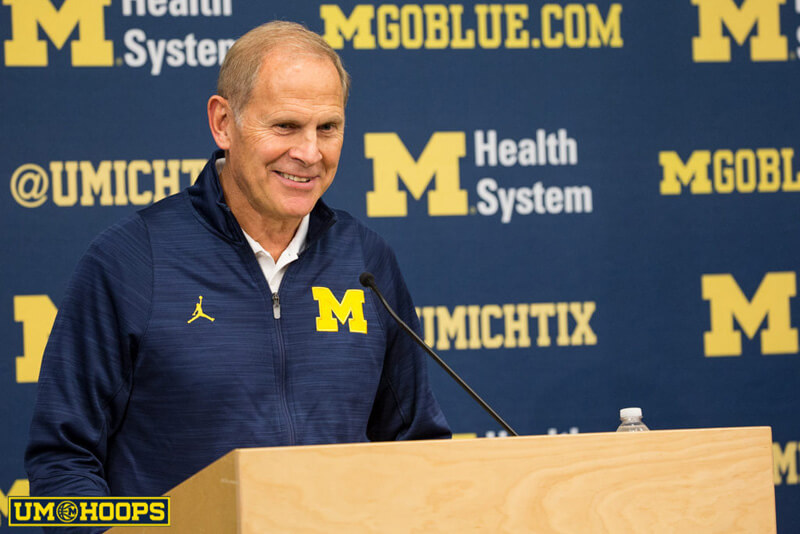 With the start of college basketball season on the horizon, we'll be taking a long look at the conference at large as well as Indiana's roster over the next month. Today, we continue our Big Ten team previews with the Michigan Wolverines.
It's a new era for Michigan basketball. The program recently debuted its new Jordan Brand uniforms after officially moving to Nike on August 1.
In addition to the new uniforms, a slew of offseason departures coupled with a four-man recruiting class means the Wolverines have some adjustments to make heading into the 2016-2017 season.
On the bench, Michigan lost two assistant coaches – Bakari Alexander (Detroit) and Lavall Jordan (Milwaukee) – who moved on to head coaching positions. And four players transferred: Aubrey Dawkins (Central Florida), Spike Albrecht (Purdue), Kameron Chatman (Detroit) and Ricky Doyle (Florida Gulf Coast). Michigan also lost its best player, Caris LeVert, to graduation. LeVert played in just 15 games last season due to an injury.
Even with those departures, Michigan still returns the core of the group that finished last season 23-13 and won a game in the NCAA tournament First Four before falling to Notre Dame in the first round.
Headlining the list of returnees are seniors Derrick Walton and Zak Irvin and juniors Duncan Robinson and Muhammad-Ali Abdur-Rahkman. The 6-foot-1 Walton had a strong junior season as he averaged 11.6 points, 5.4 rebounds, 4.5 assists and 1.8 steals per game. Walton hit 39.1 percent of his 3s, but just 36.4 percent of his 2s, a mark that he'll need to improve upon.
Irvin's efficiency has regressed in each of his three seasons in Ann Arbor, but he still put up solid numbers as a junior. He is Michigan's leading returning scorer at 11.8 points per game. The Hamilton Southeastern product also averaged 4.5 rebounds and 3.1 assists per game.
Robinson is a 3-point specialist who hit 45.2 percent of his shots from deep in his sophomore season, but just 35.2 percent in league play. Abdur-Rahkman made a case for a bigger role last season. He turned it over on just 9.4 percent of his possessions, made 51 percent of his 2s and 36.1 percent of his 3s as the fourth option offensively.
A new addition to the backcourt rotation is freshman Xavier Simpson, a 247Composite top 100 recruit. The 6-foot Simpson is Michigan's point guard of the future and is expected to play right away either backing up Walton or beside him at times.
Up front, Mark Donnal and Moritz Wagner are expected to battle for the starting five spot. Donnal is the more proven option, but Wagner is filled with potential. Donnal was one of the Big Ten's best offensive rebounders last season while Wagner finished nearly 71 percent of his 2s as a freshman.
Beilein has spoken positively about redshirt sophomore D.J. Wilson this offseason, but he could be fighting an uphill battle to crack the rotation. Freshmen Austin Davis and Jon Teske are expected to provide frontcourt depth behind Donnal and Wagner.
Bottom Line: Michigan should again be an above average offensive team, but the defense will tell the story. John Beilein hired former Wright State coach Billy Donlon as one of his assistants and is letting him take on a large role in fixing the defense. If the Wolverines can just become average on that end, a top half finish in the Big Ten is likely despite a brutal schedule that we ranked as the toughest in the league.
Quotable: "Last year, our mindset was, 'OK, we're going to come down here and play defense, but we just want to get back on offense,' and I think it showed. I think this year we're really going to focus on defense. We want to play defense. We want to get stops." – Irvin at Michigan's media day on the team's renewed focus on defense.
Previously: Rutgers, Minnesota, Nebraska, Illinois, Iowa, Northwestern, Penn State, Ohio State
(Photo credit: Dustin Johnson/UMHoops.com)
Filed to: 2016-2017 Big Ten preview, Michigan Wolverines