2011-12 ITH Season Preview: Michigan State Spartans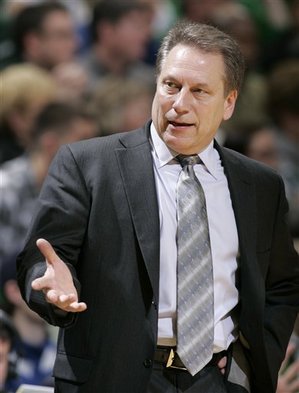 With the college basketball season inching closer, we'll be taking a long look at the conference at large as well as Indiana's roster over the next few weeks. Today, we continue our team previews with a look at the Michigan State Spartans.
Michigan State tipped off the 2010-2011 season as one of the teams expected to contend for a national championship.
When the dust settled, the Spartans were 19-15 following a 78-76 loss to UCLA on the first Thursday of the NCAA Tournament. It was a fitting end to a tumultuous season in East Lansing. After trailing by as many as 23 points in the second half to the Bruins, Tom Izzo's club battled back, but ultimately fell just short in the end.
Michigan State was once again of the Big Ten's best rebounding teams as they finished second in both offensive and defensive rebounding percentage. Other than that, it was a marginal year statistically. The Spartans were last in the conference in effective field goal percentage (47.3) and tenth in adjusted offensive efficiency. They also failed to take care of the ball as their turnover percent (18.4) ranked eighth in the league.
Kalin Lucas never returned to the form he displayed as a sophomore or junior following a ruptured achilles tendon during the 2010 NCAA Tournament. Durrell Summers, who looked to be on the verge of finally breaking out, was wildly inconsistent. All in all, it was a season that Michigan State fans would love to forget.
This year's version of the Spartans should be headed for the upper half of the Big Ten, but plenty of questions remain.
In the front court, Izzo recently lost his best defensive big man, Delvon Roe, who opted to retire due to chronic knee problems. Draymond Green looks like one of the best players in the conference, but junior Derrick Nix and sophomore Adrien Payne will need to saddle larger roles. Freshman Branden Dawson, a native of Gary, arrives with McDonald's All-American accolades and an appetite for rebounds (18.6 as a high school senior).
Keith Appling, who shot 41 percent from the 3-point line as a freshman, and Brandon Wood, a transfer from Valparaiso with immediately eligibility, will anchor the backcourt. Wood (17.2 ppg at Valpo) fills the spot vacated by Korie Lucious, who transferred to Iowa State after being suspended indefinitely last January. Travis Trice, a freshman point guard, should also figure into the rotation.
Bottom line: Michigan State should extend its NCAA Tournament appearance streak to 15, but they're clearly a notch behind Ohio State and Wisconsin in the Big Ten pecking order. Izzo will quickly find out what his team is made of as the Spartans play North Carolina and Duke in their first two games.
Quotable: "It will come down to how we deal with some adversity. You can get rocked by that, especially young guys. But I think we will. I think we have a better mentality right now. So we're working hard to get our defense back, our toughness back, our family atmosphere back. We're a closer-knit group and we're emphasizing the leadership." – Izzo to The Detroit News on September 29.
Previously: Nebraska, Minnesota, Penn State, Iowa, Northwestern, Illinois, Purdue
All stats in this piece are from KenPom.
Filed to: 2011-2012 Big Ten Preview, Michigan State Spartans