2011-12 ITH Season Preview: Nebraska Cornhuskers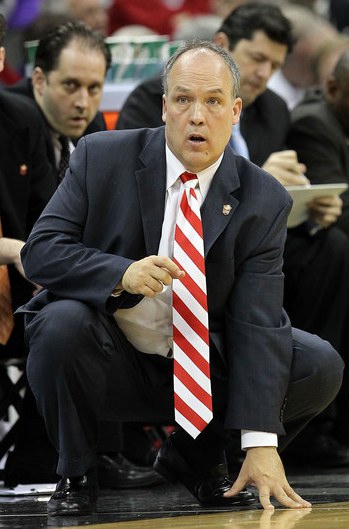 With the college basketball season inching closer, we'll be taking a long look at the conference at large as well as Indiana's roster over the next few weeks. Today, we continue our team previews with a look at the Nebraska Cornhuskers.
Nebraska.
Yup.
Get used to it.
The Cornhuskers are now a part of the expanded Big Ten.
In 2010-11, Nebraska finished a respectable 19-13 (7-9) — wrapping its season with a 76-49 beatdown at the hands of Wichita State in the first round of the NIT. According to KenPom, the Cornhuskers were one of the better defensive teams in the country. Nebraska finished 24th in the nation in adjusted defensive efficiency (91.5), 27th in the nation in defensive effective field-goal percentage (45.7 percent) and sixth in the nation in defensive two-point percentage (42.4 percent.) The team also had an adjusted tempo of 63.6 possessions, a slower pace that's kept pretty consistent in the Doc Sadler era.
Strong defense? Slow pace? Sounds like a stereotypical Big Ten team.
Departed senior point guard Lance Jeter led the squad — averaging the most points (11.7) and minutes (30.2). He was also one of their more efficient shooters (53.1 effective field-goal percentage) and racked up more assists (279) than any other two-year player in school history. Eshaunte Jones, a reserve guard and one-time IU recruit, has transferred to Northern Kentucky. Despite losing both, the Cornhuskers still boast plenty of experienced upperclassmen talent from last year's squad. Junior center Jorge Brian Diaz will anchor the middle. Diaz sported a block percentage of 5.7 last season — good for 146th in the nation — so he's a solid rim protector. He was also second in scoring (10.5) and minutes (26.3) for the Cornhuskers.
Senior guards Brandon Richardson (fifth in scoring, third in minutes), Toney McCray (third in scoring, fourth in minutes) and Caleb Walker (seventh in scoring, fifth in minutes) will all return and Ray Gallegos (junior) will provide backcourt depth. Up front, forward Brandon Ubel, who was sixth in both points and minutes, is back. Senior center Andre Almeida stands at 6-foot-11 and will give the Cornhuskers some nice size to spell Diaz.
One last note: Nebraska also has a new practice facility debuting this fall, which along with the school's addition to the Big Ten, could help recruiting.
Bottom Line: Though Nebraska is traditionally thought of as a football school, the Cornhuskers come into basketball season with an experienced squad that shouldn't be taken lightly. The Hoosiers could have their hands full in their only bout with them — a January 18 matchup in Lincoln.
Quotable: "Gotta get up early for these workouts its almost here can't wait we gonna open up a lot of people eyes #ball game" — A Sunday tweet from @killacity25 (Walker's Twitter username)
Previously: Minnesota, Penn State
Filed to: 2011-2012 Big Ten Preview, Nebraska Cornhuskers