2011-12 ITH Season Preview: Minnesota Golden Gophers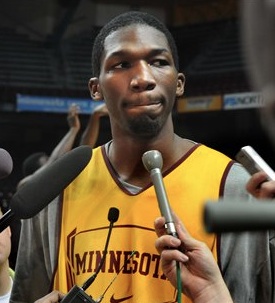 With the college basketball season inching closer, we'll be taking a long look at the conference at large as well as Indiana's roster over the next few weeks. Today, we continue our team previews with a look at the Minnesota Golden Gophers.
A season that started with great promise last fall for Tubby Smith and the Minnesota Golden Gophers ultimately ended as of the nation's biggest collapses.
Consider this: Minnesota started the season 11-1, including wins over North Carolina and West Virginia in the Puerto Rico Tip-Off, and tipped off Big Ten play at Wisconsin ranked No. 13 in the USA Today/ESPN Coaches Poll.
When the dust settled on conference play, the Golden Gophers were 17-14 and without a bid to a postseason tournament for the first time in Smith's tenure.
So what happened? A couple of pivotal losses exposed the lack of depth in Minnesota's backcourt.
After serving a six-game suspension to start the season, junior guard Devoe Joseph left the team and transferred to Oregon in early January after playing in just eight games. Then Al Nolen broke his right foot and was lost for the season. Things spiraled downward quickly from there as Blake Hoffarber was forced to log a majority of his minutes handling the point guard duties.
The prospects for a turnaround this winter weighs heavily on improved guard play. Minnesota's frontcourt should be solid with Trevor Mbakwe and Ralph Sampson III, who both flirted with early entry to the NBA Draft. Mbakwe was second in the conference in defensive rebounding percentage as a junior and averaged 13.9 points and 10.5 rebounds. Sampson, who is already fourth all-time in school history with 166 blocks, will be backed up by Mo Walker after Colton Iverson opted to transfer after the season.
Hoffarber's graduation leaves Smith with little backcourt experience, but he should have plenty of options to shuffle in and out. Rodney Williams is extremely athletic and talented, but shot under 22 percent from 3-point land and less than 50 percent from the foul line. Sophomores Austin Hollins, Chip Armelin and Maverick Ahanmisi all return after logging minutes down the stretch in Big Ten play. And the Gophers added JUCO transfer Julian Welch, a former Big West Freshman of the Year at UC Davis, and top 150 recruits Andre Hollins and Joe Coleman for production.
Bottom Line: Mbakwe and Sampson III should keep Minnesota in plenty of games, but will it be enough to get back to the NCAA Tournament? Probably not. The Golden Gophers should load up on wins during their weak non-conference slate, but will struggle once again when Big Ten play rolls around.
Quotable: "Individually, I just want to keep getting better as a player. I don't think I came close to scratching the surface of how good I can be." – Mbawke after playing for Team USA in the World University Games in August.
Previously: Penn State
Filed to: 2011-2012 Big Ten Preview, Minnesota Golden Gophers