2011-12 ITH Season Preview: Penn State Nittany Lions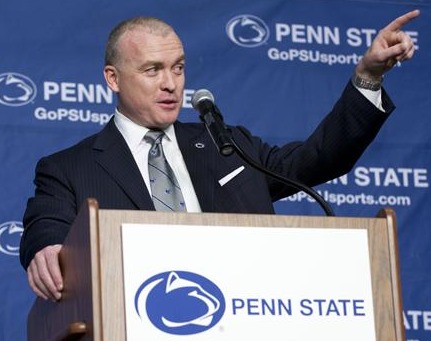 With the college basketball season inching closer, we'll be taking a long look at the conference at large as well as Indiana's roster over the next few weeks. Today, we begin our team previews with a look at the Penn State Nittany Lions.
Talor Battle's sensational 2010-11 senior campaign led the Nittany Lions to their first NCAA Tournament appearance in a decade.
But the good vibes in Happy Valley aren't likely to extend into the 2011-12 season. As we noted earlier this week, three publications have predicted a last-place finish for Penn State in the 12-team Big Ten.
And it's not hard to see why.
Gone are Battle and fellow senior starters Jeff Brooks, Andrew Jones and David Jackson, three other significant contributors to the Nittany Lions' 19-win season. Head coach Ed DeChellis also decided to leave the program in late May, which came as a surprise. He's now the head coach at Navy.
Making matters more dire for the team, Battle's half brother, Taran Buie, is also gone. After using the most possessions outside of Battle the first 11 games of the season and coming in as a heralded recruit, he was suspended indefinitely by the team in late December before being released from his scholarship in April — likely all stemming from a few dustups with the law. He's since transferred to Hofstra.
Sophomore guard Tre Bowman, who was involved in a fight with Buie in late February, won't be available to play until January as a result of his involvement in the altercation. (Actually, scratch that: He's since left the program as well and transferred to Midland College, a JUCO program. Thanks, smokeybandit.) Add it all up and it doesn't leave a lot of experienced bodies for new coach Pat Chambers, who comes to Penn State from Boston University.
Point guard Tim Frazier will likely be Penn State's go-to player, as the junior showed some promise last year and will have more room to shine with Battle now gone. But outside of Frazier the team only has one other upperclassman — senior guard Cammeron Woodyard. The rest of the roster is filled out with freshmen and sophomores.
Bottom Line: If defenses key in on Frazier, it could be a tough season for the Nittany Lions unless his supporting cast is able to step up and fill the roles left empty by the departed seniors. In the Tom Crean era, the Hoosiers have gone 1-5 against the Penn State. But with a home-and-away conference series slated for 2011-12, Crean may be able to notch two wins and inch closer to .500 against the Nittany Lions.
Quotable: "We're going to play a style, one that I hope you'll enjoy to come out and support. We're going to play up-tempo, we're going to push the ball. We want to get layups, if we don't get layups we're going to shoot threes. We're going to play with great confidence, we're going to create great habits every single day to prepare us for the most difficult environments in the Big Ten. On the other end, we're going to defend and we're going to rebound, we're going to be in stances, we're going to talk, we're going to dive, take charges. We're going to scrap for every inch to make sure we compete on a daily basis." – Chambers at his introductory press conference last June.
Filed to: 2011-2012 Big Ten Preview, Penn State Nittany Lions