2011-12 ITH Season Preview: Purdue Boilermakers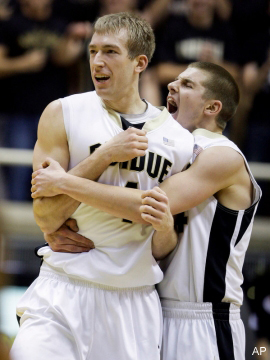 With the college basketball season inching closer, we'll be taking a long look at the conference at large as well as Indiana's roster over the next few weeks. Today, we continue our team previews with a look at the Purdue Boilermakers.
Goodbye, JuJuan Johnson.
Farewell, E'Twuan Moore.
The departed seniors — who both landed with the Boston Celtics in June's NBA draft — were a big part of Matt Painter's Boilermakers last season. Consider this: The two combined to use 54.3 percent of the team's possessions and took 60 percent of its shots. This all from the nation's 19th best offense based on adjusted efficiency.
But Moore and Johnson were also instrumental on the other side of the ball, where the Boilermakers fared even better — posting the 12th best mark in adjusted defensive efficiency.
While Purdue might not be destined to fall to the bottom half of the Big Ten in 2011-12, expecting the team to finish among the conference's top two spots — which it's done in each of the past four seasons — is likely a stretch at this juncture.
Just how Robbie Hummel will return from consecutive ACL injuries remains to be seen. But the senior — who has one year of eligibility left due to his second injury costing him the entire 2010-11 season — has played strong defense his entire career. So even if his offensive game takes a step back, he may be able to help bolster the loss of Johnson and Moore on defense. (We recently listed Hummel on our preseason All-Big Ten Team.)
Returning contributors from last season's squad include senior guard Lewis Jackson (the team's top facilitator last season with an assist rate of 28.4 percent); junior John Hart (the team's third most-used offensive weapon outside of Johnson and Moore); junior Kelsey Barlow (who played the role of Jordan Hulls' nemesis last season); junior wing D.J. Byrd and sophomores Terone Johnson and Travis Carroll. Ryne Smith, one of the team's three seniors, should also find himself back in the starting lineup.
Painter also has two freshman power forwards (Donnie Hale and Jacob Lawson) coming in this season to a frontcourt that could use some depth.
Bottom line: With Hummel and Jackson leading the way, Purdue still figures to be a tough team, one capable of yet again advancing to the NCAA Tournament. But as noted above, being in contention for a conference championship may allude the Boilermakers this season.
Quotable: "I watched the Notre Dame-Michigan game, and just the intro with the atmosphere … when I was watching it, I said, 'I can't wait for basketball to start.' I remembered what a rush it is to play in front of 14,000 or 15,000 people at really any Big Ten venue." — Hummel to the Indianapolis Star last month
Previously: Nebraska, Minnesota, Penn State, Iowa, Northwestern, Illinois
All stats in this piece from KenPom.
Filed to: 2011-2012 Big Ten Preview, Purdue Boilermakers