2011-12 ITH Season Preview: Northwestern Wildcats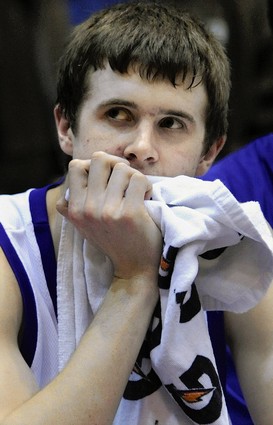 With the college basketball season inching closer, we'll be taking a long look at the conference at large as well as Indiana's roster over the next few weeks. Today, we continue our team previews with a look at the Northwestern Wildcats.
The Northwestern Wildcats have been rather consistent the last two seasons.
The team's overall record in 2009-10 and 2010-11 matched at 20-14. The Wildcats made the NIT both years, falling in the first round to Rhode Island in 2009-10, while winning in the first two rounds in 2010-11 before falling to Washington State in overtime in the tournament's Elite 8.
Speaking specifically to 2010-11, Northwestern had problems with their defense — much like the Hoosiers. The team allowed its opponents to shoot an effective field-goal percentage of 52.5 percent, ranking them 311th in the country. The Wildcats also allowed 1.14 point per possession in conference play, tying them for last place in the Big Ten with Indiana.
This season, the Wildcats will be without a key contributor: point guard Michael "Juice" Thompson. The departed senior used 92.2 percent of his available minutes last season, led the team in assists per game (4.3) was the team's second-leading scorer (16.3 points per game) and his effective field-goal percentage (56.6) was a respectable 153rd in the nation.
Despite the loss of Thompson, Northwestern still sports a strong cadre of talent from last season's squad — including four of the team's five starters. Senior John Shurna (leading scorer at 16.6 per game) is one of the best scorers in the Big Ten and is a threat from beyond the arc. (His eFG percentage of 58.3 was good for 85th in the nation in 2010-11.) At 6-11, senior big man Luke Mirkovic can cause matchup problems.
Junior guard Drew Crawford returns as the third-leading scorer from 2010-11 (12.1 points per game), while sophomore JerShon Cobb got a year of experience under his belt as the team's fourth-leading scorer (7.4 point per game). Junior guard Alex Marcotullio and senior forward Davide Curletti should also be rotation contributors.
Bottom line: If the Wildcats are able to make strides defensively, Shurna raises his game to another level and Crawford develops in place of Thompson, they could surprise. If not, they still figure to be in the mix to lead the bottom half of the Big Ten and make a return trip to the NIT heading into the 2011-12 campaign.
Quotable: "I just want to win. And as a senior, it's (the NCAA) tournament or bust. If we don't make it, I'll feel like my career here would be a failure." – Shurna to The Chicago Tribune on July 6.
Previously: Nebraska, Minnesota, Penn State, Iowa
Filed to: 2011-2012 Big Ten Preview, Northwestern Wildcats