Indiana climbs the list for Willis after weekend visit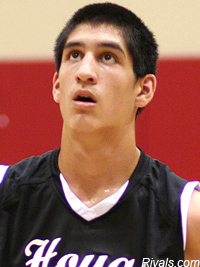 The tradition of Indiana basketball has long been mentioned by prospects as a significant factor in the recruiting process.
After a Saturday trip to Bloomington, it's clear that tradition, which includes five national championships, made an impact with Bullitt East (Ky.) junior Derek Willis.
"Coach Crean, he said two things about the jerseys," the 6-foot-9 forward told Inside the Hall on Sunday. "They'll never change the candy striped pants. And they'll always keep the names off the back of the jerseys. I thought that was pretty cool."
Willis' father Del, who accompanied him on the unofficial visit, said his son left Bloomington with a favorable impression of the program.
"I think he was really pleased," the elder Willis said. "I think Indiana's definitely high on his list. I know they're definitely in his top five and if I had to say, they're probably right up there as possibly the No. 1 on his list. He's pretty high on them."
Since re-opening his recruitment in early August, Willis has taken visits to Louisville, Kentucky and now Indiana. The Hoosier coaching staff has been down twice in the current contact period to watch him workout at his high school.
"Indiana's probably come on the strongest," Del Willis said. "Louisville's probably right there with them. They've offered as well."
Besides the tradition, the younger Willis cited both the campus and fan support as two things that stood out on the trip.
"It's a pretty awesome campus. Everything's real close," Derek Willis said. "And when we went to the (football) game, the loyalty of the fans was really cool."
For Del Willis, a chance to watch Indiana coach Tom Crean lead group workouts was an important takeaway to gauge how his son could potentially fit in.
"He's a real high energy coach. He's really into what he was doing," Del Willis said. "I didn't pick up on any negativity at all. He's real positive with the guys. It was a pretty impressive workout."
Willis will be back in Bloomington on Saturday, October 15 for Hoosier Hysteria and has also set up a visit to one of IU's long-standing rivals for their opening practice.
"He's going to Big Blue Madness (on Friday, October 14) and Hoosier Hysteria and possibly might go visit Illinois I think on the 23rd," Del Willis said. "I want to find out how much interest Derek has in Illinois because they have a lot of interest in him."
In addition to the interest from Illinois, Florida has also entered the picture. And Willis has not ruled out the school he originally made a verbal commitment to back in April, Purdue.
"As far as I understand, the Purdue offer is still there," Del Willis said. "All Derek has to do is call and say 'I want to re-commit to Purdue," and the offer is there. That's my understanding through the coaching staff there."
Related:
– Indiana offers Bullitt East junior Derek Willis (September 14, 2011)
– Willis hearing from IU, taking wait and see approach (September 7, 2011)
Filed to: Derek Willis