Willis hearing from IU, taking wait and see approach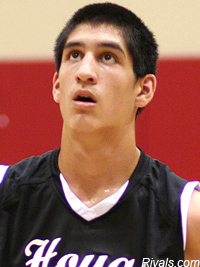 Friday marks the beginning of a contact period for college coaches and just southeast of Louisville at Bullitt East, it could bring into focus the schools who will pursue former Purdue commitment Derek Willis.
The 6-foot-9, 210 pound forward re-opened the recruiting process in early August and according to his father, Del, he's currently focused on preparing for his junior season of high school.
"He's got a routine where he's lifting weights, shooting ball every day," Del Willis told Inside the Hall. "He's trying to get focused and get ready for his season right now and just kind of see how the recruiting pans out as the season goes on."
Willis, the No. 42 player nationally in the 2013 class according to ESPN.com, has already taken unofficial visits to Louisville and Kentucky in the last month
He's also hearing from Indiana, but has not yet landed a scholarship offer from any school.
"Right now, Derek doesn't have any offers from anybody," his father said. "Of course the offer from Purdue was taken off the table. And that was the only offer he had. In our eyes, it was kind of a gamble for him to back off his commitment like that."
Indiana, which already has a pair of commitments in the 2013 class, is expected to make a strong push for Willis in the coming months. The Hoosiers were in contact as recently as a week and a half ago.
"Indiana has shown some interest," Del Willis said. "They send letters and I talked to Coach Crean a week and a half ago. It's just a wait and see thing."
With his proximity to the Louisville campus and strong fan interest around the state from Kentucky, speculation has pointed toward Willis ultimately picking from those two schools. That's not necessarily the case, according to Del.
"He's wide open," he said. "Derek could go to any campus and take an unofficial visit and something might catch his eye with the school or the program or the facilities."
Filed to: Derek Willis