2011-2012 All-Big Ten Preview: Robbie Hummel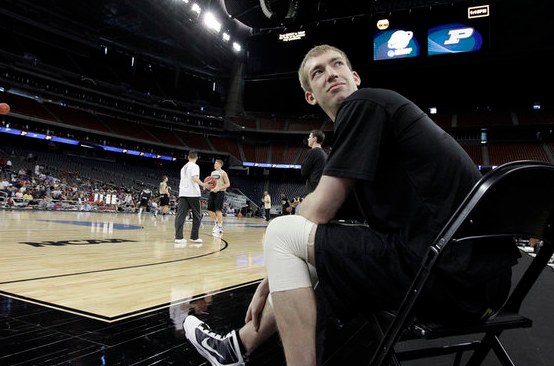 With the college basketball season inching closer, we'll be taking a long look at the conference at large as well as Indiana's roster over the next few weeks. Today, we complete our look at our preseason All-Big Ten team with Purdue's Robbie Hummel.
For Purdue fans, it's hard to not to think of what may have been the last two seasons with a healthy Robbie Hummel.
When Hummel tore the ACL in his right knee against Minnesota on February 25, 2010, the Boilermakers were 24-3 and riding a 10-game winning streak. Sans Hummel, Purdue immediately dropped a crucial home game to Michigan State and then suffered an embarrassing 27-point loss to the Golden Gophers in the semifinals of the Big Ten Tournament. A season that once looked like it could end at Lucas Oil Stadium instead finished with a loss to Duke in the Sweet 16.
Hope was renewed in the fall of 2010 as Hummel was deemed healthy to return and Matt Painter's club also welcomed back E'Twaun Moore and JaJuan Johnson for their senior seasons after flirtations with the NBA Draft.
That optimism was short lived as the Valparaiso native re-tore his right ACL on the first day of practice. Many preseason prognostications had Purdue among the country's top three teams with a healthy Hummel. Without him, Purdue went on to a 26-8 season and a loss to VCU in the second round of the NCAA Tournament.
So what should we expect from Hummel as he attempts to regain his form for one final run in West Lafayette? Quite a bit, if he can remain on the floor.
Looking at Hummel's advanced statistics profile on KenPom for the 27 games he played as a junior reveals just how valuable he was to the Boilermakers. He was the most efficient shooter of the big three (52.9 eFG percentage), turned it over the least (turnover rate of just 8.6 percent) and knocked down 90 percent of his free throws.
He also led Purdue in defensive rebounding percentage (20.8 percent) and was fourth overall in the conference. Despite missing the final three regular season Big Ten games, he was a first team All-Big Ten selection. And without him, Purdue finished the final eight games of the 2009-2010 season with a 5-3 record.
Assuming Hummel is once again healthy (and indications are that he will be), his production should pick up close to where it left off prior to his injuries. If that's the case, that should be enough to land him among the league's top five players and one of the better "feel good" stories in all of college basketball this winter.
Previously: Jared Sullinger, Jordan Taylor, Draymond Green and Tim Hardaway Jr.
Filed to: 2011-2012 Big Ten Preview, Robbie Hummel