2011-2012 All-Big Ten Preview: Tim Hardaway Jr.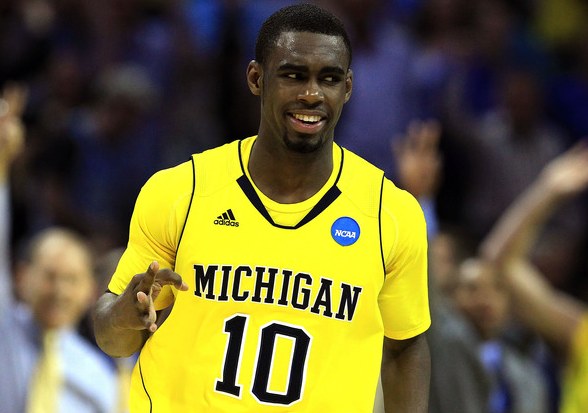 With the college basketball season inching closer, we'll be taking a long look at the conference at large as well as Indiana's roster over the next few weeks. Today, we continue our look at our preseason All-Big Ten team with Michigan's Tim Hardaway Jr.
Michigan sophomore Tim Hardaway Jr. may not be the most popular choice to notch All-Big Ten honors heading into the 2011-12 season.
But the freshman showed steady improvement during his first season in Ann Arbor, culminating with a dynamite back half of his 2011-12 campaign. While some freshman struggle to adapt to the higher competition once conference season hits, Hardaway had no problem. According to UM Hoops, over the last 12 games of Michigan's season,  he averaged 17.5 points and had an effective field-goal percentage of 70 percent. (To put this in perspective, Hardaway would have finished third in the nation last season had this been his eFG mark for the whole season.)
And it was Hardaway's three-point shooting during this stretch that was often the catalyst for his high eFG and scoring ways. You may remember when he went 4-of-6 from beyond the arc in a win against the Hoosiers up in Ann Arbor last season, en route to a 9-of-11 shooting performance and 26 points. The wing also proved to be steady with the ball, as his turnover percentage (11.1 percent) was good for 50th in the nation last season.
Further, here are Ken Pomeroy's comps for Hardaway's freshman season: Shelvin Mack (2009-10), E'Twaun Moore (2008-09) and Terrico White (2009-10). Not bad company.
Hardaway Jr. spent part of his summer playing for Team USA's U-19 squad, where he was the fifth-leading scorer on the team. He notched a team-high 21 points in a win against Australia which gave Team USA fifth place in the tournament. Such experience may help bring a little more maturation to his game this coming season as well.
Now, it's probably a little much to expect Hardaway to shoot at the clip he did during the last 12 games of the 2010-11 season.  Still, even with some dropoff, Hardaway figures to continue to be a dynamic scorer for the Wolverines. And with the departure of guard Darius Morris to the Lakers in the second round of the NBA draft back in June, it may give the Miami native more room to spread his wings.
Previously: Jared Sullinger, Jordan Taylor and Draymond Green.
Filed to: 2011-2012 Big Ten Preview, Tim Hardaway Jr.