2011-2012 All-Big Ten Preview: Draymond Green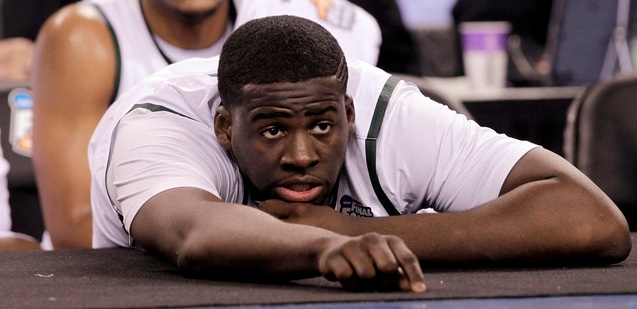 With the college basketball season inching closer, we'll be taking a long look at the conference at large as well as Indiana's roster over the next few weeks. Today, we continue our look at our preseason All-Big Ten team with Michigan State's Draymond Green.
After two straight trips to the Final Four, it was presumed that the leadership of Draymond Green, along with former Big Ten Player of the Year Kalin Lucas, could help guide Tom Izzo's club into a battle with Ohio State for a conference championship and another deep run in March.
Instead, the Spartans were the country's most disappointing team in the regular season and fell to UCLA 76-74 in the first round of the NCAA Tournament. Green went out on a high note individually in that narrow loss as he notched just the seventh triple-double in tournament history (his second triple-double of the season) with 23 points, 11 rebounds and 10 assists, but could only lament his disappointment that his days playing alongside Lucas were over afterward.
Looking at his advanced stats profile over at KenPom, Green's shooting percentage from inside the 3-point line dipped by 10 percent last season, which is a significant decline. That was a product of settling more for the mid-range jump shot and doing less work in the paint.
But with those added shots from the perimeter, Green knocked down close to 37 percent of his 3-pointers (37-of-101) after only attempting a total of 17 during his first two seasons. This added dimension helped morph Green from a player defenders could sag off to one that now demands attention all over the floor.
His assist rate also jumped about seven percent to 30.6 percent, good for fifth in the league. When you combine his ability to step out with his rebounding prowess (third in the conference in DR% and 12th in OR%), the Saginaw native has become one of the Big Ten's most well-rounded and valuable players.
Beyond the numbers, it's the leadership Green has exhibited since his sophomore season that should make the Spartans a solid candidate to bounce back from a disappointing 9-9 Big Ten finish last winter. He spent part of the offseason playing for Matt Painter and USA Basketball in the World University Games and according to Izzo, was among four Spartans who had "great summers." The next step, of course, is a great senior season, which Green looks both capable of and poised to deliver.
Previously: Jared Sullinger and Jordan Taylor.
Filed to: 2011-2012 Big Ten Preview, Draymond Green