2011-2012 All-Big Ten Preview: Jared Sullinger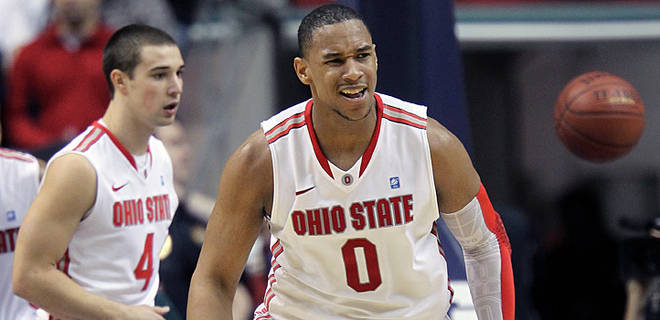 With the college basketball season inching closer, we'll be taking a long look at the conference at large as well as Indiana's roster over the next few weeks. Today, we begin our look at our preseason All-Big Ten team with Ohio State's Jared Sullinger.
After the Buckeyes' disappointing 62-60 Sweet 16 loss to Kentucky in last year's NCAA Tournament, Jared Sullinger was tasked with a decision many felt was a no-brainer.
The choices? Bolt early for the top five of the 2011 NBA Draft or return for a second season and a chance to win a national championship. It's not often that a player passes up that type of position in the draft, but in a NBA labor climate that was uneasy and headed for a lockout, Sullinger quickly announced his decision to return to Columbus.
His father, Satch, didn't mention the pending NBA labor problems as a reason for Jared's decision to return, but instead cited unfinished business at Ohio State in an interview with The New York Times. Not only was Sullinger's return predicated on his desire to win a national championship, according to Satch, but it was also important for him to play more minutes at the four, which will become his position at the next level.
A quick peek at Sullinger's advanced stats profile on Ken Pomeroy reveals just how productive and NBA ready he appeared to be as a freshman. Pomeroy compares Sullinger's 2010 season with Tyler Hansbrough's 2006 season, Greg Oden's 2007 season, Blake Griffin's 2008 season and Kevin Love's 2008 season.
On the glass, he paced the Big Ten in both offensive and defensive rebounding percentage. And his offensive rating, which measures a player's efficiency in producing points, was near the top of the conference.
So what will the Big Ten freshman of the Year do for an encore?
A battle with Wisconsin's Jordan Taylor for Big Ten Player of the Year seems like a given. And in a league that lost talented big men like JaJuan Johnson and Jon Leuer to graduation, Sullinger is well positioned to become even more dominant. Ohio State will be the unanimous preseason favorite to win the conference largely due to his decision to return.
The two potential areas that Sullinger will look to improve upon as a sophomore are his conditioning, which seemed to fall off a bit down the stretch a year ago, and his free throw shooting. The latter could be a bit of a stretch as he shot 70 percent from the line, but given his free throw rate, knocking down those opportunities becomes even more important.
Filed to: 2011-2012 Big Ten Preview, Jared Sullinger