2011-12 All-Big Ten Preview: Jordan Taylor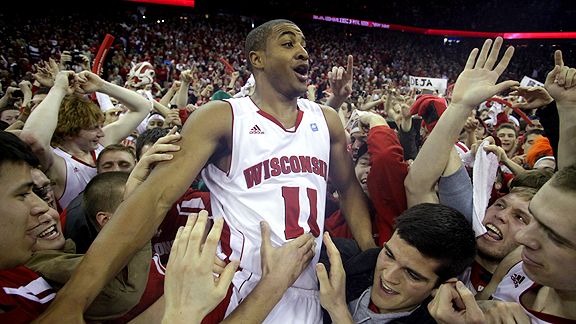 With the college basketball season inching closer, we'll be taking a long look at the conference at large as well as Indiana's roster over the next few weeks. Today, we continue our look at our preseason All-Big Ten team with Wisconsin's Jordan Taylor.
The 2010-11 Hoosiers got a taste for Jordan Taylor's deadliness on senior night. Taylor took over in the second half of a game Indiana was in, hit a bunch of highly-contested threes and put the Badgers on his back en route to 39 points and the W.
It was a punch right to Assembly Hall's gut.
But Taylor makes the cut here not just for his deep-threat shooting (42.9 percent from beyond the arc last season), but for playing with startling efficiency. According to KenPom, Taylor's turnover percentage was just 8.5 percent last season, good for second in the nation. His assist rate was 30.4 percent (77th in the nation), meaning nearly a third of buckets made by Wisconsin with Taylor on the court came via a pass from him. His offensive rating — which measures personal offensive efficiency — clocked in at 126.9, which put him ahead of guys like Jared Sullinger and NBA lottery picks Derrick Williams, Tristan Thompson and Marcus Morris. And this was all from a guy that had the ball in his hands a lot, as he runs the point and played 90.6 percent of available minutes last season.
In fact, earlier this month, Luke Winn of Sports Illustrated listed Taylor's 2010-11 campaign as the second best of the last decade in terms of efficiency for point guards:
Taylor's junior year wasn't just excellent in the context of his '10-11 peers; it has to be regarded as one of the best seasons of the past decade. I asked (John) Pudner if the Value Add formula unfairly favors players on downtempo teams (and Wisconsin is among the slowest of the slow), since stars on up-tempo teams generally can't play as many minutes, but Punder disagreed. He argued that Bo Ryan, by playing at that speed and keeping his great point guards ((Devon) Harris and Taylor) on the floor for nearly the whole game, maximizes their value. That's yet another reason Ryan is one of the best coaches of this era.
But there's still room for improvement. Though Taylor shot well from the 3-point line, his two-point percentage actually was pretty pedestrian (42.3 percent last season).
If Taylor improves his shooting and keeps up his high-level ballhandling, his final season in Madison seems poised to be one where, as Alex mentioned Tuesday, he'll battle for a Big Ten Player of the Year award with Sullinger.
Filed to: 2011-2012 Big Ten Preview, Jordan Taylor