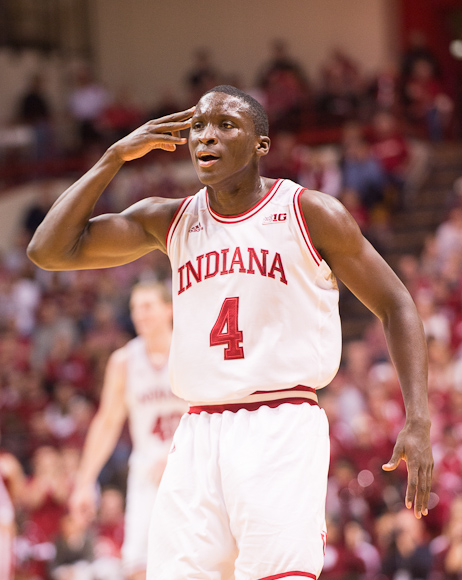 In the days following Indiana's shocking loss at Illinois on Thursday night, Tom Crean spent a good amount of time trying to teach his team how to close out games. The Hoosiers had squandered a late lead against the Illini, and left Champaign with a heartbreaking buzzer-beating loss.
Crean showed his team film of the last five minutes of several games this season in which the Hoosiers, as Cody Zeller put it, "played for the clock to run out" instead of playing to win.
The Indiana players heard Crean's message loud and clear, and they applied it in Sunday's critical 81-68 victory at No. 10 Ohio State.
"We looked so immature, how we handled that last five minutes of the game," said junior guard Victor Oladipo. "We're too old for that, even Yogi [Ferrell]. Yogi's played enough games now that he's too old for that. We've got to make sure that never happens again."
So when the No. 1 Hoosiers (21-3, 9-2) built a sizable second-half lead on Sunday, they made sure they didn't let it go. They answered big Ohio State buckets with scores of their own. They controlled the pace, continued to attack the basket, and looked like a team that expected to win on the road against a quality Big Ten opponent.
There have been wins this season that prove the Hoosiers are a different team than they were last year. The Minnesota first half. The Michigan State game. The Michigan game. The North Carolina game. The Purdue game.
Indiana's win on Sunday is another one, and perhaps the biggest one. The Hoosiers won at home last year. They beat Purdue on the road last year (albeit, not by 37 points). But it had been 13 years since the Hoosiers beat a top 10 team on the road. Coming off their worst loss of the season, the Hoosiers may have just earned the second biggest win in the Tom Crean era (Kentucky: 2011).
"That's a big deal," Crean said. "It's not just beating a ranked team — Ohio State is really, really good. We have, at times, not had the firepower to compete with them, and then last year as we were getting better, we didn't have the toughness to compete with them in here. But that's all part of the growth process."