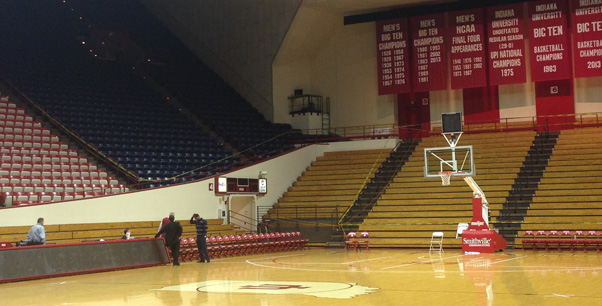 Following the fall of a piece of metal from the ceiling of Assembly Hall on Tuesday afternoon, Indiana athletic director Fred Glass, men's basketball coach Tom Crean and University vice president Tom Morrison spoke to the media regarding what happened.
Here are five takeaways — some of the main points — from Tuesday's press conference:
· Indiana believes the incident was weather-related: Following a preliminary review and analysis from Indiana University chief engineer Jeff Kaden and two external structural engineers from Fink, Roberts & Petrie, it appears the collapse was weather-related and that there are no structural issues with the 42-year-old building.

Simply put, in the four corners of Assembly Hall, a facing of steel plating — which serves no structural purpose to the building — runs from each side up the middle at a curve. The preliminary assessment revealed that the snow and ice accumulation settled at the lowest point in the curve on the northwest side of the building, perhaps due to warm weather and melting.
The heavy weight of the snow and ice was so significant that it essentially popped that bottom, northwest corner plate off, and the 8-foot-long and 14-inch wide, 50-pound slate fell on seats located in the first five rows of Section F.