Five takeaways from Indiana's win over Kentucky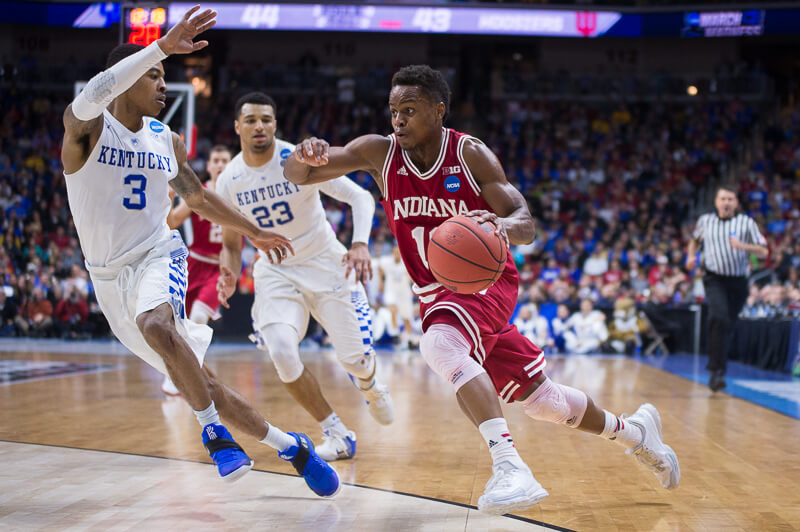 DES MOINES, Iowa – Indiana advanced to the Sweet 16 with a 73-67 win over Kentucky on Saturday night at Wells Fargo Arena. The victory improved the Hoosiers to 27-7 on the season.
Here's a look at five takeaways from the win over the Wildcats:
· Indiana won with defense: The numbers don't lie: Kentucky entered Saturday's matchup with Indiana with the nation's best offense.
The Wildcats left Des Moines with their second worst offensive performance of the season and Indiana's defense had plenty to do with it. Kentucky scored just .94 points per possession against Indiana. This wasn't just about Kentucky missing shots. It was also about Indiana defending.
The work on Jamal Murray was especially impressive as the future lottery pick shot just 7-of-18 from the field (1-of-9 from 3-point range) and had 16 points. Indiana also did a great job with positioning as Kentucky committed six offensive fouls in the first half. Kentucky turned it over on 22.5 percent of its possessions, more than six percent over its season average.
"Give them credit," Kentucky coach John Calipari said. "They played, they fought. They did what they had to to hold on and win that game."
· Bryant dominates down the stretch: The theme of Thomas Bryant's freshman season has been constant improvement. On Saturday, Bryant got stronger and more aggressive as the game moved along.
After picking up two early fouls and scoring just two points in seven first half minutes, Bryant exploded in the second half. He scored 17 points, including 7-of-9 from the line. No two free throws were more important than the ones Bryant knocked down with 10.4 seconds to go that sealed the win.
As has been the case all season, Bryant continued his remarkable efficiency on Saturday. He made five of his seven shot attempts in the second half and four were dunks or layups.
"The point of emphasis I had was staying on the attack," Bryant said postgame. "Coach told me that he wanted me to attack more, you know, get a quick whip or get a quick bucket down there on the block when I can. He believes in me, and I just went with his plan."
· Ferrell starts slow, but prevails late: Early on, it appeared that Tyler Ulis would dominate the much discussed matchup with Yogi Ferrell.
Ferrell started just 1-of-6 from the field, but as the game moved along, things heated up for Indiana's senior point guard. Ferrell scored 11 of his 18 points in the second half and he finished the game with four assists and just one turnover.
By comparison, Ulis scored 27, but had four turnovers to just three assists.
"Yogi, he took the game into his control like he does sometimes," Max Bielfeldt said. "He just has that ability to put the team on his back when he needs to and make the right play when he needs to."
· Late assists from Williams prove pivotal: Troy Williams has been criticized throughout his career for making questionable decisions with the ball and the first half of Saturday's game was no different.
Williams was wild with the ball and committed three turnovers in the game's first 10:22. There were also some flashes of good Troy in the first half as he scored nine points before halftime on some incredible drives when the Hoosiers desperately needed offense.
But Williams made arguably his two most important plays in the second half when the Hoosiers needed it most. With 7:32 remaining, Williams found Bryant for a layup to put the Hoosiers ahead 52-50. He followed that by finding OG Anunoby for a 3-pointer with 6:57 remaining that extended Indiana's lead to six at 56-50.
"If I saw something there (in the first half), I just took it," Williams explained postgame. "And then at the same time, I didn't have something, I just kicked it out to teammates for a 3 or a backcut."
· A satisfying win for Tom Crean: A lightning rod for criticism early in the year and at numerous times throughout his tenure, Tom Crean deserves the credit for reviving a team that looked totally lost in early December at Duke.
Crean said the Hoosiers would figure it out following that Duke loss – and they did – but there were still plenty of skeptics coming into the weekend as Indiana came off a disappointing loss to Michigan in the Big Ten tournament.
Could the under-seeded Hoosiers get past Kentucky, a program that had been to two straight Final Fours?
They just did.
And for Crean, who probably takes more criticism at times than is warranted, this was a win that clearly meant something despite his unwillingness to look forward to anything beyond the next game.
"I'm not good at putting it in context, you know? I'm just glad that sometime later tonight to get a nap and we will be able to start diving into film," Crean said. "I truly am. I know it sounds simple, but that's what motivates you.
"That's what motivates me. There will be plenty of time down the road for us to put the season in context. Right now we have no intention of just showing up in Philadelphia, you know, being there for a few hours, you know, lose and go home."
Filed to: 2016 NCAA tournament, Tom Crean, Troy Williams, Yogi Ferrell