6-Banner Sunday: Liam McNeeley set to make decision today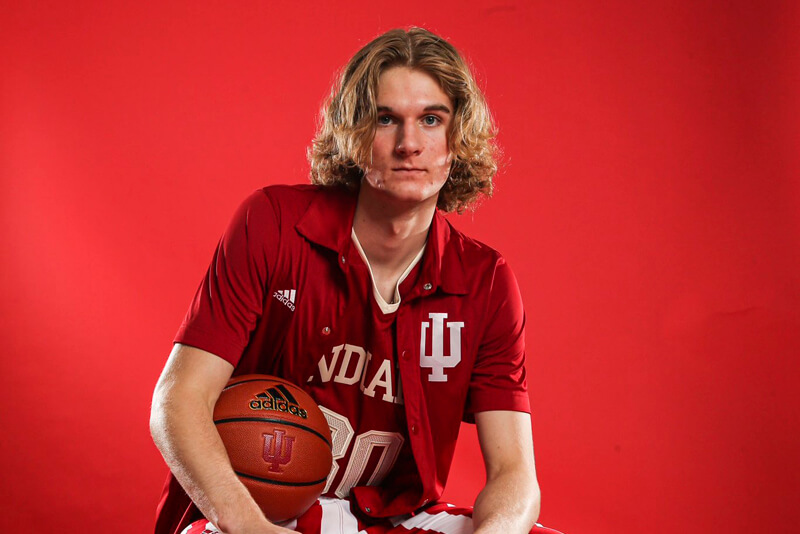 6-Banner Sunday is Inside the Hall's weekly newsletter in partnership with The Assembly Call. Almost 10,000 Indiana fans receive the newsletter each week. In addition to appearing each week on the site, you can receive 6-Banner Sunday by email. A form to subscribe via email is available at the bottom of this week's 6-Banner Sunday.
Welcome to another edition of 6-Banner Sunday, a joint production between The Assembly Call and Inside the Hall, and presented by our friends at Trueblood Real Estate, where we highlight the five most essential IU basketball stories of the past week, plus take a look at how the other IU sports programs are doing.
Decision day is here for Liam McNeeley. What happens with that announcement is by far the biggest story of the week for the basketball team.
Besides this, a recap of the conference's media day in Minneapolis, Inside the Hall concluded one series and started another, some television news, and ITH and Assembly Call shows round out the hoops portion of 6-Banner. We will as usual conclude with a look at other Indiana sports led by a couple of programs winning their trophy games over arch-rival Purdue.
In a brief nugget, Indiana made the popular floating heads poster available online, among other merchandise.
• Liam McNeely to make his college choice today
• Big Ten media day recap
• Inside the Hall preseason previews continue
• Television updates
• Podcast on the Brink and Assembly Call shows
• Hoosier Roundup
IU men's basketball will play five games this season on the Peacock and the women will play seven, making the streaming service essential for IU basketball fans. Sign up for Peacock using Inside the Hall's link to help support the site and also enjoy Big Ten hoops all season long! (The link is an Inside the Hall affiliate link, so a commission will be paid to ITH if you click and subscribe to Peacock. We appreciate your support!)
Banner #1 – Liam McNeely to make his college choice today
Today is what every Hoosier fan hopes is a program-changing moment. Liam McNeeley is set to make his college decision this afternoon. IU coach Mike Woodson promised to try to bring in top talent when he took the job in 2021. So far it has been a success as he has landed elite prospects in the transfer portal and with short recruitments in the spring. Now for the 2024 class, he has zoomed in on three top-20 names, including Boogie Fland, Liam McNeely, and Derik Queen.
The first of those dominos is set to commit on Sunday as McNeely will make it known where he plans to play college basketball next fall. The Hoosiers have gone all in for his services and are seen as the favorite to land him over Kansas when he makes his decision known.
As for Fland, he is down to Alabama, Indiana, and Kentucky and is getting close to giving his final verdict. He discussed each school with Krysten Peek of Rivals.com earlier this week. Finally, Queen is the furthest from finality and is unlikely to decide until he completes a visit to Maryland next weekend at the earliest.
Banner #2 – Big Ten media day recap
Big Ten basketball media day was held in Minneapolis for the second straight year, where the conference tournaments will occur. Both the men's and women's teams participated as per usual.
Monday began with women's coach Teri Moren speaking, and she was later joined by star center Mackenzie Holmes and starting guard Chloe Moore-McNeil. It was also announced this week that the team added an opponent to the schedule and that they would move to their own Bloomington radio frequency to avoid programming and game conflicts with the men's side.
On Tuesday, Woodson took the podium. Also, Trey Galloway and Xavier Johnson were there representing the Hoosiers. Johnson was the featured player for Inside the Hall's William McDermott as he wrote about his defense. Johnson was also named second-team all-Big Ten by Fox Sports.
Banner #3 – Inside the Hall preseason previews continue
ITH wrapped up one series and began another this last week. They concluded their preview of all the Big Ten squads by breaking down Illinois and conference favorites Michigan State and Purdue.
They also started a new series looking at each IU player in detail individually. This week began with newcomers Jakai Newton and Mackenzie Mgbako.
Mgbako has the highest of high expectations. He was picked for Big Ten freshman of the year as part of the media's "official unofficial" poll where Indiana was picked sixth.
Banner #4 – Television updates
Last week it was announced that multiple top conference games would be streamed on Peacock instead of conventional cable. Now the announcing teams for that service and other games were revealed a few days ago. It includes many of the same names fans have heard in the past like Stephen Bardo, Mike DeCourcy, Noah Eagle, Brandon Gaudin, Robbie Hummel, Andy Katz, Meghan McKeown, Dave Revsine and Bruce Weber.
Banner #5 – Podcast on the Brink and Assembly Call shows
Both Assembly Call and Inside the Hall had shows this week. Assembly Call had its regular Thursday radio program and Doing The Work.
Meanwhile, ITH's Podcast on the Brink discussed the newly released conference media poll with Tyler Tachman. As an aside, Tachman asked the viral question from Minneapolis this week to Woodson. It regarded Malik Reneau and his NIL burger deal at a local Bloomington restaurant.
Banner #6 – Hoosier Roundup
• Volleyball topped ranked Purdue in front of a record sold-out crowd to win back the Monon Spike Trophy for the first time in 11 years. They then knocked off struggling Michigan to cap a perfect week.
• Women's soccer also beat the Boilers to win back the Golden Boot for the first time in a while. Also, the team tied Michigan State on Thursday, returned to the top 25, and had a few players recognized.
• Men's soccer topped struggling Evansville. They also had a former star called up to the US Olympic prep team and a current standout receive conference honors.
• Football was dominated by Michigan.
• Field hockey triumphed over Bellarmine before falling to ranked Louisville and Iowa.
• Women's golf placed 11th at the Evie Odom Invitational.
• Cross country competed at the Arturo Barrios Invitational.
• Men's tennis took part in the Bobby Bayless Invitational exhibition.
• Swimming and diving had a conference athlete of the week.
Thanks for your continued support for The Assembly Call and Inside the Hall. We'll be back next weekend with a new roundup.
Now go enjoy yourself a 6-banner Sunday.
Aaron (Ari) Shifron
Assembly Call Contributor
Filed to: