Announcement primer: Class of 2024 forward Liam McNeeley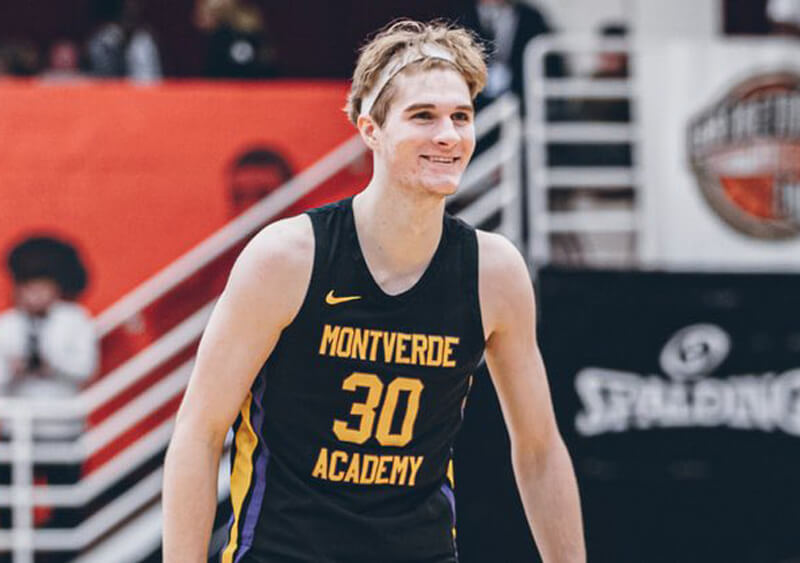 On Sunday, October 15, class of 2024 Montverde Academy (Fla.) forward Liam McNeeley will announce his college decision. The announcement is expected to be televised as a part of the GEICO Top Flight Invite in Las Vegas, Nevada.
The broadcast schedule for the GEICO Top Flight Invite is available here.
The essentials
Forward, 6-7, 190-pounds, Montverde Academy (Fla.), Florida Rebels
247Composite: 5-star (13); 247Sports: 5-star (15); On3: 4-star (20); On3 Industry Ranking: 5-star (14); ESPN: 5-star (13); Rivals: 5-star (13)
Numbers to know
As a sophomore at John Paul II in Texas, he averaged 17 points, nine rebounds and two blocked shots per game.
According to MaxPreps, he averaged 12.4 points, four rebounds and 2.2 assists last season for Montverde following a transfer.
The primary contenders
The 18-year-old McNeeley will choose between Indiana and Kansas. He took official visits to both schools this fall. He also took an official junior year visit to Indiana.
The Indiana staff has recruited McNeeley the longest, while Kansas prioritized McNeeley later but pitched him on coming in and playing a role similar to that of Gradey Dick.
His initial list of top six schools also included Alabama, Michigan, Oklahoma and Texas.
Other schools that offered McNeeley include Arkansas, Florida, Florida State, Georgia Tech, Illinois, Iowa, LSU, Notre Dame, Oklahoma State, Ole Miss, SMU, Stanford, TCU, Texas A&M and Texas Tech.
The timing
McNeeley completed two official visits this fall, took some time after each visit and announced Tuesday that he was ready to make the call on Sunday evening.
Announcing before the official start of his high school season will allow him to focus on pursuing a national title with his Montverde teammates. He can also sign a National Letter of Intent in the early signing period, which begins November 8.
The scouting report
Here's what Adam Finkelstein of 247Sports wrote recently about McNeeley:
Liam McNeeley has one of the best combinations of skill and basketball acumen in the national class. He came up the ranks known as a shooter – and for good reason as he has clean mechanics, a compact release, and shot over 40% from behind the three-point line in both the NIBC and EYBL seasons – but he's far more versatile than just a specialist. He's particularly adept at coming off screens, making instinctual reads, and then attacking defenders while they are on the move. That can mean movement threes, but it can also mean curls, dribble penetration, and an ability to get downhill at times.
McNeeley has a high natural feel for the game and is a good passer who can also facilitate for others around him. In fact, Montverde frequently made him the featured player of their half-court offense during his junior season and relied on his ability to make decisions with the ball in his hands, not necessarily as a primary ball-handler, but as the first domino in many of their actions.
Physically, he's not especially long or athletic, but he has legit size at over 6-foot-7 with his shoes on, a sturdy base, and increasingly strong and cut upper body. He's made strides being able to stay in front of more athletic wings on the defensive end, in large part because he's aware enough to be in the right spots and take the right angles. Overall, McNeeley may not have the ideal physical measurables of a prototypical five-star prospect, but he is one of the most consistently productive and reliable basketball players in the class.
Predictions
The 247Sports Crystal Ball has two picks logged for McNeeley to Indiana.
The On3 recruiting predition machine has McNeeley choosing Indiana with over an 85 percent probability.
The Rivals Future Cast has several picks logged for McNeeley to Indiana.
McNeeley highlights
How to follow the announcement
McNeeley is expected to announce his decision at the GEICO Top Flight Invite in Las Vegas. The announcement will come at halftime of today's 3 p.m. ET game on ESPN.
In closing, please remember to adhere to the comment standards that have been set over the past 16 years here on Inside the Hall regardless of the outcome of McNeeley's announcement.
Liam McNeeley will make his college announcement tomorrow at halftime of the 12 noon PT / 3 pm ET game on ESPN. Final choices are Kansas and Indiana. @liammcneeley30 pic.twitter.com/cCxPnPLjAl

— Paul Biancardi (@PaulBiancardi) October 15, 2023
Filed to: Liam McNeeley