"It's our identity": Xavier Johnson's return changes Indiana's defensive ceiling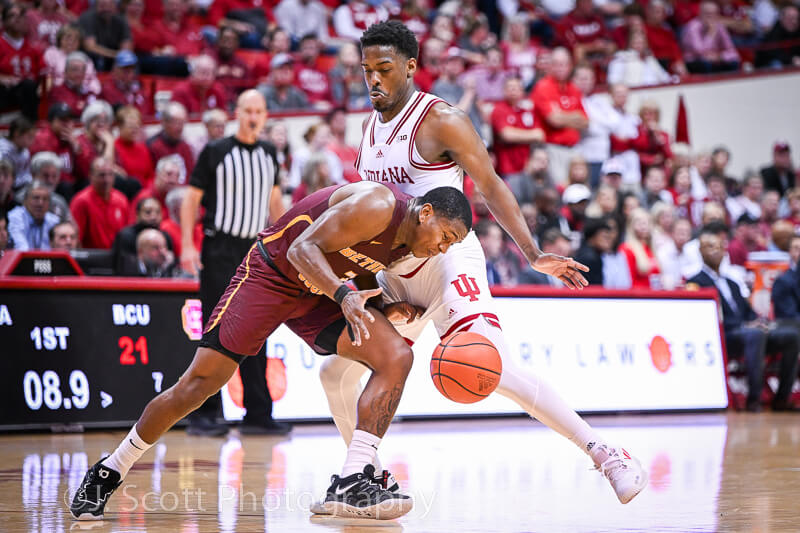 Limbo, hope and anxiety lingered for Xavier Johnson and Hoosier fans last winter.
When the senior point guard went down at Kansas with a broken foot — which required surgery — there was a chance he could come back towards the end of February and play in the Big Ten and NCAA tournaments.
That never happened. Initially, the Woodbridge, Virginia native didn't want to come back for a sixth season of college hoops, but his mind changed — in large part due to name, image and likeness.
Losing Johnson right before Big Ten play was a double-edged sword for the Hoosiers. It allowed for the emergence of Los Angeles Lakers first-round draft choice Jalen Hood-Schifino, but it hindered the Hoosiers — specifically on the defensive end of the floor.
"Make no mistake about it, I say it, you guys probably couldn't see it and didn't write about it enough, but losing Xavier Johnson last year was huge for our team. I mean, it hurt us," head coach Mike Woodson said during IU basketball's annual media day last month.
"The loss of 'X' really killed us and hurt us," Trey Galloway added on Tuesday. "Who knows what we could have done if we had him. Obviously…we would have gone a lot further than we did."
Woodson swore by the need for defense when he took over the program in the spring of 2021. It's been battered into the aura of the program. Over two years later, it's still a stressor for him.
"What I learned from Coach Woodson is that our team is gonna be a defensive team no matter what," IU forward Malik Reneau said in June. "We're gonna defend and we're gonna try to hold people under 60…that's really what we do. Defense is a big key to our success."
But the Hoosiers' defense took a step back from year one to year two under Woodson.
In 2021-22, IU had the best defense in the Big Ten and was ranked No. 24 nationally, according to KenPom. In 2022-23, Indiana had the eighth-best defense in the conference and was ranked No. 45 in the country.
That's a big difference. And it's surprising for Indiana — a program that got better in year two under Woodson. The explanation is simple. Indiana missed Johnson's point-of-attack defense — badly.
The teams that gave Indiana's defense trouble in the latter half of the year were faster than the Hoosiers. Yes, Hood-Schifino was smooth, steady and patient downhill, and he's a big reason why Indiana finished third in the Big Ten and was a four-seed in the NCAA tournament. Still, he was not the defender Indiana needed against teams like Miami (FL), which eventually swept IU off its feet and ended its season.
With no pun intended, Johnson can be an X-factor for Indiana. He's athletic, fast, hard-nosed and gets in opposing point guards' faces. Looking back at games at the beginning of last season, like the ACC-Big Ten Challenge trouncing of North Carolina in November, Johnson's physical defense and ball pressure gave the Tar Heels wings trouble just getting into the mid-range.
Galloway, his co-captain and fellow upperclassman guard heading into this season, plays like a heat-seeking missile. Nicknamed "Crazy Man" by teammates and coaches, Galloway is excellent at getting in passing lanes and causing chaos.
The tag-team duo Galloway and Johnson have only started five games together. But having Indiana's two best perimeter defenders on the floor for extended periods looks promising. Galloway made big strides in his junior season, both offensively and defensively. The Culver, Indiana native had to become the lead on-ball defender for the Hoosiers with Johnson out.
The Hoosiers also lost Miller Kopp to graduation. A steady offensive player with a good shot, Kopp was heralded as one of the team's best perimeter defenders. While not the most athletic, the former Northwestern Wildcat was an intelligent and savvy defender — knowing his spots on the floor and seeing plays before they happened.
Woodson's transfer portal additions this offseason all seemed to accomplish the same goal: to get Indiana faster, longer and more athletic. Having his sixth-year point guard back only adds to that.
"We have a bunch of players that are athletic…and long. A lot more athletic and longer than we were the past two years," Woodson said Tuesday. "So defensively, I think we can do some different things than we've done in the past.
Last season, Indiana ranked No. 294 in the country in forcing turnovers, according to KenPom. With the Galloway/Johnson tandem, that should see an uptick.
In the paint, Trayce Jackson-Davis etched himself as one of the best rim protectors in Indiana basketball history. It will be impossible for Kel'el Ware to replicate that in year one in the cream and crimson, but his length will cause problems. Reneau must also clean up his fouling and defensive decision-making.
Galloway called defense Indiana's "identity" at media day last month. College basketball teams live and die by their identity. Sometimes, it defines their season, for better or worse. Last year, IU's identity defined its season in Albany, New York, as the Hoosiers were sent home in the round of 32.
On paper this upcoming winter, Indiana should be able to tread water on the championship-winning side of the floor. But there's potential for Woodson's defense to be better than it was in year two and get back to where it was in 2021-22. Johnson's return certainly makes that possible.
Filed to: Xavier Johnson