6-Banner Sunday: Indiana knocks off No. 1 Purdue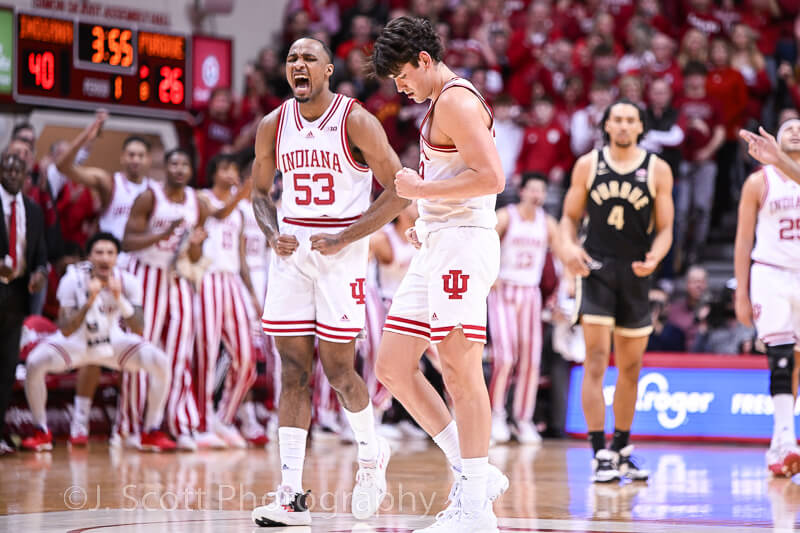 6-Banner Sunday is Inside the Hall's weekly newsletter in partnership with The Assembly Call. More than 9,000 Indiana fans receive the newsletter each week. In addition to appearing each week on the site, you can also opt to receive 6-Banner Sunday by email. A form to subscribe via email is available at the bottom of this week's 6-Banner Sunday.
Welcome to another edition of 6-Banner Sunday, a joint production between The Assembly Call and Inside the Hall, and presented by our friends at Trueblood Real Estate, where we highlight the five most essential IU basketball stories of the past week, plus take a look at how the other IU sports programs are doing.
The Hoosiers hosted rival Purdue on Saturday and picked up a key win against the top-ranked squad in the country. The showdown against the Boilermakers followed a disappointing defeat against Maryland on Wednesday which stopped Indiana's five-match winning streak.
The women's side had their last easy week of the season against two teams at the bottom of the conference and cruised to victory. IU continues to lead the Big Ten and has a six-game gauntlet to close the year.
Away from the court, a new bracketology was released and Assembly Call had both postgame shows and AC Radio over the last few days. We will as usual conclude with other Hoosier sports led by wrestling, which knocked off the Boilers last weekend as well.
• IU defeats Purdue
• Hoosiers struggle in defeat against Maryland
• Women's basketball maintains Big Ten lead
• Updated bracketology
• Assembly Call shows
• Hoosier Roundup
Looking for tickets to upcoming Indiana games? Vivid Seats has you covered. This week IU hosts Rutgers on Tuesday and travels to Michigan on Saturday. Vivid Seats is a full-service provider – with an industry-leading customer service team, reachable by phone or online during extended business hours. (These links are Inside The Hall affiliate links, so a commission will be paid to ITH if you click and make a ticket purchase.)
Banner #1 – IU defeats Purdue
The Hoosiers knocked off the highly-ranked Boilermakers in a raucous Assembly Hall for the second straight season 79-74.
Indiana jumped out to a 15-point lead early but Purdue rallied behind elite big man Zach Edey who scored at will in the post after halftime and put up 33 points. However, when the Boilers cut the lead to 71-70, IU made critical free throws and Jalen Hood-Schifino knocked down huge shots in the last few minutes to hold on. Trayce Jackson-Davis held his own against Edey scoring 25 points while Hood-Schifino added 16 points including the clinching layup on a baseball pass from Race Thompson in the last few seconds.
The team improves to 16-7 overall and 7-5 in the league. They face recent nemesis Rutgers On Tuesday at 6:30 pm on BTN in Assembly Hall.
Afterward, IU coach Mike Woodson and Purdue headman Matt Painter spoke, while Ryan Corazza had his Minute After.
Banner #2 – Hoosiers struggle in defeat against Maryland
Bringing a five-game winning streak into College Park did not help IU come out on top. The Hoosiers struggled mightily against a Terps squad that has lost only once at home this season in a 66-55 defeat.
The only player to have a strong night was Jackson-Davis (who received placement on yet another postseason watch list and conference player of the week) with 18 points and 20 rebounds. No other individual Indiana player did anything noteworthy as Thompson was the only other double-figure scorer with 11 points. The team struggled from the field all evening shooting just 37.5 percent overall and 27 percent from behind the arc. They also had just 11 assists throughout the entire contest and turned the ball over 12 times which were huge factors in the loss.
Afterward, Corazza had his Minute After and Film Session, Amanda Foster and William McDermott wrote columns, and Alex Bozich penned Five Takeaways.
Banner #3 – Women's basketball maintains Big Ten lead
The No. 4 ranked women had their last matchups of the season against opposition hanging out at the bottom of the conference. While the Hoosiers were not at their best, they easily cruised to a 91-68 win last Sunday hosting Rutgers, and had little trouble defeating Minnesota 77-54 on the road.
With the victories, they improved to 21-1 overall and 11-1 in the league as they continue to be on top of the Big Ten at the two-thirds point of the year. To earn their first title since 1983, they must navigate a six-game gauntlet to close. What happens this week will go a long way toward determining if IU meets its destiny. They travel to red-hot Purdue today (2 p.m. ET on FS1) which has already sold out their arena. Things get even tougher on Thursday hosting Iowa (6:30 p.m. ET BTN) in a must-win. This is because the Hawkeyes are the other squad with just one loss in the conference and have a much easier schedule down the stretch. Everyone else in the league has been knocked off at least three times.
It was also a big week away from the court as star center Mackenzie Holmes was named to a couple of postseason watch lists and player of the week. While Holmes has been the straw that stirs the drink, the team as a whole was honored by the USBWA.
Banner #4 – Updated bracketology
Bracketology continues to provide good news for both the men's and women's sides. Inside the Hall and Assembly Call's own bracketologist, Andy Bottoms has the Hoosiers (before the Maryland loss and Purdue win) as a five-seed in Orlando against 12-seed Charleston. They would be opposite four-seed Baylor and 13-seed Utah Valley with Arizona as the top seed in IU's region according to Bottoms.
Joe Lunardi updated his projections on Friday for ESPN after Indiana's defeat (but before knocking off the Boilers) and indeed kept them on the five line. He has the team playing 12-seed Kent State in Albany.
Meanwhile, the women continue to be seen as a one-seed with their gaudy record per ESPN's Charlie Creme. Creme has them hosting the first two rounds in Assembly Hall (something that would happen as long as the Cream and Crimson stay a four-seed or higher) starting with the 16-seed Morgan State/Sacred Heart winner in the First Four. The eight vs nine game opposite the Hoosiers is USC/Ole Miss.
Banner #5 – Assembly Call shows
Assembly Call was on the air five times this week. AC Postgame went live following both the Maryland and Purdue games. Also, their normal radio show was on Thursday. Meanwhile, Doing The Work discussed the women's teams wins against the Scarlet Knights and Golden Gophers.
Banner #6 – Hoosier Roundup
• Wrestling continued its turnaround season by beating rival Purdue for the first time since 2010. They also added a player to their 2023 recruits.
• Men's Tennis beat Butler and Ball State and signed a top-15 recruiting class.
• Women's Tennis topped Cornell.
• Water Polo won three matches this week heading into Saturday.
• Men's Golf finished third at Big Ten Match play.
• Track and Field competed in South Bend and revealed their upcoming schedule for the outdoor season.
• Football put season tickets for next fall on sale.
• Swimming and Diving saw a couple of athletes named Big Ten Player Of The Week.
• Softball hosted a preseason media day.
Thanks for your continued support for The Assembly Call and Inside the Hall. We'll be back next weekend with a new roundup.
Now go enjoy yourself a 6-banner Sunday.
Aaron (Ari) Shifron
Assembly Call Contributor
Filed to: