Self-inflicted wounds plague Indiana in 66-55 loss to Maryland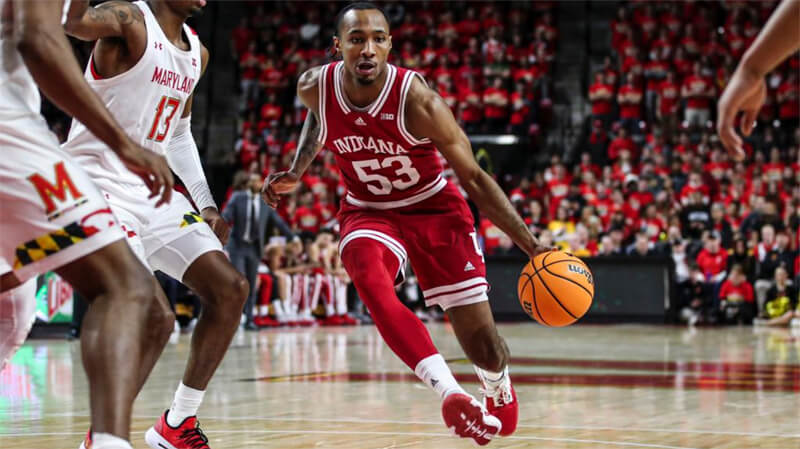 A lob to Trayce Jackson-Davis underneath the basket sailed just over his head, barely staying in the field of play and leading to a scramble underneath the basket until the ball eventually went through the hoop for a layup.
A play that typically works time and time again for the Hoosiers turned into a struggle just to get the ball close to the rim. There was almost no better representation of the game as a whole than that play.
The Indiana men's basketball team that took the floor at Xfinity Center Tuesday night wasn't the same one that was in the middle of a 5-0 win streak in the Big Ten.
Instead, they were the team who just couldn't play good, consistent basketball.
Indiana's 66-55 loss to Maryland was characterized by fumbles, turnovers, missed opportunities and bad decisions. Finishing with 12 turnovers and 20 fouls, the Hoosiers struggled to find a good rhythm or energy to close out scoring runs, much less take a commanding lead.
"We just became lackluster," Mike Woodson said postgame. "We couldn't make shots. Our perimeter play was nonexistent tonight. And we haven't had it like that in a while."
As a team, Indiana shot 38 percent from the field with only three made 3-pointers on 11 attempts. Maryland shot 34 percent with five 3-pointers on 22 attempts. From a statistical standpoint, it would seem that the game was evenly matched.
And it should have been, but it wasn't. Indiana's defense struggled throughout the entire game, and allowing 22 mostly uncontested shots from beyond the arc is proof of that. The Hoosiers got lucky at the beginning of the game when shots weren't falling for the Terrapins, but weren't able to control their own offense enough to take full advantage.
Much of the first half was still close; even though Maryland was controlling the pace and playing more together, Indiana was able to keep up. But with just under five minutes to go in the first half, the tide began to change.
In the span of one minute and 36 seconds, the Hoosiers turned the ball over three times and gave up five points. Entering halftime, they trailed 37-29 and had given up two more turnovers, for a total of seven.
"When they did decide to play us man-to-man, we just — we couldn't execute," Woodson said about Indiana's struggles against Maryland's defense. "We haven't done that in a long time."
Throughout the second half, it became clearer that the game Indiana was playing was not the same as Maryland. Indiana's offense couldn't match up with the Terrapins' defense, forced to make errant passes and take less-than-ideal shots. As Indiana went up and down the court, some sort of mistake or misplay almost seemed almost inevitable.
At moments in the second half, Indiana trailed by only one possession. But the pieces couldn't fully come together to ever take the lead, and Indiana kept beating itself, failing to execute on some of the most basic plays.
Passes were stolen away, players were double-teamed with no way out, layups were blocked. But most importantly, open shots weren't falling. And with 56 attempts, it's not like the Hoosiers were searching for opportunities.
Some shots were forced due to Maryland's defense, some were contested, but some were open and easily makeable. Or, they usually were.
"In our win streak, we'd been hitting shots, and tonight they just weren't dropping," Jackson-Davis said. "We just can't dwell on it. We've got to get back into the gym and just get 'em up and get ready for the next one."
The upside to a game like Tuesday's is that it did seem that if Indiana had been able to control its own mistakes and mentality, the game was very winnable. Every player, and team, has off nights. Unfortunately for the Hoosiers, almost every player had a bad night at the same time.
But they know what they need to do to win — they have five games to look back at for proof. And with No. 1 Purdue looming this Saturday, this loss is one that must be quickly moved on from.
(Photo credit: IU Athletics)
Filed to: Maryland Terrapins