The Minute After: Maryland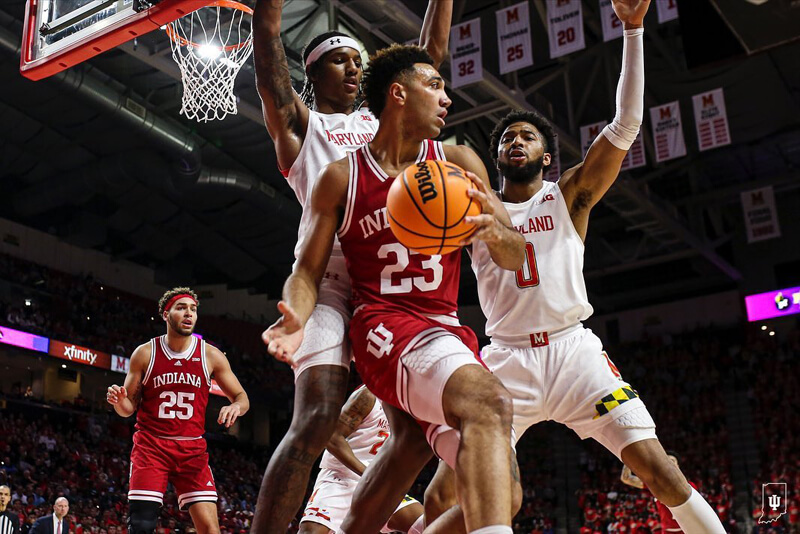 Thoughts on a 66-55 loss to the Terrapins:
Maryland left this one on the table for the Hoosiers in the second half. The Terps shot just 8-of-25 from the floor. Made just one 3-pointer in seven attempts. They turned it over five times and scored under a point per possession.
But Indiana just didn't have it tonight. Give credit to Maryland. The Terrapins tossed different looks at the Hoosiers and Trayce Jackson-Davis all night. Press. Zone. Man-to-man. Indiana turned it over on 19 percent of its possessions, leading to 12 Maryland points. And for the first time in a while, Jackson-Davis looked mortal. The Terrapins flustered him, sending a number of coverages from all angles all game at him. It gummed up what's been a well-oiled machine of an offense the last several times out for Indiana. To start the second half, Jackson-Davis shot two airballs off the left low block. He wasn't able to get to his preferred spots as easily.
He still managed an efficient 18 points on 7-of-13 shooting and pulled down 20 boards, apparently a record for the Xfinity Center. But he had to work hard for all of them.
And he didn't get much help otherwise. After an evening of sensational shotmaking at home against the Buckeyes over the weekend, Jalen Hood-Schifino had a performance to forget against the Terps. IU's freshman shot just 1-of-14 from the floor. He looked out of sorts and out of rhythm, scoring just three points in 34 minutes of action. He also turned it over four times. Tamar Bates shot just 1-of-5 and had a bad flagrant foul in the second half which led to four points for Maryland. Malik Reneau fouled out in just 13 minutes of action. The only other Hoosier in double figures outside of Jackson-Davis was Race Thompson (11 points, 4-of-8 shooting).
Indiana shot just 3-of-11 (27.3 percent) from deep and could only muster .89 points per possession. That's not going to get it done on the road in the Big Ten, especially against a Maryland team that's now posted nine straight wins in home conference play dating back to last season.
Indiana struggled to contain Jahmir Young on the bounce, but he slowed down in the second half and while he got 20 points, it came on just 6-of-15 shooting. Donta Scott was a similarly tough cover for the likes of Race Thompson and Malik Reneau in this one. While he cooked a few times on his way to 19 points, he also was inefficient (6-of-18). Maryland was great at the line, hitting 25-of-29. Indiana shot well from the charity stripe, too, but took far fewer attempts (12-of-15). It was something Mike Woodson said was "too lopsided" after the game.
With the way Maryland is playing at home and Indiana unlikely to run the table the rest of the way, a loss wasn't necessarily a surprise tonight. Still, had the Hoosiers taken advantage of an average second half from the Terps, they might have been able to sneak away with a victory on a night they didn't play their best.
Instead, they head home and get ready to take on the No. 1 team in the country. They'll need to find their A-game again quickly.
(Photo credit: IU Athletics)
Filed to: Maryland Terrapins