The Minute After: Purdue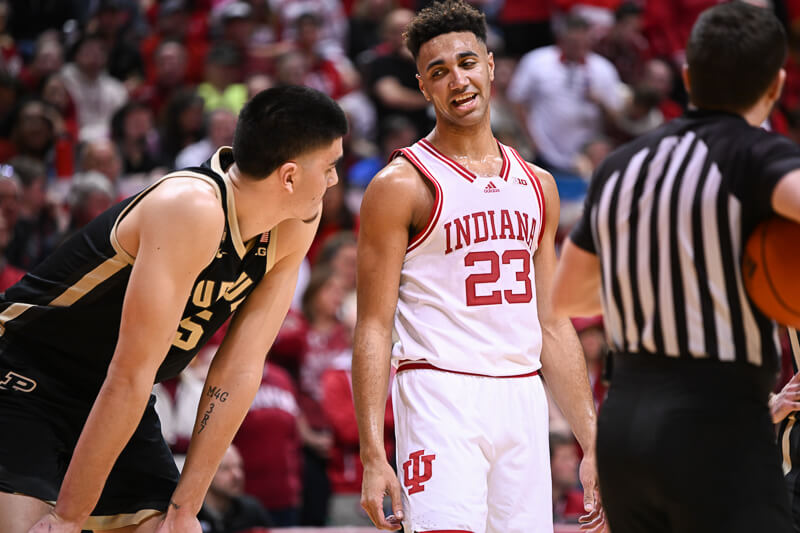 Thoughts on a 79-74 win against the Boilermakers:
No. 1 Purdue goes down. The court stormed. Bloomington in bedlam.
For today, the Hoosiers reign supreme, hanging on and besting their rival in dramatic fashion. This was a first half where Indiana threw the decisive first punch. Purdue looked like a shell of itself, turning the ball over on 31 percent of its possessions as Assembly Hall's electric atmosphere acted as sixth man, making the Boilermakers uneasy as Indiana defended up in their face with vigor. Offensively, Indiana excelled. Trayce Jackson-Davis, playing with an uncharacteristic chippy and mouthy edge, pumped in 18 points on 6-of-12 shooting.
Trey Galloway splashed an early 3-pointer and scored in ball-screen action on his way to seven first-half points. Indiana made 4-of-7 (57.1 percent) from deep and 10-of-12 (83.3 percent) from the line. The Hoosiers turned all those Purdue turnovers into 12 points. When the buzzer sounded on the first half, Indiana held a 15-point lead (50-35), dropping 50 points and 1.41 points per possession on the Boilermakers, a team that had yet to surrender 70 points to any team in a game all season.
But … then came the second half.
There's a reason Purdue entered this game at 22-1 and ranked atop the land. The Boilermakers stopped turning the ball over and started finding Zach Edey consistently. He delivered. Edey was absolutely unstoppable early 1-on-1 against Jackson-Davis, scoring eight of Purdue's first 10 points in the second half. As he began to impose his will on the game, Indiana started throwing doubles and extra defenders at the 7-foot-4 center and Purdue started to get great looks from 3-point range.
Suddenly, Purdue had found itself on offense and Indiana was hanging on for dear life. With the Boilermakers much better with the ball for the majority of the second half, the transition opportunities for the Hoosiers disappeared. Purdue got it to a single-digit lead (nine) at the 16:05 mark. It stayed in single digits the rest of the way. An eight-point lead gave way to seven, then four, then two, then all the way to one with 2:02 to go on a Braden Smith lay-up.
Indiana got stagnant on offense and Purdue just kept scoring. But when it hit winning time, the Hoosiers delivered to pull out the victory. After a Jackson-Davis dunk attempt over Edey went south fast, Race Thompson picked up the offensive rebound, got fouled and hit both at the line. Three-point lead for the Hoosiers with 1:36 to go. Then Thompson stole the ball on Purdue's next possession.
Jalen Hood-Schifino then hit an impossible lay-up off a high ball screen against Edey to give the Hoosiers a five-point cushion with 25 seconds to go. Edey scored two more times on the other end, but Galloway countered by hitting two at the line after getting fouled and Hood-Schifino was able to break away at the end of the game for a final score to give Indiana the 79-74 victory.
"It lets me know we're ticking as a team," Mike Woodson said of Indiana's resolve down the stretch. "We didn't cave. This team has had its ups and downs, but when we've been in ball games, we've been able to deliver."
Indiana's ability to hit free throws was huge in this one. Its 15-of-18 (83.3 percent) mark from the line bested Purdue's 10-of-17 (58.5 percent). And when things teetered in the balance, Hood-Schifino was able to hit timely buckets (team-high 12 second-half points) down the stretch to keep Purdue at bay.
"He asked for the ball coming down the stretch," Woodson said. "I drew up two plays to get it to him and he delivered."
The Hoosiers have now won six of seven and are in the thick of it to snag one of the top spots behind Purdue in the conference race.
Next up, though?
Those pesky Scarlet Knights. Rutgers holds the second-best defense in the country, per KenPom, and has had Indiana's number for the last several seasons. Tuesday night's game might not have the wildness of today's crowd.
But Indiana will likely need to play just as well to pull out the W.
Filed to: Purdue Boilermakers