At the Buzzer: Indiana 79, Purdue 74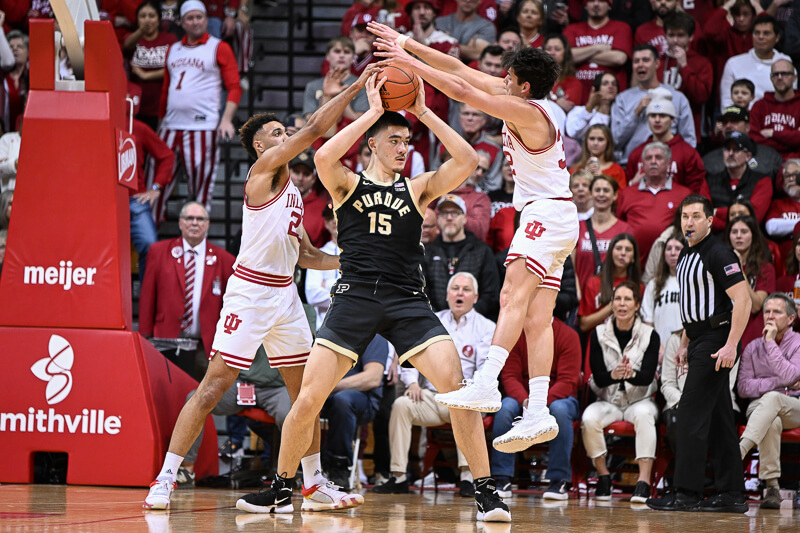 Quick thoughts on a 79-74 win against Purdue:
How it happened
It would have been hard to draw up a better first half for Indiana on Saturday afternoon in Assembly Hall. Students lined up all day waiting to fill the building. The atmosphere was electric. And the Hoosiers had a start to meet the moment. After a second-chance dunk by Caleb Furst made it 11-10 Indiana, the Hoosiers reeled off a 10-0 run to build a 21-10 lead. The offense never relented in the first half. Purdue struggled to guard Indiana's ball screens, Trayce Jackson-Davis was able to navigate double teams and by halftime, Indiana had amassed 50 points on 1.41 points per possession. Jackson-Davis scored 18 points and six rebounds in the first 20 minutes and seven other Hoosiers scored as IU led 50-35. Fouls, however, were an issue. Race Thompson had three before halftime and Jalen Hood-Schifino, Tamar Bates, Miller Kopp and Malik Reneau all had two.
Purdue, however, had an answer. The Boilermakers went straight to Zach Edey to start the second half. The national player of the year frontrunner delivered. Edey scored eight of Purdue's first 10 points before the first media timeout of the second half as the Boilermakers cut the lead to 54-45 with 14:56 to play. A Mason Gillis 3-pointer cut IU's lead to seven at the 14:40 mark. But Indiana answered with a jump shot from Hood-Schifino and a bucket from Reneau to make it 59-50 at the under-12 media timeout.
The Boilermakers made it a two-possession game at 63-59 with a David Jenkins Jr. 3-pointer at the 9:35 mark. The Boilermakers got within two at 67-65 on an Edey bucket with 5:40 to play. After a Jalen Hood-Schifino bucket made it 69-65 with 4:34 to play, Caleb Furst split a pair of free throws to make it 69-66 with 4:05 remaining. A bucket from Galloway made it 71-66 Indiana with 3:52 to play. Back-to-back buckets from Fletcher Loyer and Braden Smith made it 71-70 Purdue with 2:02 to play. Race Thompson made a pair of free throws to stretch the IU lead back to three at 73-70 with 1:36 remaining. After a Purdue miss, offensive rebound and turnover, Indiana called a timeout with 41.4 seconds to play. Out of the timeout, Jalen Hood-Schifino made a layup with just over 25 seconds left to give the Hoosiers a 75-70 lead. An Edey bucket with 14.4 seconds left made it 75-72 Indiana. The Boilermakers then fouled Galloway, who made both free throws to make it 77-72. Purdue answered with an Edey bucket with 4.1 seconds left to make it 77-74. After a Purdue timeout, Indiana couldn't get the ball inbounds and called its last timeout. Hood-Schifino got a dunk out of the timeout to make it 79-74 as IU knocked off No. 1.
Standout performer
Jackson-Davis led Indiana with 25 points and seven rebounds and Hood-Schifino scored 12 of his 16 points in the second half.
Statistics that stand out
Indiana made 15-of-18 free throws (83.3 percent) and scored 1.22 points per possession. The Boilermakers were only allowing .969 points per possession in conference play. Indiana also committed just eight turnovers compared to 16 for Purdue.
Final IU individual statistics

Final tempo-free statistics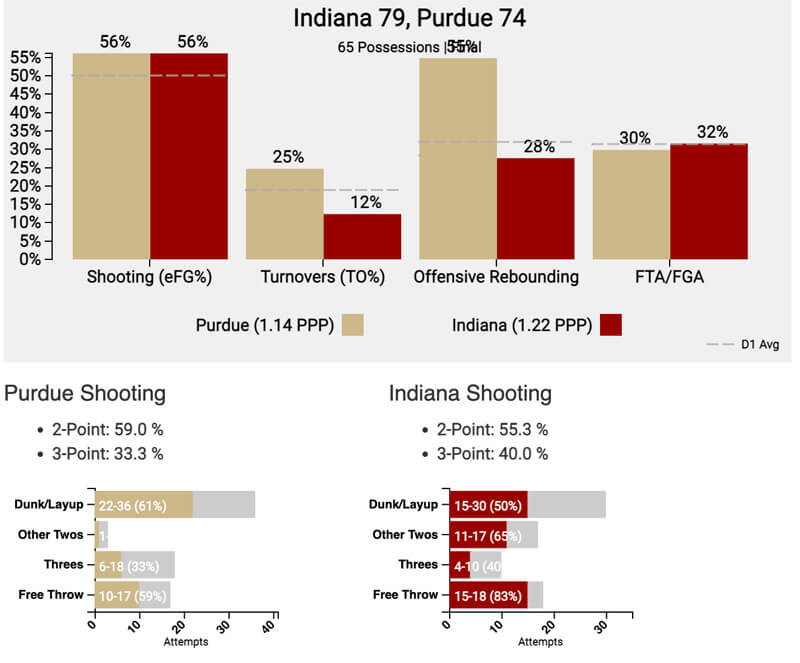 Assembly Call postgame show
Filed to: Purdue Boilermakers