Missing the X-factor: Inadequate guard play dooms Indiana in loss at Maryland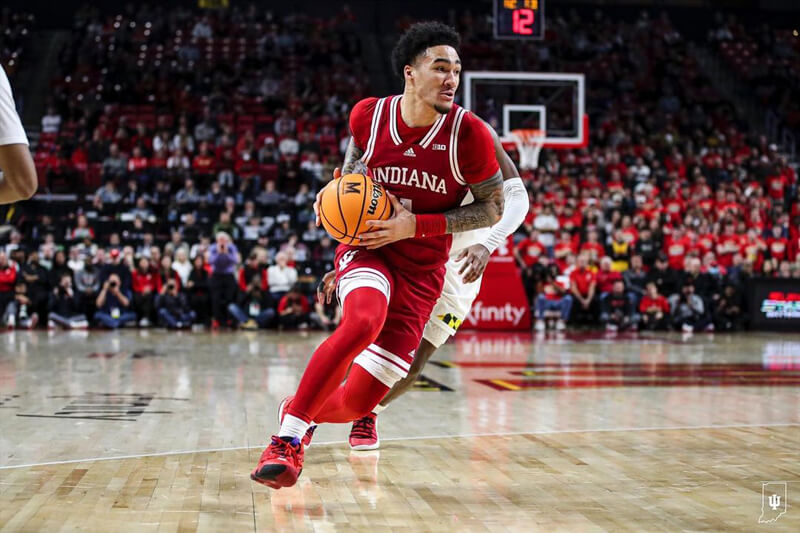 With 5:30 to play at the Xfinity Center, Indiana's Jalen Hood-Schifino had the ball in his hands with a chance to make it a one-possession game for the first time since the opening three minutes of the second half. The freshman point guard worked his way into the Maryland lane and was gifted a wide-open floater from the Big Ten logo.
Clank. It missed. And the Terrapins never looked back in a 66-55 victory against the Hoosiers. It was a game where clean looks were hard to come by for IU. Almost every shot was contested and every point needed to be earned. You can credit Maryland's defense, but if you look at the Hoosiers guards' shooting numbers, it paints another picture.
That floater missed by JHS was just one of his 14 attempts. He only made one shot. He also turned it over four times. Sophomore guard Tamar Bates played 25 minutes, shot 1-of-5 from the floor and picked up three fouls (one of which was flagrant). Trey Galloway made two 3s but tallied four fouls of his own.
Galloway was also assigned the nearly impossible task of staying in front of Jahmir Young defensively. Young finished with 20 points, six rebounds and shot 3-of-6 from beyond the arc. The speedy point guard came into the game shooting 26.2 percent from deep.
"Our perimeter play was nonexistent tonight, we haven't had it like that in a while," Mike Woodson said. "Tonight nobody really played well from the perimeter."
A trend has etched itself out for the Hoosiers this season. The guard play is inconsistent overall and consistently flawed on the road.
Going into Maryland just days before the Purdue game was never going to be easy. The Terps have played like an NCAA tournament team this season and are unbeaten at home in Big Ten play.
Hood-Schifino's showing was disappointing. He had just carried the Hoosiers against Ohio State, finishing with 24 points while knocking down six triples. In his past two road games, he's 3-for-25 from the field.
The big win over the Buckeyes showed just how good the freshman could be. In College Park, the highly touted freshman was a liability. He never got to the rim, struggled to find Trayce Jackson-Davis on pick and rolls, couldn't work the two-three zone and pulled up for inefficient mid-range jumpers.
"Hey, shit happens man," Woodson said. "You ain't gonna make shots all the time…he'll bounce back. He's had too many good games for that to take him down."
It does happen, man. And no, it probably won't take him down or ruin his confidence. But the problems on the road continue to be head-scratching.
Bates is a player whose home/away splits are staggering. On the road this season, the sophomore is 11-for-44 from the field. As a spot-up shooter, Bates has had the most success. Otherwise, he struggles to create for himself and his teammates on the ball. Defensively, he gets beat frequently and is forced to foul.
Since Xavier Johnson's injury in December, it feels like Indiana simply doesn't win if one of Bates, Galloway or Hood-Schifino doesn't play well.
Games like Maryland are contests where having Johnson makes a significant difference. He gives Indiana an experienced ball-handler, a slasher and a confident playmaker. Not to mention, his ball pressure and point-of-attack defense which would have been perfect for the Young matchup.
The truth is that when shots don't fall for Hood-Schifino and Bates, they struggle to affect the game in other ways. This one-dimensional guard play won't fly in March. Teams like Maryland that will muddy the interior and make your perimeter players make plays are around every corner in the Big Dance.
Other teams will catch onto the press and zone Maryland ran that slowed Indiana's offense down. So, while the Hoosiers did miss their fifth-year senior point guard against the Terps, Indiana's guards didn't make any plays to make up for that.
Some players look a whole lot better when the ball goes in. Against Maryland, it didn't. The importance of making plays without scoring is an area of needed growth for the Hoosiers' perimeter players.
(Photo credit: IU Athletics)
Filed to: Maryland Terrapins