Five takeaways from Indiana's loss at Maryland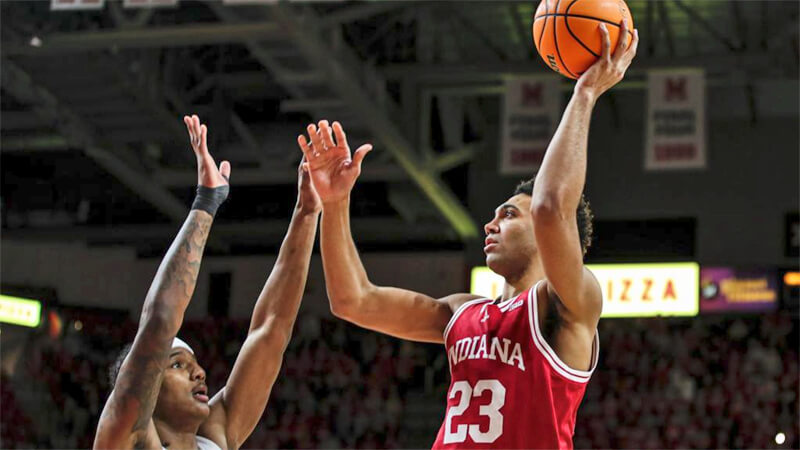 Indiana's five-game winning streak was snapped on Tuesday with a 66-55 loss to Maryland at the Xfinity Center. The loss dropped the Hoosiers to 15-7 overall and 6-5 in league play ahead of a two-game homestand against Purdue and Rutgers.
Here are five takeaways from the loss to the Terrapins:
Jalen Hood-Schifino struggles with shooting, turnovers
Jalen Hood-Schifino looked like a first-round NBA draft pick in Saturday's win against Ohio State.
The freshman from Montverde Academy was splashing 3s from all over the perimeter and dominated any Buckeye guard that Chris Holtmann threw at him.
On Tuesday, Hood-Schifino played arguably the worst game of his young IU career.
The Pittsburgh native shot only 1-for-14 from the field, committed four turnovers and scored three points in 34 minutes. Hood-Schifino did have four assists, but it was a head-scratching performance for such a talented player.
And with Hood-Schifino struggling to create offense from the perimeter, Indiana's offense cratered as a result. The Hoosiers scored just .891 points per possession, their worst output since a 22-point loss at Kansas on Dec. 17.
While Indiana was able to navigate the absence of Xavier Johnson successfully over its five-game winning streak, Tuesday night highlighted his importance to the team. Johnson would have been key in handling Maryland's pressure and could have taken some pressure off of complementary players like Trey Galloway and Tamar Bates.
Trayce Jackson-Davis continues his dominant form in Big Ten play
Maryland made Trayce Jackson-Davis earn nearly every bucket he scored on Tuesday night, but the lefty All-American produced another ridiculous stat line.
Jackson-Davis finished with 18 points, 20 rebounds, two assists, a blocked shot and a steal in 38 minutes. He was 7-of-13 from the field and 4-of-5 from the free throw line.
Through 11 Big Ten games, the Center Grove product is averaging 21.1 points, 13.8 rebounds, 4.5 assists and 3.5 blocks in 36.5 minutes per game.
Indiana, however, needs more consistent production around its All-American.
The Hoosiers don't have a consistent second or third scoring option to rely on when a team can get the ball out of his hands.
Donta Scott dominates matchup with Race Thompson, Malik Reneau
Maryland's Donta Scott needed 18 field goal attempts and six free throw attempts to score 19 points. Those are inefficient numbers, but they don't tell the full impact he had in Tuesday's win.
Scott outplayed Thompson, who is still returning to full health after a knee injury. In his fourth game back, it's clear that Thompson still hasn't regained all of his mobility.
When Thompson wasn't on the floor, Scott highlighted the primary problem with Malik Reneau. The freshman forward can't defend without fouling.
The Montverde product scored six points on Tuesday, but logged just 13 minutes before fouling out. Reneau is averaging 7.4 fouls per 40 minutes, easily the highest number of any player in the rotation.
With Thompson still working his way back and Reneau's foul issues, Indiana needs Jordan Geronimo back to full health for the stretch run of the regular season.
Tamar Bates continues to struggle with consistency
In the preseason, Tamar Bates was a popular name on the "breakout" candidate lists.
A former five-star prospect, Bates arrived at Indiana after a stellar senior season at IMG Academy.
Although his perimeter shooting has improved in his second season, Bates remains inconsistent on a game-to-game basis.
In Big Ten play, he's averaging only 6.8 points in 22.5 minutes per game. He's shooting only 35.6 percent from the field.
In Tuesday's loss at Maryland, Bates scored just two points on 1-of-5 shooting. He committed three fouls, including a flagrant one on a breakaway that led to a four-point possession for the Terps.
Free throw discrepancy, lack of 3-point shooting prove fatal for Indiana
Two numbers stand out from Indiana's 11-point loss at Maryland: free throws and 3-point shooting.
Maryland outscored Indiana by 15 points at the stripe, which clearly irritated Mike Woodson.
"I'm not going to get into the officiating because, again, the bottom line is this is a team that shoots a lot of free throws here at home," Mike Woodson said postgame. "And it was obvious again tonight, you look at the stat sheet, and I see 29 to 12. Come on, man, with two physical teams, it can't be that lopsided."
A lack of 3-point attempts was also problematic for the Hoosiers. Despite playing against a zone for a good part of the contest, IU only attempted 11 3-pointers.
Trey Galloway went 2-for-2 from distance and Miller Kopp was 1-for-4.
(Photo credit: IU Athletics)
Filed to: Jalen Hood-Schifino, Malik Reneau, Maryland Terrapins, Race Thompson, Tamar Bates, Trayce Jackson-Davis