6-Banner Sunday: Indiana men and women combine for perfect 5-0 week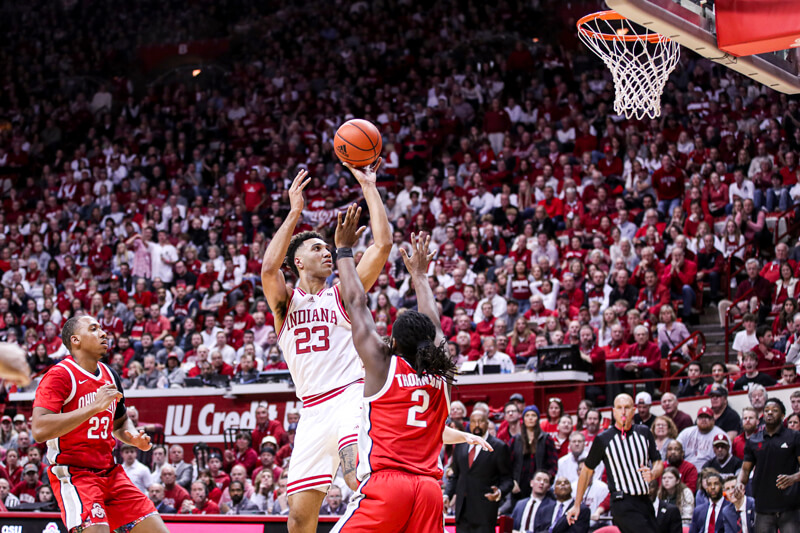 6-Banner Sunday is Inside the Hall's weekly newsletter in partnership with The Assembly Call. More than 9,000 Indiana fans receive the newsletter each week. In addition to appearing each week on the site, you can also opt to receive 6-Banner Sunday by email. A form to subscribe via email is available at the bottom of this week's 6-Banner Sunday.
Welcome to another edition of 6-Banner Sunday, a joint production between The Assembly Call and Inside the Hall, and presented by our friends at Trueblood Real Estate, where we highlight the five most essential IU basketball stories of the past week, plus take a look at how the other IU sports programs are doing.
It was once again a busy time for men's and women's basketball as both sides continued their winning ways. The men played one of their better games of the year last Sunday to defeat a good Michigan State squad before getting their fourth straight win at Minnesota despite some struggles. They also competed last night in a raucous Assembly Hall against Ohio State and came out on top yet again.
The women had the best week of all by downing two top-15 teams. First, they knocked off Michigan on the road, before coming home and beating no. 2 Ohio State before another record crowd. These results moved Indiana into a tie for first place in the conference.
Away from the court, both Assembly Call and Inside the Hall had new shows this week. We will as usual conclude with a look at how other sports are doing led by a former baseball great with IU connections receiving the highest honor possible.
• IU rolls past Michigan State
• Hoosiers struggle but find a way to win at Minnesota
• Indiana defeats Ohio State for fifth straight win
• Women's basketball knocks off two top 15 teams to tie for Big Ten lead
• Podcast on the Brink and Assembly Call
• Hoosier Roundup
Looking for tickets to upcoming Indiana games? Vivid Seats has you covered. This week Indiana travels to Maryland on Tuesday and hosts Purdue on Saturday. Vivid Seats is a full-service provider – with an industry-leading customer service team, reachable by phone or online during extended business hours. (These links are Inside The Hall affiliate links, so a commission will be paid to ITH if you click and make a ticket purchase.)
Banner #1 – IU rolls past Michigan State
The Hoosiers started the week with a bang by pulling out a hard-fought 82-69 win over the Spartans. The game was close for roughly the first 30 minutes before Indiana pulled away for the victory. This was thanks to another great showing from Trayce Jackson-Davis (who won Big Ten Player Of The Week as well as several national awards), with 31 points despite being double-teamed for a good part of the game. This also led to open shots on the perimeter for Trey Galloway and Tamar Bates, who combined to hit eight of the team's nine threes on the afternoon and scored 17 points each.
Afterward, both IU coach Mike Woodson and Michigan State head man Tom Izzo spoke, Inside The Hall had a photo gallery, Ryan Corazza wrote a Minute After and Film Session, Amanda Foster penned Five Takeaways, and William McDermott put together a column on the recent elite play of Jackson-Davis.
Banner #2 – Hoosiers struggle but find a way to win at Minnesota
It was a major struggle against the squad with the worst record in the conference. As IU tried to get by without their COVID-stricken head coach on Wednesday, it looked for a while like this was in question. However, in the end, Jackson-Davis willed the Hoosiers over the finish line as he has done so many times in his career. The team trailed 57-54 with just over three minutes left but scored the last seven points to emerge victorious 61-57. TJD had 25 points and 21 rebounds and the game-winning basket with 43 seconds left on a putback as Indiana escaped 'The Barn' with a win.
Afterward, assistant Yasir Rosemond spoke, Corazza has his Minute After and Film Session, Alex Bozich penned Five Takeaways, and William McDermott wrote a column about Miller Kopp.
Banner #3 – Indiana defeats Ohio State for fifth straight win
The Hoosiers won over the Buckeyes on Saturday in dominant fashion. IU used a 15-0 run to close the first half to pull ahead 46-30 at the break and easily held on from there for an 86-70 win. Jalen Hood Schifino led a red-hot night for the team from 3-point range with six triples and scored 24 points while Trayce Jackson-Davis had another double-double with 18 points and 10 rebounds.
Indiana won their fifth straight game and improved to 6-4 in the league and 15-6 overall. They have a big week upcoming against Maryland on the road and Purdue at home as the competition level ratchets up.
Afterward, Woodson and OSU coach Chris Holtmann spoke, while Corazza had a Minute After.
Banner #4 – Women's basketball knocks off two top 15 teams to tie for Big Ten lead
It was a fantastic few days for the women's team as they improved to 19-1 on the year and 9-1 in the league to move into a tie for first place in the conference (they face struggling Rutgers today in Bloomington at 2 pm for the outright Big Ten lead). On Monday, they defeated no. 13 Michigan 92-83 on the road as Grace Berger scored several big baskets late to help the team hang on.
However, that was not even the biggest showdown of the week as the Hoosiers came home Thursday to face no. 2 Ohio State. The game set a regular season attendance record for the second straight contest as 10,455 rowdy fans showed up to cheer the Hoosiers on. Behind a huge third quarter, Indiana outscored Ohio State 27-6 and broke the Buckeye's press apart for many easy baskets, as the fired-up crowd got in OSU's head causing them to make multiple mistakes. The final was 78-65 and Foster had a free column for Inside The Hall, while Assembly Call had an article for subscribers of its Community.
Banner #5 – Podcast on the Brink and Assembly Call
Both Podcast on the Brink and Assembly Call had new shows this week. POTB had McDermott on to discuss the recent games, while AC Postgame had shows following all three contests this week. Also, Doing The Work was on air following both victories for women's basketball.
Banner #6 – Hoosier Roundup
• Current Director of Player Development and former major league great Scott Rolen was elected to the Baseball Hall of Fame. IU Coach Mercer discussed this story among other things during preseason media availability Friday. Players Josh Pyne and Phillip Glasser were also present and spoke about the upcoming season which is less than a month away.
• Swimming and Diving defeated a ranked Louisville squad on both the men's and women's sides. Also, one of IU's divers was named conference player of the week.
• Women's Tennis beat Cincinnati but lost to West Virginia.
• Water Polo defeated Cal State Fullerton last Sunday before knocking off Villanova and Harvard this weekend.
• Track and Field competed at both the IU Relays and Texas Tech Open.
• Football had spring media availability with both head coach Tom Allen and assistant coach Bob Bostad.
• Women's Soccer announced its spring exhibition schedule.
• Wrestling revealed its 2023 recruiting class.
Thanks for your continued support for The Assembly Call and Inside the Hall. We'll be back next weekend with a new roundup.
Now go enjoy yourself a 6-banner Sunday.
Aaron (Ari) Shifron
Assembly Call Contributor
(Photo credit: IU Athletics)
Filed to: