Five takeaways from Indiana's win against Michigan State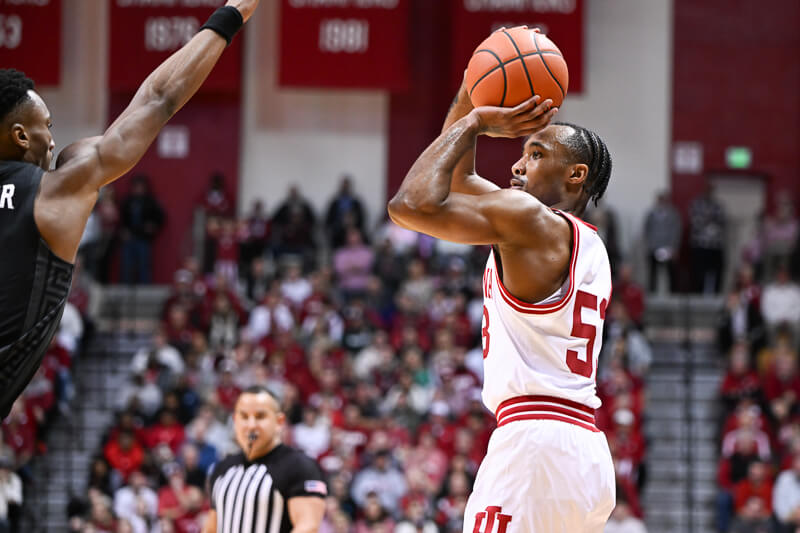 Indiana improved to 13-6 overall and evened its Big Ten record at 4-4 with an 82-69 win against Michigan State on Sunday at Assembly Hall.
Here are five takeaways from the victory:
Tamar Bates was the difference-maker off the bench
Tamar Bates was due for a big game. Since the beginning of January, he had fallen short of expectations and hadn't been producing the way Indiana needed him to. His shot selection was questionable, and often unsuccessful.
Sunday afternoon, Bates found the energy he played with against Kennesaw State — the energy that earned him a starting spot in the next game — and increased it. Coming off the bench against Michigan State, Bates finished with 17 points and three rebounds in 27 minutes.
Fifteen of his points came from beyond the arc. Bates shot 5-for-6 from deep, and by his last shot he barely even watched the ball fall. He knew it was going in.
Bates' energy and confidence helped carry Indiana throughout the game, and in a game where Michigan State seemed determined to make the Hoosiers shoot 3-pointers, Bates stepped up to the challenge.
Playing like a team is the key to victory
During the Hoosiers' three-game losing streak, one of the most prominent factors behind their dysfunction was that it looked like there was very little connection between the players on the court.
In the last three games, Indiana has looked more like a functioning team — and Sunday's victory truly put that on display. Contributions came from all across the board, in many different ways; the players stepped up.
Trey Galloway went on a hot streak alongside Bates, shooting 3-for-3 from deep and 5-for-8 overall to finish with 13 points. Malik Reneau played some of the best minutes of his career, with six points and five hard-earned rebounds.
"I think we've finally gotten acclimated to the new unit that we had in, and honestly we're just playing for each other and that's the biggest thing for us," Trayce Jackson-Davis said postgame. "We've just got to keep rolling and guys have to keep stepping up."
Situational awareness and communication prevented silly turnovers and missed opportunities, and once the Hoosiers found their groove, it was near impossible for the Spartans to change the momentum.
Offense able to bounce back after slow starts
Not everything went according to plan on Sunday, because nothing ever does in basketball. Indiana started both the first and second halves with low energy and an offense that was less than efficient, allowing Michigan State to capitalize on multiple series of miscues.
The Spartans controlled much of the first half, holding a steady multiple-possession lead until just over six minutes were left until halftime. In the second half, the situation wasn't as dire, but a six-point scoring run from Michigan State still revealed the stagnancy of Indiana's offense.
But thanks to some Jackson-Davis' proficiency in the paint, Jordan Geronimo's continued ability to step up at key moments and an increase in focus and determination from the team all around, the Hoosiers' slow starts didn't impact the game nearly as much as their fastbreaks and scoring runs.
Trayce Jackson-Davis continues to dominate opposing frontcourts
Jackson-Davis finished with 31 points, 15 rebounds, four assists and five blocked shots in 39 minutes. He now has four games this season with 30 or more points, and his tendency to establish superiority against the opposing teams' frontcourts has been the key in Indiana's most recent wins.
The Spartans tried to shut down Jackson-Davis, pushing double teams and focusing on surrounding him around the basket. It didn't matter.
Jackson-Davis essentially kickstarted the Hoosiers' energy with five minutes to go in the first half with a transition dunk over Michigan State's Joey Hauser, complete with a staredown. He gave Indiana the momentum necessary to take the lead, which they only gave up briefly in the second half.
"There's nothing the guy can't do on the basketball floor," Woodson said. "He's a beautiful player to watch and he's done — I'm just glad he's on our ball club, put it that way."
Race Thompson is back, but still has a long way to go
Race Thompson returned to the floor for the first time since January 5, when he suffered a leg injury against Iowa.
Pregame, Thompson was dressed and warming up with a brace on his right knee, and looked relatively at ease before tipoff.
Thompson wasn't expected to return until February, but Sunday's game made it clear that his early return didn't mean he was back at full capacity. Thompson only played for four minutes and came on in the second half only when Reneau fouled out and Indiana needed another big man.
The biggest number on Thompson's stat line was fouls: three. With no points, rebounds or assists, his statistical impact on the game was non-existent. There's no doubt, however, that Indiana is glad to have him back, and when he is back to full health, the team's ceiling only gets higher.
Filed to: