The Minute After: Ohio State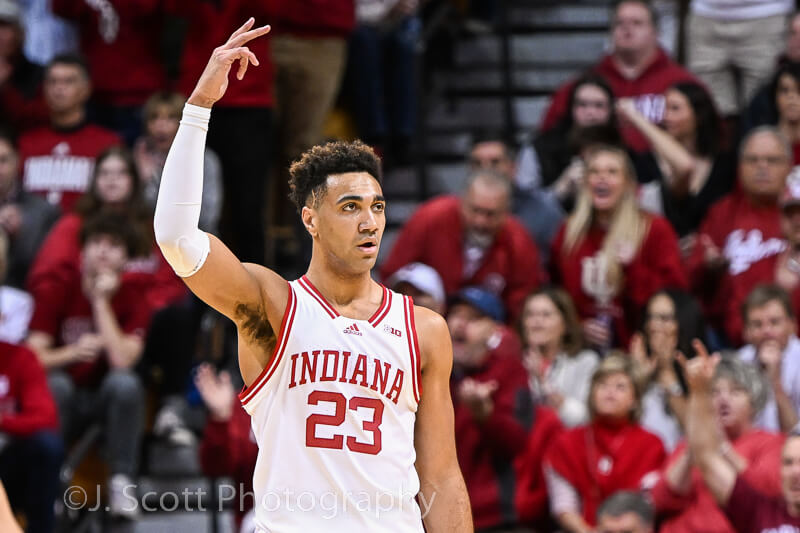 Thoughts on an 86-70 win against the Buckeyes:
Ohio State brought a competitive edge, playing well from the tip and gaining an early advantage. And so this one felt a bit like the Michigan State game from earlier in the month, Indiana playing hard, but some early shots just not falling against a team bringing it. The Buckeyes and Hoosiers traded the lead back and forth from there with the game then tied at 29-all with 5:37 left.
A Trayce Jackson-Davis alley-oop dunk put Indiana up two points before Zed Key split a pair at the line to pull the Buckeyes within a point at 31-30. But the rest of the half belonged to the Hoosiers.
Ohio State didn't score a point. Indiana scored 15. Malik Reneau grabbed an offensive board and made a putback. Trey Galloway scored a bucket on a drive. Jackson-Davis dunked another one home. Jackson-Davis then scored in the lane. Hood-Schifino hit a 3-pointer, Reneau scored, then so did Kaleb Banks.
As the first-half buzzer sounded, Indiana found itself up 16 points, 46-30. It's exactly where this one would end, a 16-point victory for the Hoosiers (86-70), as the Buckeyes never got closer than 11 points in the second half and that was early on (18:07 mark).
With Jackson-Davis merely human in the first half (eight points), Hood-Schifino exploded from deep, hitting 6-of-7 from 3-point range and 7-of-9 overall for 20 points. A couple of those 3-pointers came when Jackson-Davis received extra attention and Hood-Schifino had room to catch and shoot. The Hoosiers also got solid contributions from Reneau (eight points) and Kaleb Banks (four points). Banks didn't play in Indiana's last two games. But with Jordan Geronimo out with an injury tonight, he came to play when his number got called.
Indiana's 1.32 points per possession were its best in Big Ten play thus far this season. Credit IU's excellent shooting from 3-point range (10-of-20, 50 percent) as a big reason why. Beyond Hood-Schifino (6-of-9), Miller Kopp (1-of-3), Galloway (1-of-3), Tamar Bates (1-of-3) and Reneau (1-of-1) also connected from deep. Indiana shot a respectable 70.6 percent (12-of-17) from the line as well. After scoring 10 points against the Golden Gophers on Wednesday night, Reneau continues to look more comfortable, as he pumped in 15 points on 6-of-10 shooting in this one. That ties his career-high, which came against Morehead State in Indiana's first game of the season.
This wasn't Indiana's best performance on defense, as the Buckeyes posted 1.08 points per possession. Freshman Brice Sensabaugh was a particularly tough cover and made some great individual plays on his way to a team-high 23 points. Felix Okpara and Key combined for 20 points on 8-of-12 shooting. But the Buckeyes only shot 5-of-19 (26.3 percent) from deep and thus were outscored by 15 from distance.
Tonight's win helped Indiana to its first five-game winning streak in conference play since the 2015-2016 season. That's seven seasons ago and the last time the Hoosiers won a Big Ten title. Another championship may be out of reach with the way Purdue has dominated so far this year.
But if Indiana keeps playing hard, confident and together basketball, one of the top spots in the conference is well within reach.
Filed to: Ohio State Buckeyes