Five takeaways from Indiana's win at Minnesota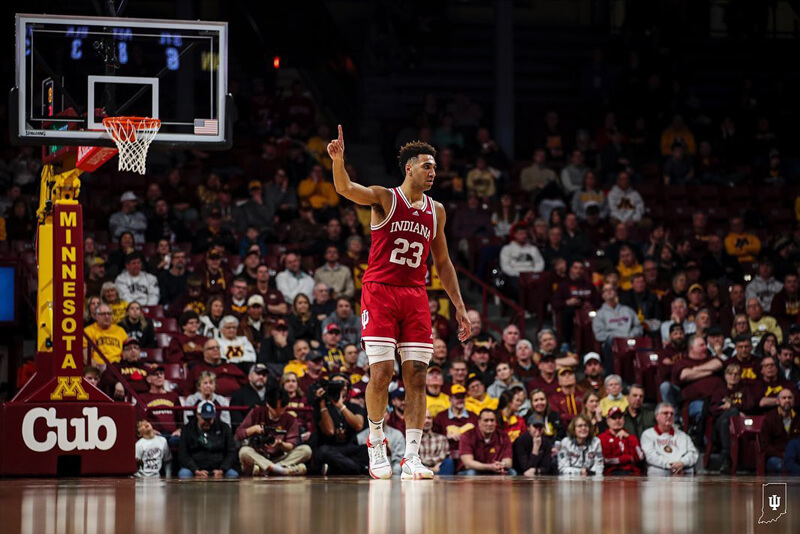 Indiana won its fourth straight game and improved to 14-6 overall with a 61-57 win against Minnesota on Thursday at Williams Arena. The victory moved the Hoosiers above .500 in Big Ten play at 5-4.
Here are five takeaways from the win against the Golden Gophers:
Trayce Jackson-Davis continues his dominance
Minnesota threw a zone at Indiana with the sole intention of slowing down Trayce Jackson-Davis. While Jackson-Davis didn't get as many touches as IU would have liked, he was still dominant.
The 6-foot-9 lefty finished with another ridiculous stat line: 25 points, 21 rebounds, six blocked shots and two assists in 39 minutes.
Through nine Big Ten games, Jackson-Davis is averaging 21.8 points, 13.6 rebounds, 4.7 assists and 3.9 blocked shots in 36.4 minutes.
While a ridiculous finish off a lob from Jalen Hood-Schifino is the play making the rounds on social media, a veteran move from Jackson-Davis in the final minute lifted the Hoosiers to their fourth straight win.
After Race Thompson hit the front end of a 1-and-1 to tie the game at 57 with 43.7 seconds remaining, Jackson-Davis was ready with a plan if the next shot wasn't successful. As Thompson's second attempt fell short, Jackson-Davis used his lower body strength to gain an advantage over Minnesota freshman Joshua Ola-Joseph, leaped over him and put the ball back up and in for a 59-57 lead.
Indiana's defense shines down the stretch
It was an ugly night offensively from a short-handed Minnesota team, but the Gophers looked like they might pull off the upset when Taurus Samuels knocked in two free throws with 3:20 remaining.
Those free throws gave Minnesota a 57-54 advantage and had the Williams Arena crowd on its feet.
Indiana's defensive response for the rest of the game was pivotal in escaping with a victory. Minnesota didn't score again after the Samuels free throws. Over the last 3:20, the Gophers missed all six of their shot attempts.
For the fourth straight game, Indiana held its opponent under 70 points. And for the third time in four games, the Hoosiers didn't allow their opponent to break the one-point per-possession plateau.
Guard play underwhelms after strong performance against Michigan State
The duo of Tamar Bates and Trey Galloway combined for 34 points in Sunday's 82-69 win against Michigan State at Assembly Hall.
On Wednesday, Bates and Galloway combined for five points on 1-for-8 shooting. Bates went scoreless in 10 minutes and Galloway missed a couple of wide open 3-point attempts.
The Bates performance in particular highlighted the feast-or-famine nature of his output in conference play. While he was terrific against Michigan State, Bates didn't score a point in 54 minutes of action in wins over Wisconsin, Illinois and Minnesota.
Jalen Hood-Schifino, who had been on a roll entering the Michigan State game, also struggled for a second consecutive game. Hood-Schifino scored just two points again the Spartans and had only six points against Minnesota on 2-for-11 shooting.
With no firm timetable on a return for Xavier Johnson, Indiana will need more consistent production from this trio to keep its winning streak alive.
Jordan Geronimo moves to the bench, only logs five minutes
Jordan Geronimo was instrumental in wins over Wisconsin and Illinois.
Against the Badgers, he finished with 12 points and 11 rebounds in 29 minutes. And in Champaign, he had 13 points and eight rebounds in 30 minutes.
Fouls were a problem for Geronimo against Michigan State, but he still contributed with five points and two offensive rebounds in 13 minutes before fouling out.
Against Minnesota, Geronimo came off the bench as Race Thompson suited up for his final game in Minneapolis, his hometown.
Geronimo played just five minutes in the win. He turned the ball over twice and committed two fouls in his brief time on the floor.
Miller Kopp steps up with perimeter shooting, secures key loose ball
While Indiana's guards struggled with their shooting at the Barn, Miller Kopp played like a savvy veteran in Wednesday's win.
Kopp was 4-for-9 from the field and hit three of his seven attempts from distance. His 11 points put him into double figures for the first time since the Elon game on Dec. 20 and he also logged all 40 minutes.
In nine Big Ten games, Kopp is 13-for-29 on 3s (44.8 percent), which ranks sixth in the Big Ten.
Overall, he's shooting 45 percent on 3s, which is a career-high.
But Kopp's most important play came late in the contest when he beat Jaden Henley and Joseph Ola-Joseph to a loose ball and called a timeout. After the timeout, Minnesota fouled Galloway, who made two free throws to make it a two-possession game with 8.2 seconds remaining.
(Photo credit: IU Athletics)
Filed to: Minnesota Golden Gophers