"We knew the recipe": Backed by a record crowd, No. 6 Indiana rolls past No. 2 Ohio State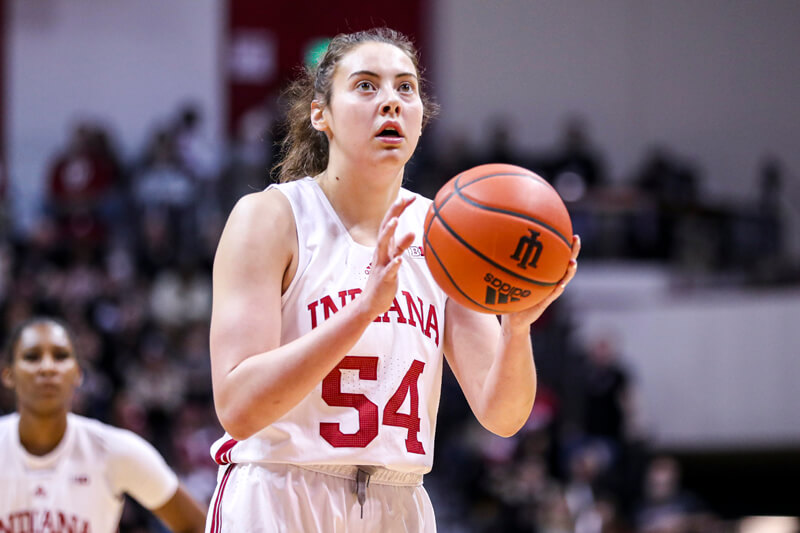 It's not every day two top-10 teams face off at Simon Skjodt Assembly Hall. It's not every day Yarden Garzon grins ear-to-ear after hitting a 3-pointer. It's not every day the No. 6 team in the country beats the No. 2 team by over 10 points.
For the record-setting 10,455 fans in Assembly Hall on Thursday, Indiana's 78-65 win over Ohio State was a night they'll never forget.
Those in attendance witnessed the Hoosiers outscore the Buckeyes 27-6 in the third quarter. They roared as Garzon sank 3-pointer after 3-pointer from the corner. They exploded at ear-splitting levels when Mackenzie Holmes muscled to the basket, when Sydney Parrish grabbed a rebound, when Chloe Moore-McNeil dove for a loose ball.
They lost their minds when the final buzzer sounded, and sang their hearts out to the alma mater.
But to Indiana, it was just another game. And that, perhaps, is the biggest representation of what the Hoosiers are all about.
"I don't think that we take any opponents differently than the other," Mackenzie Holmes said postgame. "Especially in Big Ten play, knowing that every opponent we face night in and night out is going to be a tough competition."
The Hoosiers entered the game with the same mentality as every other game, even though it was against one of the nation's best teams. They had a game plan; they knew what to expect from the Buckeyes and they knew what they had to do to beat them.
"We knew the recipe," Teri Moren said postgame. "We just had to be dialed in and focused on what the recipe was, and we had to execute it on both sides."
Holmes, naturally, was one of the key ingredients in the crockpot that is Indiana women's basketball. Throughout the first half, when Indiana struggled against Ohio State's lightning-fast pace or full-court press, she was fed again and again in the post. And as she typically does, Holmes came through.
She led all scorers with 26 points on 11-of-13 shooting, which was why Indiana stayed in the game in the first half. At halftime, she had 18 points while no other Hoosier was in double figures.
Garzon, another staple for Indiana, was the other major contributor in the first half with nine points and five rebounds. While Holmes didn't need any time to preheat, Garzon had to simmer for a little while before coming into her own.
The third quarter was when she reached her boiling point. In the span of just under four minutes, Garzon was automatic from the corner, sinking three 3-pointers without batting an eye. Her third came off a fastbreak, and resulted in a timeout called by the Buckeyes.
"Her level of maturity is unlike anything I've ever seen from a freshman," Holmes said. "Not even from a freshman, from any basketball player. She just has this knack for stepping up in big moments, and that's not really something you can teach."
Standing on the Indiana logo at halfcourt, Garzon was mobbed by her teammates as a grin spread across her face. Her nine points had been the tipping point, spurring a 17-0 Indiana run. Why wouldn't she smile?
That smile came back as she was part of the celebration on the court after the game as well; Garzon's final stat line read 20 points, 10 rebounds, three assists and three steals. It marked her first career double-double and her fifth straight game scoring in double figures.
"I love to be on the court to play for my teammates, play for my club, my university, and for my coaches," Garzon said about her competitiveness. "So that's a big part of it."
But of course, as is the case with any good recipe, there were more than two ingredients.
Sydney Parrish, ever the epitome of hustle, matched her career-high of 11 rebounds, and added 12 points for her third double-double of the season. Grace Berger came alive in the fourth quarter after a stagnant first half, finishing with 12 points. Chloe Moore-McNeil was again all over the court, ending the night with four points, five rebounds and six assists.
Those key pieces came together to be the fundamental dish called Indiana women's basketball. All the basic flavors were there; 21 assists on 28 made shots, 40 points in the paint, 41 rebounds.
But any good dish is incomplete without some spices, and the Hoosiers had that as well, with one especially notable one.
Lilly Meister continued to boost her reputation as a reliable, composed bench player, coming in routinely for Mackenzie Holmes. While she only played for six minutes, she tallied five rebounds and two points, and did exactly what was required of her.
"She knows her role, and she stars in her role," Moren said. "And by that I mean she realizes she does not have to score a basket to impact this game. What she has to do is guard well on the low block, she needs to be in rotations and she needs to rebound."
All in all, Thursday's game wasn't unlike any other Indiana has played, and that's why it was so special. The Hoosiers simply have so many cooks in the kitchen that no matter who the opponent is, they can come up with the best recipe for success. Even against the No. 2 team in the country.
(Photo credit: IU Athletics)
Filed to: