Miller Kopp plays his role perfectly in IU's win at Minnesota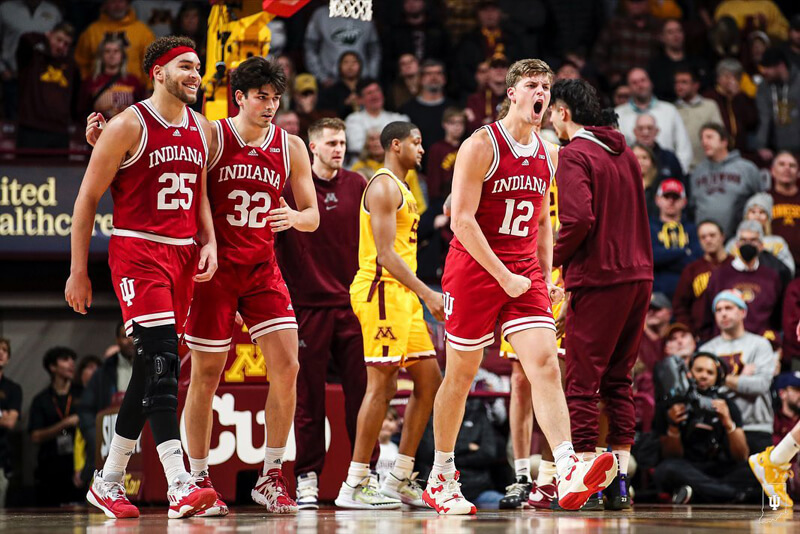 After Minnesota's Ta'Lon Cooper missed a go-ahead 3-pointer with 20 seconds remaining, Indiana's Miller Kopp spun around at the left elbow, fell to his knees and clawed for the loose ball. The senior hit the deck before the two Golden Gophers near him did, grabbed the ball and signaled for a timeout.
Kopp's hustle play sealed the game. The Hoosiers escaped the barn with a 61-57 win over Minnesota on Wednesday.
Looking at the box score, Kopp's name won't be the first you would circle when looking for a hero. That would be Trayce Jackson-Davis. His stat line and recent performances speak for themself, but even his 25 points and 21 rebounds may not have been capped off with a victory if it wasn't for Kopp's play.
Kopp transferred from Northwestern to Indiana to make shots. And despite shooting 45 percent from beyond the arc this season, he's criticized when he fails to do so. Many have criticized the Houston native for standing around, not adding to the box score and being near absent during games. Against the Golden Gophers, Kopp scored 11 points, cashed in on three 3s, snagged three rebounds and played a full 40 minutes.
Oh, and it won't show up in the box score but add that game-sealing loose ball and timeout.
"Miller's just a great leader," Jackson-Davis said postgame. "He came here to make shots and a lot of people don't give credit to him or are discouraged when he doesn't make shots, but at the end of the day Miller hustles. He's playing on the defensive end of the floor. He's diving on loose balls. He's guarding. And those are all huge things we need from him."
Indiana's trip to Minnesota on Wednesday had many extraordinary circumstances. The Hoosiers were without Mike Woodson, who is recovering from COVID-19, and Minnesota only had seven scholarship players available. But it also was a game that Indiana should have easily won.
That wasn't the case, and when the Hoosiers needed a constant to lean on, Kopp was right there with his All-American teammate.
Aside from Kopp and TJD, Indiana players were a combined 8-for-24 from the field. Four of those makes were freshman Malik Reneau's.
For some reason, Kopp has become an easy target for Indiana fans. Everyone likes to have a scapegoat to have something to blame when things don't go well. A reason for the unreasonable and an answer to the questions. And most of that, for good reason, has been for Kopp's inconsistent offensive play. In some games he's active, shooting five 3-pointers or more and in some games, he's rarely heard from.
On Wednesday, Kopp's scrappy defensive play, hustle and leadership were illuminated by his active offensive play. If Kopp hadn't played 40 minutes and attempted seven triples, would we even notice him going after the loose ball?
As Jackson-Davis explained, much of the criticism comes when Kopp isn't making shots or doing much offensively. But his hustle plays and work ethic can't be denied.
Kopp's role was in question last season. There were times he looked overwhelmed as he adjusted to a new role. There were times he was trying to do too much. And there were times he wasn't doing enough. This season, Kopp looks steady and settled in.
"You can get lost in the game…it may not show up in the box score but just being vocal, being a leader out there…that's how I stay in the game," Kopp said last week. "I'm just playing free…my role's not to come off and shoot 20 times a game, my role is to help the team win."
In a game where everything else seemed to be off, Kopp played his role almost perfectly. The Hoosiers needed him to and he's part of the reason they've won four in a row.
Grabbing the loose ball with just over 20 seconds to play was the latest example of Kopp contributing during the four-game winning streak.
"Miller contributed, that was a big loose ball," associate head coach Yasir Rosemond said.
All Kopp's hustle play to end the game will ever be is a "big loose ball". But if he hadn't gotten a couple of burns on his knees, who knows if Indiana would be heading back to Bloomington with a win?
(Photo credit: IU Athletics)
Filed to: Miller Kopp