Trayce Jackson-Davis is perfecting what he's already good at and breaking records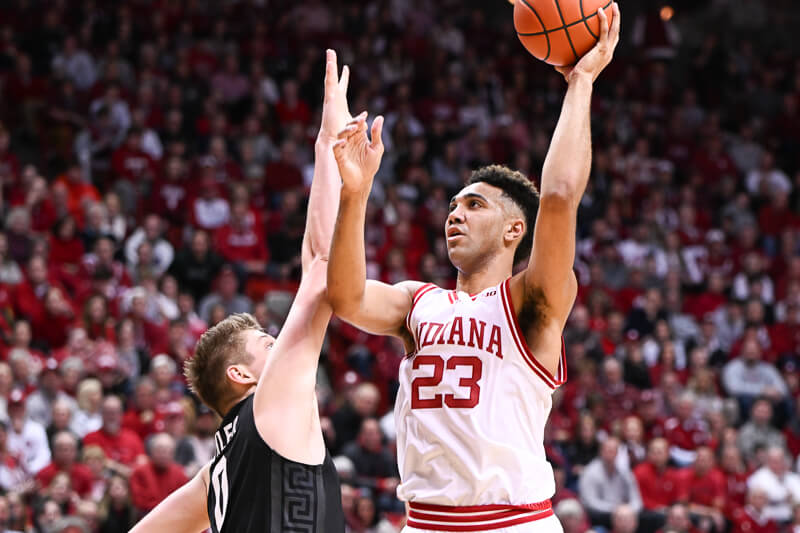 Trayce Jackson-Davis missed his first four shots on Sunday afternoon at Assembly Hall. Most of the attempts were looks he expects to make like turn around's with the left hand, putbacks and twirling shots underneath the basket.
Against Illinois, these were shots he made. Shots he made look effortless and simple. They looked hard and complicated for the first 10 minutes against Michigan State. Then it became a dunk fest, headlined by a fast break poster on top of Spartans forward Joey Hauser.
From then on, Jackson-Davis shifted his game to another level. He finished the 82-69 victory with 31 points, 15 rebounds, four assists and five blocked shots. The five blocks tied the All-American with Jeff Newton for most career blocks in Indiana basketball history (227).
TJD's superb play is a gift to watch. It's special, exciting and explosive. But, you already knew that. Jackson-Davis has been putting up ridiculous numbers his entire four-year career at Indiana. And each year he gets better and better.
The shots may not have initially fallen against the Spartans, but he still finished his 40th career double-double 10-for-20 from the field and 11-for-13 from the foul line.
"I thought I missed a few bunnies early…in the second half we spaced the floor and it allowed me to go one-on-one," Jackson-Davis said postgame. "And I feel like there's not a person in the country that can honestly guard me."
Here are the preseason Big Ten player of the year's averages over the last six games: 24.3 points, 13.3 rebounds, 4.7 assists and 3.7 blocks per game.
And Jackson-Davis is still not 100 percent healthy.
The Center Grove product's defense in particular is a significant reason why the Hoosiers have turned things around during this three-game win streak.
After the Penn State loss, where the Nittany Lions scored 85 points, it was clear that something had to change on that end of the floor. Since then, the Hoosiers have held their three opponents to under 70 points and an average of 38 percent shooting from the field. That's a major swing.
Over the course of his time in the cream and crimson, TJD has improved defensively. He's learned how to defend screens and pick and rolls, while also using his athleticism to roam the paint, protect the rim and master help defense. The senior has only had three games this season with three or more fouls.
The block record will soon be owned by Jackson-Davis and it will probably stay that way for a while. His impact defensively, which doesn't get the same headlines as his gaudy offensive numbers, is equally important to this Indiana team.
The criticism Jackson-Davis has always garnered is his inability to stretch the floor and shoot from outside of the paint. Every offseason it was the same dialogue, "when/how/if Jackson-Davis can develop a jumper…Indiana will be successful."
That's not necessarily true and Jackson-Davis is proving why. Instead of focusing on his perimeter shooting, he's improved all other aspects of his game. He's a better passer, ball-handler and defender than he was a year ago.
"The improvement that he's made from last year, taking the pressure and handling it so well…it's honestly incredible to watch," Trey Galloway said Sunday. "I'm glad he's on my team."
Not only has that helped him, but its helped IU. A sharpshooting four isn't who he is and it's not what he ever will be.
"I think you're looking at a complete player man," Woodson said. "You add his rebounding, his ability to block shots, his assists, his ability to handle the ball…there's nothing the guy can't do on the basketball floor. He's a beautiful player to watch. I'm just glad he's on our ball club."
TJD's ability to perfect the things he's good at instead of spreading himself thin is impressive. If he keeps playing like this, Indiana will continue to climb the Big Ten standings.
Filed to: Trayce Jackson-Davis