6-Banner Sunday: Indiana falls at Syracuse before rebounding to win Big Ten opener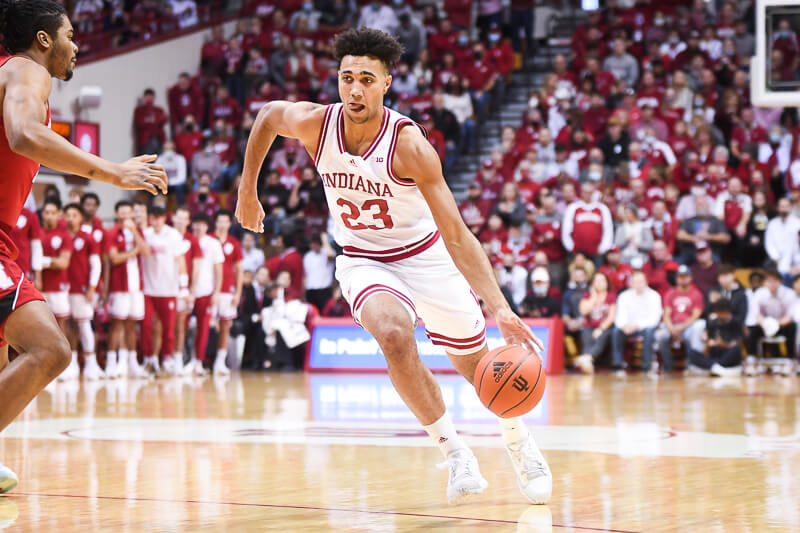 6-Banner Sunday is Inside the Hall's weekly newsletter in partnership with The Assembly Call. More than 8,000 Indiana fans receive the newsletter each week. In addition to appearing each week on the site, you can also opt to receive 6-Banner Sunday by email. A form to subscribe via email is available at the bottom of this week's 6-Banner Sunday.
Welcome to another edition of 6-Banner Sunday, a joint production between The Assembly Call and Inside the Hall where we highlight the five most essential IU basketball stories of the past week, plus take a look at how the other IU sports programs are doing.
There were mixed results for IU this week. The Hoosiers lost their first game of the season in a double-overtime heartbreaker to Syracuse before winning their Big Ten opener against Nebraska.
Off the court, Trayce Jackson Davis received recognition and some potential future schedule news came to light. As usual, 6-Banner will conclude with a look at how other IU sports are doing.
• IU knocks off Nebraska to open up Big Ten play
• Hoosiers fall to Syracuse for first loss of season
• Podcast on the Brink and Assembly Call radio
• Trayce Jackson-Davis named national player of the week
• Hoosiers eye game at Madison Square Garden
• Hoosier roundup
Banner #1 – IU knocks off Nebraska to open up Big Ten play
It was not always pretty and the team started slow, but ultimately the Hoosiers defeated the Cornhuskers comfortably 68-55 to open Big Ten play and improve their record to 7-1.
Afterward, Inside The Hall had a photo gallery, Nebraska coach Fred Hoiberg and IU coach Mike Woodson spoke, Ryan Corazza wrote his Minute After, and Grace Ybarra and Tyler Tachman went more in-depth on IU's bench and Race Thompson.
Banner #2 – Hoosiers fall to Syracuse for first loss of season
Despite a furious rally, IU came up short against the Orange in their first true road game of the season in the Big Ten-ACC Challenge. The Hoosiers trailed by 16 at the half before rallying to force overtime. However, a foul by IU just before the buzzer in the second OT allowed Syracuse to get to the line to make the game-winning free throws.
After the game Woodson spoke, Corazza had his Minute After, Ybarra wrote Five Takeaways, and Tachman penned a column.
Banner #3 – Podcast on the Brink and Assembly Call radio
It was a busy week for podcasts and shows for both Assembly Call and Inside The Hall. ITH's Podcast On The Brink had an episode recapping the Syracuse game.
Assembly Call had its biggest week ever producing post game shows for both the Syracuse and Nebraska games. In addition to that, the second-ever women's postgame show was done following IU's loss to NC State. Lastly, Assembly Call Radio was also recorded Thursday night as usual.
Banner #4 – Trayce Jackson-Davis named national player of the week
Trayce Jackson-Davis had an incredible couple of games against both Marshall and Syracuse. The Thundering Herd were unable to stop Jackson-Davis at all as he scored an Assembly Hall record 43 points last week. His encore against the Orange was nearly as good as he dropped 31 points and added 16 rebounds while making two free throws to force overtime.
For his efforts, Jackson Davis was named Dick Vitale's National Player Of The Week.
Banner #5 – Hoosiers eye game at Madison Square Garden
With the Crossroads Classic coming to an end after this year, the Hoosiers will need a new marquee non-conference game. Given Mike Woodson's connection to New York, it is no surprise IU is eying a spot in the 2023 Empire Classic at Madison Square Garden.
The event as it stands now would feature IU along with Texas, UConn, and Louisville. The Hoosiers have played all three of these teams recently with games against the Huskies and Cardinals in Madison Square Garden in the last decade. The Hoosiers played UConn in the 2013 2K Sports Classic and lost, before getting revenge with a victory in the 2019 Jimmy V Classic. IU played Louisville in the same event in 2014 and came up short.
Banner #6 – Hoosier roundup
• Women's Basketball fell to No. 2 NC State in a thriller of a game. I wrote a column for the Assembly Call Community about how even in losing, IU firmly established itself as a contender.
• Men's Soccer saw Victor Bezerra awarded for his play. Because of his pro potential though, Bezerra announced he is leaving IU for a professional career. With Bezerra gone, IU appears to have found a very capable replacement for next year as Xavier offensive star and Indiana native Karsen Henderlong will transfer to the Hoosiers to fill the void at forward. Lastly, senior starter Joe Schmidt announced he will move on and not pursue an extra year, while starter Spencer Glass is completely out of eligibility.
• Football did not have the year it hoped but did manage some bits of good news following the season. First off, star linebacker Micah McFadden was named second team All-Big Ten, and tight end Peyton Hendershot was third team All-Big Ten. More importantly, one of IU's best players in cornerback Tiawan Mullen announced he would return for his senior season. However, Hendershot indicated he would not be returning to the Hoosiers and several others have entered the transfer portal including WR's Cameron Buckley, Miles Marshall, and Jordyn Williams as well as LB D.K. Bonhomme and DL C.J. Person.
• Women's Soccer got some bad news with All-Big Ten player Avery Lockwood transferring to the Musketeers.
• Swimming and Diving defeated Cincinnati to conclude the fall season.
• Men's Tennis released its 2022 schedule.
• Men's Golf announced a new commitment.
• IU Athletics as a whole set a new record for graduation rate.
Thanks for your continued support for The Assembly Call and Inside the Hall. We'll be back next weekend with a new roundup.
Now go enjoy yourself a 6-banner Sunday.
Aaron (Ari) Shifron
Assembly Call Contributor
Filed to: