At the buzzer: Syracuse 112, Indiana 110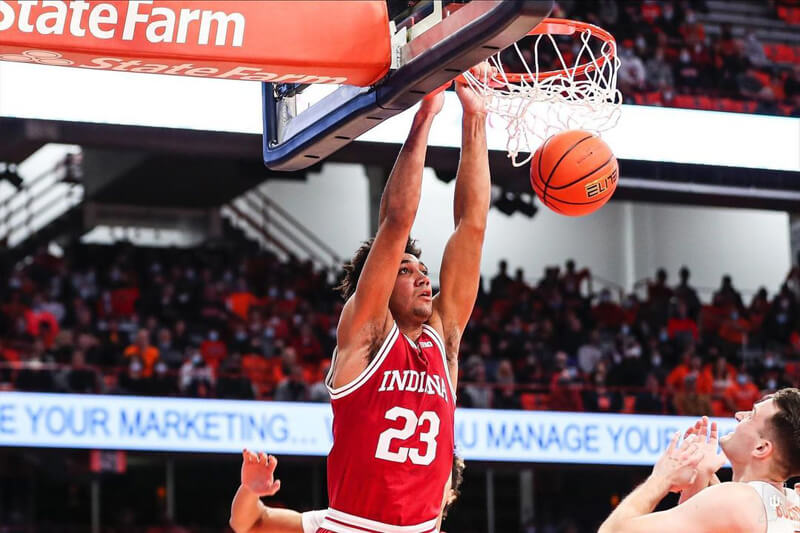 Quick thoughts on 112-110 double-overtime loss at Syracuse:
How it happened: It was a tale of two halves in the Carrier Dome. Syracuse, fresh off a 1-2 trip in the Bahamas, came out firing on all cylinders offensively. And Indiana looked like a team playing on the road for the first time. The Orange shot 58.1 percent in the first half and scored 16 points off Indiana's 13 first-half turnovers. By early in the second half, Syracuse led by 18 and it looked like Indiana might be run off the floor.
But the Hoosiers had a run in them. By the 10:56 mark, Indiana tied it on a layup by Miller Kopp. And the Hoosiers took the lead on a Kopp 3-pointer at 63-60 with 10:04 to play. It was back and forth for the next two-plus minutes, but Syracuse scored six straight points to push its lead to 77-70 with 5:13 to play. That looked like it might be the decisive run for the Orange.
Indiana never stopped fighting and got back within one on a Parker Stewart 3-pointer with six seconds to play. Indiana then fouled Cole Swider, who made a pair of free throws to stretch the lead to three. Syracuse fouled Khristian Lander with 2.6 seconds to play. Lander made the first and then missed the second and Trayce Jackson-Davis grabbed the rebound and was fouled on the putback. Jackson-Davis made both free throws to tie the game at 88 and send it to overtime.
Indiana and Syracuse went back and forth in overtime and the Orange took a timeout with the game tied at 97 with 36.3 seconds to go. The Hoosiers got a stop on the ensuing possession and Kopp corraled the rebound on the floor and took a timeout. Indiana didn't get a shot off on the final possession, sending the game to double overtime.
The Hoosiers scored the first four points of double overtime, but Syracuse tied it at 101 on four straight free throws from Frank Anselem. The Orange took the lead at 103-101 on two Buddy Boeheim free throws and then pushed it to four on a Boeheim bucket. After Jackson-Davis split a pair of free throws, Boeheim scored again to push the lead to five at 107-102. Indiana answered with a Race Thompson bucket to make it 107-104. Jimmy Boeheim then split a pair of free throws to make it 108-104. Lander answered with a 3-pointer to make it 108-107 with 25 seconds to play. Jimmy Boeheim then hit a pair of free throws to extend the lead back to three at 110-107 with 17.8 seconds to play. Syracuse then fouled Kopp on a 3-pointer with 7.6 seconds to play. Kopp made all three free throws to tie it at 110. On the final possession, Lander was whistled for a foul with .8 seconds to play and Joe Girard III made both free throws to seal the victory for the Orange.
Standout performers: Jackson-Davis scored a team-high 31 points and grabbed 16 rebounds in 45 minutes. Kopp poured in 28 points, a career-high. Parker Stewart made 6-of-12 3-pointers and finished with 20 points.
Statistic that stands out: The Hoosiers turned it over 25 times, which led to 33 points for the Orange.
Final IU individual statistics:

Final tempo-free statistics: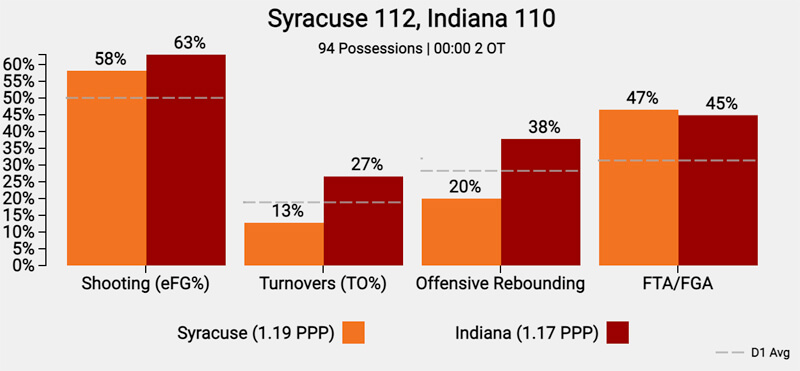 Assembly Call postgame show:
(Photo credit: IU Athletics)
Filed to: Syracuse Orange