What to expect: Syracuse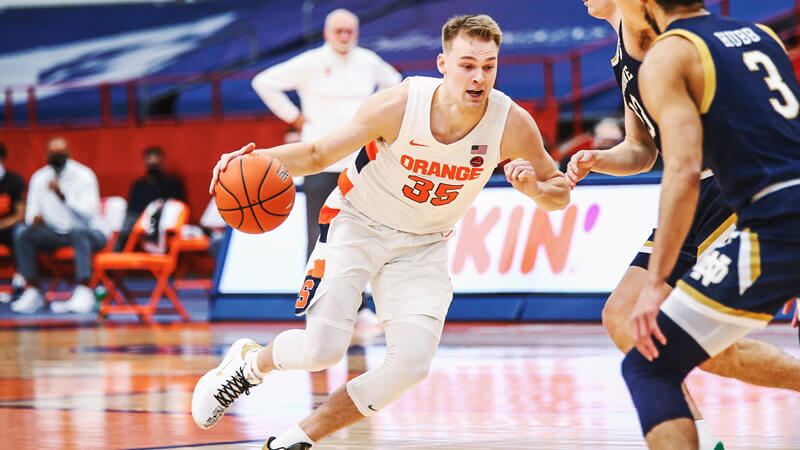 Indiana will hit the road for the first time this season when it takes on Syracuse in the Big Ten-ACC Challenge at the Carrier Dome on Tuesday.
The Orange are 3-3 and went 1-2 in the Battle 4 Atlantis last week. Tuesday's game will tip at 7 p.m. ET on ESPN2.
Indiana is 6-0, but the Hoosiers have yet to venture outside of Bloomington for a game. That changes this week with the Big Ten-ACC Challenge.
The Hoosiers are on the road for the second straight season in the challenge and will take on Syracuse, which is desperate for a win. The Orange already have a home loss to Colgate and dropped games in the Bahamas to VCU (67-55) and Auburn (89-68).
Indiana, meanwhile, has gained confidence early by playing an advantageous schedule. According to KenPom, the Hoosiers have played the 322nd most challenging slate in the country so far. Among Big Ten teams, only Iowa, Northwestern and Nebraska have played weaker schedules through the first three weeks of the season.
MEET THE ORANGE
Syracuse is led by senior wing Buddy Boeheim, who is averaging 20 points over the team's first six games. A career 36.7 percent 3-point shooter, Boeheim is scuffling a bit from the perimeter early in his fourth season. He's just 13-of-42 from distance (31 percent) and is shooting just 40.2 percent overall from the floor.
Boeheim has been effective at getting to the line and owns a solid 40.2 percent free throw rate (FTA/FGA) thus far. He's shooting 89.2 percent from the line in 37 attempts. As a team, Syracuse is one of the nation's best free throw shooting teams at 78.6 percent.
Joining Boeheim in the backcourt is junior Joseph Girard III, a 6-foot-1 guard who leads the team with a team-high 28 assists. Turnovers have been an issue for Girard, who has committed 19 over the first six games. He's been red hot from the perimeter so far and leads Syracuse with 18 made 3s on 56.3 percent shooting.
Junior Symir Torrence, a transfer for Marquette, is the only regular contributor off the bench in the backcourt. Torrence is shooting just 27.8 percent and is averaging 2.2 points in 13.5 minutes per game. His 17 assists are third on the team.
Syracuse is big on the wings with transfers Jimmy Boeheim (Cornell) and Cole Swider (Villanova).
Boeheim did not play last season as the Ivy League canceled its season due to the COVID-19 pandemic. The 6-foot-8 forward is shooting 6-of-13 on 3s and 50 percent on 2s so far, but is coming off his worst performance of the season against Auburn where he scored just three points in 24 minutes. Boeheim is only a career 30.3 percent 3-point shooter and is a tertiary offensive option behind his younger brother and Girard.
The 6-foot-9 Swider, who was once an IU recruiting target, played three seasons for Jay Wright before entering the transfer portal last spring. Swider was very effective last season as a shooter for the Wildcats, as he knocked down 40.2 percent of his 3s overall and 38.8 percent in Big East play. Through six games, Swider is the team's third-leading scorer at 12.5 points per game and its leading rebounder at 6.8 per game.
Freshman forward Benny Williams is sixth on the team in minutes at 17.2 per game, but has only taken 17 shots and has been a poor rebounder through six games. The 6-foot-8 Williams has just eight rebounds in 103 minutes.
Junior Jesse Edwards starts at center with sophomore Frank Anselem as the backup. Edwards is shooting 78.4 percent from the field and is averaging 11.8 points, 5.3 rebounds and 2.6 blocked shots per game. His block percentage (14.4) is currently 14th best in the country. The 6-foot-10 Anselem only played in four games last season but has played in all six games this season due to Bourama Sidibe's injury. Sidibe injured his knee in late October and at the time of the injury, it was announced that he would miss a month.
TEMPO-FREE PREVIEW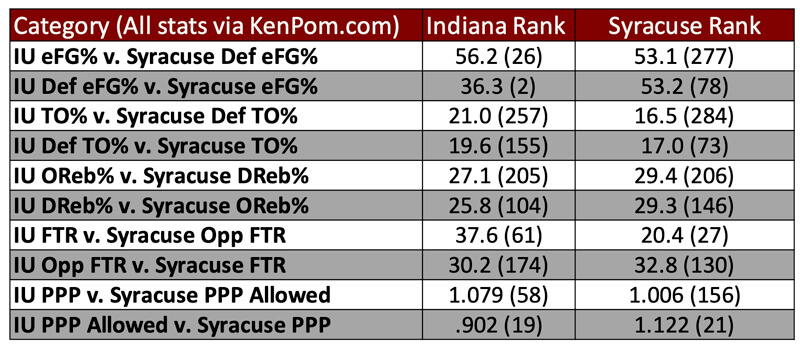 Syracuse's 2-3 zone is off to a rocky start. Through six games, Syracuse opponents are making 12.3 3-pointers per game and are shooting 37.4 percent from distance. In its most recent loss to Auburn, the Tigers shot 12-of-30 on 3s and in a home loss earlier this month to Colgate, the Raiders knocked down 18-of-43 from deep. The Orange rank just 277th nationally in effective field goal percentage defense and 156th in adjusted defensive efficiency.
Offensively, however, there are some things to like about how Syracuse has played through six games. The Orange are shooting well from distance (38.1 percent) and have a turnover percentage of just 17, which is 73rd best in the country.
While Syracuse is just 3-3, it has played a far more difficult schedule than Indiana so far. Three of its games have come on a neutral court and it has only played one opponent ranked worse than 171 in the KenPom ratings. Indiana has played three teams ranked 275th or worse in KenPom and only one ranked in the top 100.
WHAT IT COMES DOWN TO
The KenPom projection is Indiana by one with a 54 percent chance of a Hoosier victory. The Sagarin ratings like Indiana by about 2.5 points. The Vegas line opened with Syracuse as a one-point favorite as of Monday night.
(Inside the Hall readers in Indiana are eligible for a deposit match of up to $1,000 from PointsBet.)
This is one of three "marquee" non-conference games on the Indiana schedule. The Hoosiers already passed the first test against St. John's at home in the Gavitt Tipoff Games and will play Notre Dame next month in the Crossroads Classic in Indianapolis.
Indiana has beaten Syracuse just once in its history – the 1987 national championship game – but has a chance to get an important non-conference road win that would look good on the resume come March. The key for Indiana are to be patient against the zone and to limit turnovers. Syracuse has not been turning teams over through six games and Indiana can't afford to give up possessions on its first road trip of the season.
(Photo credit: Syracuse Athletics)
Filed to: Syracuse Orange