The Minute After: Nebraska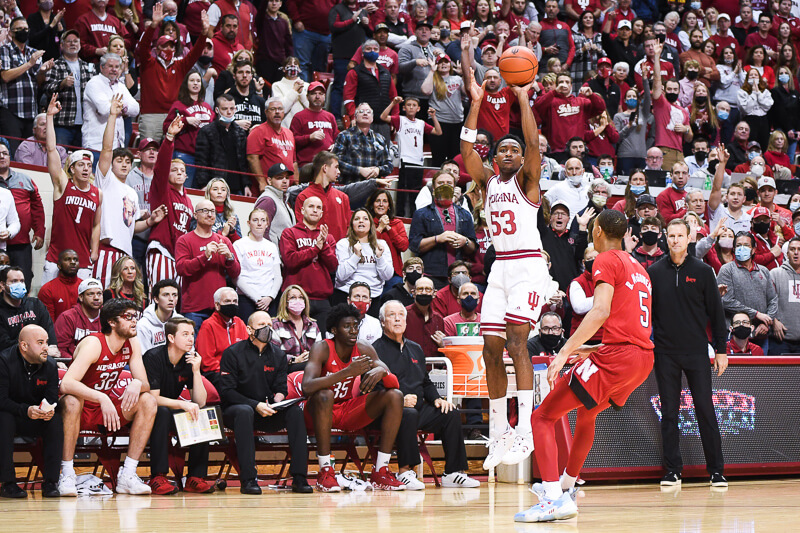 Thoughts on a 68-55 win against Nebraska:
Indiana wins. Indiana covers. Indiana moves to 1-0 in Big Ten play.
But this was far from a top performance from the Hoosiers, and it's unlikely to pass muster against better Big Ten competition. Indiana's starts continue to confound. Turnovers were again an issue. And with Fred Hoiberg bringing more pressure to Trayce Jackson-Davis in the post before the pass, the Hoosiers couldn't get him touches. The offense looked unsure and lost. But unlike against Marshall and Syracuse, where it struggled to contribute, the bench saved the day on this Saturday in early December.
Tamar Bates, Anthony Leal and Michael Durr all got buckets. More energy and effort came on both ends of the floor. A 10-point deficit turned into a four-point lead at half, which grew to as much as 15 in the second half before the Hoosiers won by 13.
The first-half play of the bench galvanized the starters. They continued what the reserves started the rest of the contest. Race Thompson's 3-point shot still isn't dropping (0-of-2), but his 30 minutes of action were impactful. He scored 11 points, snagged 11 boards, had two assists, a block, a steal … and one incredible tip-back dunk. Parker Stewart went 3-of-6 from deep hitting key triples in the second half, countering both the TJD double teams and Nebraska's zone. Jackson-Davis wasn't insanely dominant in this one (14 points, seven boards), but his four blocks and three steals helped shut down the Cornhuskers' offense (.76 points per possession).
Bates was the star off the bench, scoring a career-high 13 points on 4-of-9 shooting. Rob Phinisee shot just 2-of-7, but his two buckets — a difficult shot in the paint, a dagger 3-pointer — helped keep distance in the second half. He also added four rebounds, three assists, one steal and had just two turnovers in 24 minutes of action.
The Hoosiers held star freshman Bryce McGowens to just eight points on 3-of-14 shooting. The freshman had been averaging 18.5 points per game entering the contest. Nebraska also only made 5-of-22 (22.7 percent) from deep in this one. A fair number were good looks, but 3-point shooting is just not a strength of the Cornhuskers so far this season.
After the turnover problems in the first half, the Hoosiers calmed down and coughed it up just four times after the break and 15 times total. Their turnover percentage for the contest was 20.8. It's a number that's still too high, but you can live with it on a day like today. Miller Kopp had an uncharacteristic four turnovers and scored zero points (0-of-5) after a career-high 28 earlier this week at Syracuse.
A win is a win in Big Ten play. And Indiana did what it needed to do today to move to 1-0 in conference play. But a trip to the Kohl Center against a better-than-expected Wisconsin squad is next up. If Indiana digs yet another early hole in Madison, the Badgers' style of play won't let the Hoosiers get back into it as easy — or at all.
Filed to: Nebraska Cornhuskers