Supporting cast proves that Indiana can win even if Trayce Jackson-Davis doesn't dominate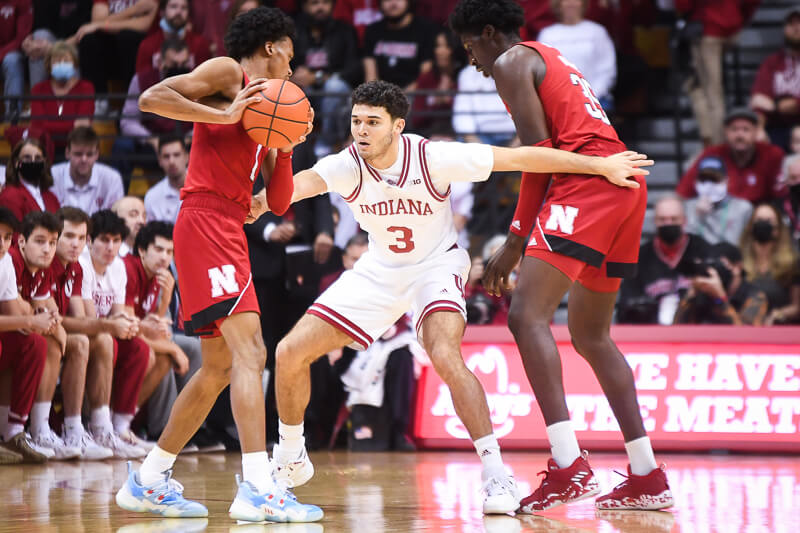 Nine minutes into the game, Indiana was already down 10, looking awfully flat and reeling against a Nebraska team projected to finish near the bottom of the Big Ten.
But then something changed. Anthony Leal checked in. Tamar Bates too. Shortly after, Leal tossed a dime to Bates, who was flying down the middle of the floor and converted a layup. On the next possession, Leal splashed a 3-pointer from the wing. Then Michael Durr hit a jump hook. Indiana had sliced the deficit to three and kept chipping away. Race Thompson and Jordan Geronimo each had a bucket. Then Bates hit two more triples.
Indiana led by four at the half. That stretch of play ultimately propelled Indiana out of the hole as the Hoosiers defeated Nebraska 68-55 in a relatively comfortable fashion on Saturday afternoon.
A name that wasn't mentioned much during that stretch in the first half? Trayce Jackson-Davis.
Jackson-Davis finished the first half with four points, three rebounds and four turnovers. His final stat line was far below his normal standard too: 14 points, seven rebounds and four turnovers. It's important to understand that Jackson-Davis' performance wasn't by any means bad, besides the turnovers. In fact, it was still very good. But by no means did he dominate the game.
And yet, Indiana still won by double-digits against a Big Ten opponent. Much of that first-half run was a result of Indiana's bench production, which finished with 26 points. Bates led the way off the bench with 13 points. Rob Phinisee had an improved second half with five points. Leal provided a spark. It also became clear that this wasn't just bench players putting in work. It was various pieces of Indiana's supporting cast. Race Thompson had 11 points, 11 rebounds and zero turnovers. Parker Stewart hit three second-half 3-pointers.
Saturday proved that Indiana doesn't need Jackson-Davis to dominate in order to win. This notion single-handedly raises Indiana's potential by a wide margin.
"I think our bench can start on multiple teams in the Big Ten, teams in the country," Thompson said of Indiana's depth. "We have starters coming off the bench. I think that's just what makes a good team."
Last year, Indiana's season often went as Jackson-Davis went. If he controlled the game, Indiana was in a favorable position to compete. If he didn't, things would likely get out of hand. In conference play last season, Jackson-Davis scored less than 14 points on five different occasions. Indiana went 1-4 in those games. The single victory was when Indiana escaped what would've been a disastrous loss at Northwestern in double-overtime.
It was a result of the inconsistency around Jackson-Davis. Indiana's second most reliable weapon, Armaan Franklin, was injured for a majority of the second half of the season. Indiana's bench couldn't be trusted on a game in and game out basis. There was also a lack of efficiency. Lead guard Al Durham shot just 38 percent from the field. Jerome Hunter, Indiana's top scorer off of the bench, shot just 43 percent from the field.
This season the pieces around Jackson-Davis have been more productive. Stewart, a transfer from UT-Martin, is shooting a scalding 47.7 percent from deep through eight games. It's also become increasingly impressive how Thompson has continued to display his game. Entering Saturday, Thompson was nearly averaging a double-double with averages of 9.9 points and 8.6 rebounds per game. He's also improved assist average by more than one compared to last season.
It also can be attributed to Indiana's bench, which has had its highs but also struggled over the two games entering Saturday. After the performance against Nebraska, Indiana is now averaging over 24 bench points per game. This is important because it breeds competition. Indiana head coach Mike Woodson said that sometimes in practice the second unit beats the unit when scrimmaging.
"That's being competitive where they are not succumbing all the time to the first unit," Woodson said. "They showed tonight, they got in there and they did what they were supposed to do and I played them. "
Bates has emerged as a source of instant energy off the bench. The five-star recruit hasn't been perfect, but certainly displayed a readiness to play the college game that isn't normal for a freshman. He's scored in double-figures three times this season and is now averaging better than seven points per game.
"Shooters shoot," Bates said of his mentality following a poor performance against Syracuse. "I'm going to keep shooting the ball. I can miss 10 threes; I'm going to shoot the 11th one. It really don't matter to me."
Then there's Leal, whose first meaningful impact of the season came on Saturday and was validation of his patience. As a freshman last season, Leal's playing time fluctuated and he averaged just 11.6 minutes per game. This season, he's seen even less time in the rotation, averaging eight minutes per game this season entering Saturday. But against Nebraska, Leal played 12 minutes and provided a much-needed boost in the first half. If it's not Leal bringing energy, there is a reasonable expectation that someone else will pick it up every game.
Who hasn't been mentioned yet are Xavier Johnson and Miller Kopp, two of arguably Indiana's most impactful transfers. On Saturday, Johnson had eight points in just 15 minutes. Kopp had his worst game of the season with zero points and four turnovers. Those stat lines make what Indiana did on Saturday all the more impressive. Two of the pieces that were supposed to provide a significant lift to Jackson-Davis didn't have good games, yet Indiana won decisively anyways.
In that, Saturday was good for many reasons. One is the performance was a bounce-back win after the loss to Syracuse. Another is Jackson-Davis isn't burdened with single-handedly carrying Indiana's success this season. Had Jackson-Davis put up Saturday's numbers in a game last season, Indiana would've likely lost. But that wasn't what happened on Saturday.
For Indiana, and for Jackson-Davis, that probably comes as a relief.
Filed to: Anthony Leal, Jordan Geronimo, Mike Woodson, Race Thompson, Rob Phinisee, Trayce Jackson-Davis