Indiana revealed its promising intangible qualities, despite loss to Syracuse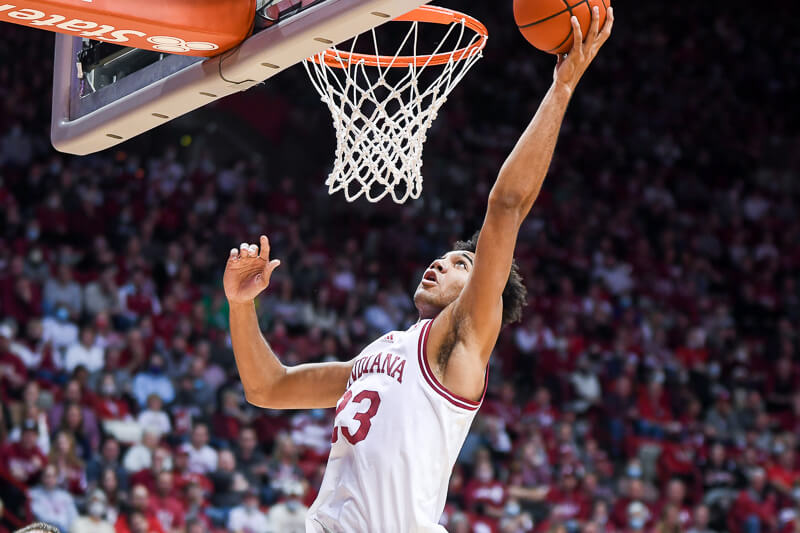 You could hear it in his voice. He shook his head and looked down. Then he glanced over his shoulder, nodding his head to the door that leads into Indiana's locker room.
"We're hurt in there," Trayce Jackson-Davis said after Indiana 112-110 double-overtime loss to Syracuse Tuesday night.
It was a game that was as frustrating as it was thrilling. Somehow, Indiana probably could've both won and lost by 20 points. Regardless, there's a lot to unpack in the aftermath of a game like this. The Hoosiers gave up a jarring 26 turnovers, which Syracuse turned into 33 points. The first half was arguably Indiana's worst 20 minutes of the season, in which they went into the break trailing by 16 points.
When evaluating a team, though, it's important to consider both tangible and intangible traits. It's apparent that Indiana needs plenty of work with the tangible. But Tuesday cemented something that has become clear over Indiana's first seven games.
They care. They fight. They have grit.
This isn't to say that recent Indiana teams didn't have passion. But there were various moments last year when Indiana crumbled in the face of adversity. On the road against Rutgers, Indiana let a double-digit lead compound into an embarrassing loss. At home against Michigan State, a double-digit lead turned into a second-half meltdown. By the end of the season, Indiana seemed stuck in an inescapable wheel of losses.
This season, while not ideal, it's still early enough for Indiana's tangible problems to still be fixable. What is more difficult to create, though, are the intangibles. A system that players buy into. A coach that players want to fight for. A bond among teammates that translates to play on the floor.
On Tuesday, even in a loss and in a hostile environment, Indiana proved itself to have all of those promising characteristics.
"They didn't quit," Indiana head coach Mike Woodson said.
Take, for instance, the various moments in the game where Indiana refused to back down.
• After a 16-point halftime deficit, Indiana took the lead by the 10-minute mark in the second half.
• Down by 11 points with 3:44 left in the second half, Indiana made it a four-point deficit with just under one minute remaining.
• Indiana was down by three with four seconds left in regulation. But the Hoosiers perfectly executed the final sequence to force overtime. Khristian Lander made the front end of a 1-and-1. Then he purposely missed the second and Jackson-Davis was fouled on the putback. He knocked down two free throws with less than one second remaining to send it into overtime.
• Down by four in the second overtime, Lander knocked down a 3-pointer to make it a one-point game.
• Down by three with seven seconds left in the second overtime, Miller Kopp drew a foul on a three and calmly knocked down all the free throws to tie the game.
"This team has been fighting since I got together," Woodson said. "It's a great group of guys that like to compete."
Of course, it's impossible to ignore how Indiana dug itself into that big of a deficit in the first place. In the first half, Indiana looked lost on offense. The Hoosiers swung it around the wing but were largely unable to get into the teeth of Syracuse's zone. Indiana shot just 35 percent from the field and 25 percent from three, and committed 13 turnovers, many of which were a result of careless mistakes. Defensively, Indiana was diced. They were unable to contain the ball, leading to overhelping and open shooters on the wing. Syracuse shot 58 percent from the field and 50 percent from three in the first half.
"I think we played so out of character in the first half, in terms of we were scared," Woodson said. "I hate to use that word."
In the second half, though, Indiana stormed back. Parker Stewart finished with 20 points on 6-of-12 shooting from three. Miller Kopp had 28 points on 4-of-9 from three. Jackson-Davis tallied 31 points and 16 rebounds. Offensively, Indiana was more decisive. Defensively, they played with more intensity. The Hoosiers finished the game shooting 55 percent from the field and 40 percent from three.
Still, they weren't able to overcome the mistakes. The turnovers, which have become a recurring issue, added up. The Hoosiers have now coughed up 15 or more turnovers in five of their seven games. Xavier Johnson, Parker Stewart and Rob Phinisee all fouled out. Indiana's bench wasn't productive for the second consecutive game, adding just 10 points. At the end of the first overtime, Indiana couldn't even get a shot off with a chance to win. At the end of the second overtime, Lander fouled Joseph Girard, which led to the game-winning free throws.
During those stretches, though, Indiana showed its resilience. Kopp and Race Thompson were diving on the floor. Jackson-Davis, who went out after bumping knees with a Syracuse player, came back in and was flexing on the floor after an and-one. At one point, the referee had to stop the game to tell Indiana's bench players to sit down.
It's fully possible to come away from this game with plenty of negatives. Syracuse was just 3-3 entering the night. And undoubtedly, Indiana will have to figure out its sloppy play as Big Ten play looms. But Indiana also showed things on Tuesday that can't be quantified. If sustained, the worth of the qualities won't be fully realized until far down the road.
"Everyone in there is a fighter," Jackson-Davis said. "And we're not going to go down unless we're swinging."
Filed to: Mike Woodson, Trayce Jackson-Davis